Lake Michigan, Great Lakes, USA
Welcome to the ultimate guide for history, statistics, local fun facts and the best things to do at Lake Michigan.
If you're considering Lake Michigan vacation rentals, we've made it super easy to explore accommodations and nearby hotels using the interactive map below. Simply click on a listing to compare similar properties, best rates and availability for your dates. Or keep scrolling to read our Lake Michigan guide!
Lake Michigan visitor and community guide
As the only Great Lake nestled completely within the boundaries of the United States, Lake Michigan is the pride and joy of Wisconsin, Illinois, Indiana, and Michigan. The lake boasts a huge area of 22,400 square miles, making it the largest freshwater lake (by surface area) in the world to be contained within one country. Measuring about 307 miles long and 118 miles wide, Lake Michigan stretches over 1,640 shoreline miles. More than 80 lighthouses dot the shoreline and large islands. However, Lake Michigan is not just a lake of superlatives; it is a freshwater paradise home to 12 million residents, and welcomes thousands of visitors every year.
Lake Michigan and Lake Huron share the same elevation of 577 feet above sea level, and they are connected by the five-mile-wide Straits of Mackinac. Hydrologically, this makes the two a single lake that some designate as Lake Michigan-Huron. At LakeLubbers, we treat Lake Michigan and Lake Huron as two separate lakes, but acknowledge the combined surface area and volume as "points of interest" to Lakelubbers.
There are many towns and cities that border Lake Michigan's shores, though you're probably most familiar with Chicago (Illinois), East Chicago (Indiana), and Milwaukee (Wisconsin). These towns and their surrounding areas are home to many Lake Michigan beaches, and those in Michigan and Northern Indiana are renowned for their exceptional beauty. In fact, the area is often called the "Third Coast" of the United States, rivaling some beaches on the Atlantic and Pacific Oceans. Indeed, with soft, white sand with a reputation for "singing" as you walk across, these Midwestern beaches are an oasis in the middle of the country.
With an area as large as Lake Michigan's, a visitor has several options for park patronage. Sleeping Bear Dunes National Lakeshore is a national park that snuggles up to about 35 miles of Lake Michigan's eastern shoreline. It features beaches, forests, and incredible dune formations, a product of ancient glacial phenomena. Indiana Dunes National Lakeshore is the lake's second national park, claiming 25 miles of Lake Michigan coastline, and offering a variety of sand dunes, swamps, rivers, wetland forests, and more. And for those interested in the famous "singing sands," this park is known to truly deliver.
In addition to these two national parks, several state parks dot the area, including Peninsula State Park (Wisconsin), Holland State Park (Michigan), Grand Haven State Park (Michigan), Hoffmaster State Park (Michigan), Ludington State Park (Michigan), Silver Lake State Park (Michigan), Illinois Beach State Park (Illinois), and Indiana Dunes State Park (Indiana). Depending on your lake location, a trek to one of these beautiful reserves is an ideal way to start your vacation, offering visitors centers full of information, hiking trails that provide amazing views, and allowing you to view the lake's habitat from up-close.
Hiking is perhaps one of Lake Michigan's favorite pastimes, and trails are available all around the lake. Snaking along the coastline, taking you high up above, winding through vast forests, and splashing through little streams, the lake's hiking and biking trails offer the best way to commune with nature. Trails range from very easy to strenuous and advanced, so take care to research your hike and plan in advance, taking your camera and water bottle along. Day hikes are also available, giving you the perfect chance to stop for a picnic among the trees, enjoying a lakeside lunch that you won't soon forget.
If you want to get a hiker's view of the lake, but your knees just aren't up for it, take a ride on the Great Lakes Circle Tour. Over 6,500 miles long, this scenic road system connects all of the Great Lakes and the St. Lawrence River, allowing you to cover more distance and see as many sights as you can fit into your stay. Winding all around Lake Michigan, the scenic Circle Tour sticks close to the coast, affording your amazing views that few but a bird can ever hope to see.
Lake Michigan supports both sport fishing and commercial fishing, so join the legions of anglers who claim Lake Michigan as their favorite. Some of the best brown trout, chinook salmon, coho salmon, lake trout, largemouth bass, perch, rainbow trout, smallmouth bass, steelhead, and walleye fishing in the country is found here, and several competitions are held here annually, taking advantage of these ideal conditions.
Lake Michigan is a jewel in the country's eye, attracting millions of visitors and residents to its shores every year. However, because of the high population density and heavy industrialization on the lake and its tributaries, Lake Michigan's ecosystem faces serious pollution and other threats. Efforts have been ongoing over the past 25 years to improve the water quality of this Great Lake.
Custom Lake Michigan house decor
Read our full review of these personalized lake house signs.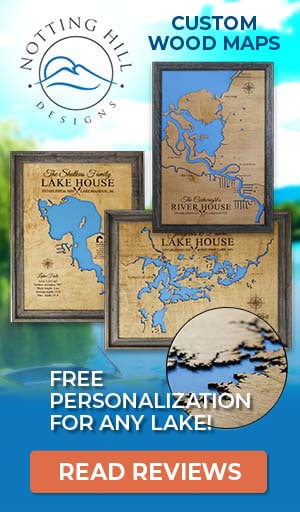 Things to do at Lake Michigan
Vacation Rentals
Fishing
Swimming
Beach
Picnicking
Hiking
Biking
Wildlife Viewing
State Park
National Park
Fish species found at Lake Michigan
Bass
Black Bass
Brown Trout
Chinook Salmon
Coho Salmon
Lake Trout
Largemouth Bass
Perch
Rainbow Trout
Salmon
Smallmouth Bass
Steelhead Trout
Trout
Walleye
---
Best hotels and vacation rentals at Lake Michigan
The Lake Michigan map shown above is a simple and stress-free way to search for trip accommodations. But if you want to take a deeper dive to find the ideal waterfront home, cabin, condo, hotel or resort, visit our favorite lodging partners by clicking the buttons below.
Note: These are affiliate links so we may earn a small commission if you book through them. While there is no extra cost to you, it helps provide resources to keep our site running (thank you)! You can read our full disclosure policy here.
---
Lake Michigan photo gallery
New photos coming soon!
Lake Michigan statistics & helpful links
We strive to keep the information on LakeLubbers as accurate as possible. However, if you've found something in this article that needs updating, we'd certainly love to hear from you! Please fill out our Content Correction form.
Advertise your Lake Michigan vacation rental
LakeLubbers will soon offer homeowners and property managers the opportunity to to showcase their vacation rentals to the thousands of lake lovers searching our site daily for accommodations. If you'd like additional details, please contact our advertising team here.
Looking for the Lake Michigan forum?
LakeLubbers previously offered visitors the ability to create accounts and participate in lake forums. When we overhauled the site's content management system in 2021 we had to disable those features. We're evaluating options and welcome your comments and feedback here.
We also encourage you to join our lake-lovin' community on Facebook and Instagram!
Spread the word! Share our Lake Michigan article with your fellow Lake Lubbers!