Lake Winnebago, Wisconsin, USA
Lake Locations:
USA - Midwest - Wisconsin - Central Sands Prairie Region -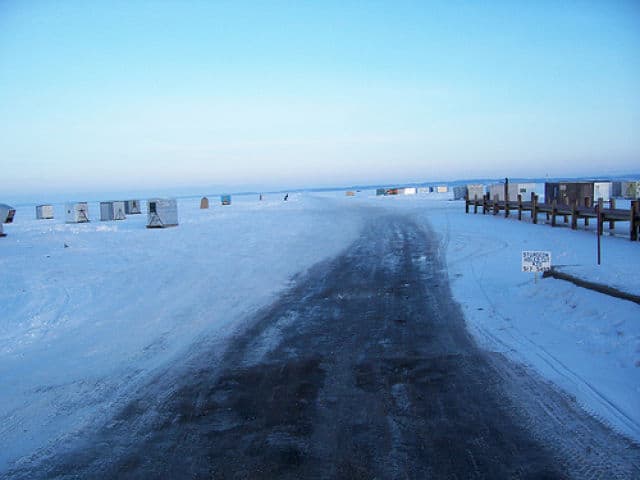 American white pelicans skim across the surface of Lake Winnebago, fishing alongside the anglers below. Birds and fishermen alike flock to the beautiful lake waters in the Central Sands Prairie Region of Wisconsin, both hoping to catch one of the many fish in the lake. The pelican wants breakfast. The angler wants a trophy.
Lake Winnebago is the remnant of a much larger glacial lake, Lake Oshkosh, formed about 12,000 years ago when ice blocked access to Lake Michigan. Fed by both the Fox and Wolf Rivers, Lake Winnebago is one of the largest natural freshwater lakes in the United States. It is the largest natural freshwater lake, both in volume and surface area, located entirely within Wisconsin.
Part of a system of lakes known as the Winnebago Pool that includes Lake Butte des Morts, Lake Poygan, and Lake Winneconne, Lake Winnebago has historically been used for navigation. Originally, Native Americans and French fur traders used the water to transport goods between the Great Lakes and the Mississippi River. Settlers to the area built saw mills and grist mills to take advantage of the water along the Fox River, and in 1850 they built dams and canals, flooding over 50,000 acres of land and changing the shoreline of Lake Winnebago. In fact, it's still possible to see tree trunks on the south and southeastern shores that were growing before the flooding. There are 17 locks along the Fox River connecting Lake Winnebago to Lake Michigan through Green Bay. Although the locks deteriorated after commercial shipping on the river ended in 1952, the Fox River Navigational System Authority has refurbished many of the locks for seasonal recreational boating. The United States Army Corps of Engineers controls water levels on the lake and draws down levels slightly in winter to prepare for spring flooding.
Oshkosh, the county seat of Winnebago County, is wedged between Lake Winnebago and Lake Butte des Morts. The town and lake provide any amenities visitors might need including shops, restaurants, museums and various accommodations. There are also vacations rentals including some on the shore of Lake Winnebago. For anyone wishing to extend their stay, there is real estate available for sale.
At about 30 miles long and 10 miles wide, Lake Winnebago sprawls across parts of three counties. Calumet County is to the northeast and Winnebago County is to the northwest. Fond du Lac County, French for "Far End of the Lake," cups the south end of lake. There is more than enough room for all kinds of boating including sailing, power boating, jet skiing and water skiing. The shore of the lake is rimmed with six lighthouses, harbors, boat ramps and marinas with several access points for boaters. The lake is considered a shallow lake and has many shallow reefs and several islands to explore, making it a popular place to canoe and kayak.
Anglers flock to Lake Winnebago for the fantastic walleye fishing. Every year the lake plays host to several tournaments, and fishermen jealously guard their favorite spots. The lake is so large that different parts of the lake fish like different lakes. Lake Winnebago has abundant populations of largemouth bass, smallmouth bass, muskie, bluegill, and crappie and holds the Wisconsin State record for yellow perch – a monster 3 pound 4 ounce fish. Huge populations of lake sturgeon, both in size and number, live in Lake Winnebago. February begins spear fishing season for the impressive fish which can live for a hundred years and weigh a hundred pounds. Ice fishing for sauger and walleye is also popular with small villages of shacks and thousands of cars dotting the lake as soon as the ice is safe.
There are several parks around the shore of the lake including Calumet County Park which has a campground, marina and swimming area. High Cliff State Park is the only state park on Lake Winnebago. Located on the north east corner of the lake, it takes its name from the limestone cliff of the Niagara Escarpment that parallels the eastern shore of the lake and offers spectacular views of the surrounding area. More than a mile of shore and 125 acres of the 1,187 acre park have been designated a state natural area. The park is also on the National Register of Historic Places because of effigy mounds built 1,000 to 1,500 years ago by the Siovan Indians. Visitors to the park can see mounds in the shape of panthers, buffalos and conical and linear mounds. There are also remnants of a limestone quarry and kiln started in 1895. The park has a marina, swimming beach, camping and plenty of places to hike.
Whether it's the rich history, fantastic boating, abundant fishing or flocks of waterfowl, something is sure to call everyone to spectacular Lake Winnebago. Its recreation opportunities are only dwarfed by its impressive size.
Things to do at Lake Winnebago
Vacation Rentals
Fishing
Ice Fishing
Boating
Sailing
Swimming
Beach
Canoeing
Kayaking
Jet Skiing
Water Skiing
Camping
Campground
Hiking
Birding
State Park
Museum
Fish species found at Lake Winnebago
Bass
Black Bass
Bluegill
Crappie
Largemouth Bass
Muskellunge
Perch
Pike
Sauger
Smallmouth Bass
Sturgeon
Sunfish
Walleye
Yellow Perch
---
Lake Winnebago Photo Gallery
Lake Winnebago Statistics & Helpful Links
Spread the word! Share our Lake Winnebago article with your fellow Lake Lubbers!