Crystal Lake, Michigan, USA
Also known as:  Cap Lake
Welcome to the ultimate guide for history, statistics, local fun facts and the best things to do at Crystal Lake MI.
If you're considering Crystal Lake MI vacation rentals, we've made it super easy to explore accommodations and nearby hotels using the interactive map below. Simply click on a listing to compare similar properties, best rates and availability for your dates. Or keep scrolling to read our Crystal Lake MI guide!
Crystal Lake MI visitor and community guide
Crystal Lake, in northwestern Michigan's Benzie County, wouldn't be the beautiful sandy-shored lake it is today without the "Tragedy of Crystal Lake". Originally called Cap Lake, the area was settled by loggers working the area. The lake lies in a depression less than a mile from the shore of Lake Michigan. The small outlet stream flowing to the Betsie River and its access to Lake Michigan wasn't big enough to do the kind of shipping the logging industry desired. In 1873, an enterprising logger decided he could make far more money if he enlarged the stream so steamships could access Cap Lake. He built a steamship and started digging. Men with teams of horses dug steadily for several days, when suddenly a huge roar filled the air and a torrent of water tore through the remaining earth and headed for the Big Lake! For two solid weeks, the roar and the torrent of water continued. When it subsided, Cap Lake had been lowered nearly to the level of Lake Michigan, 20 feet below. The stream slowed to a trickle. Today, a small dam at Outlet Creek maintains water levels and provides a "swimming hole" for local kids.
The 'tragedy' had a bright side, however. Where before, Cap Lake had no beaches, twenty feet of pristine sand beach was uncovered all the way around the lake. The village of Beulah has a public beach on the reclaimed land at the south end of the now-smaller lake. The beaches also attracted new owners who built cottages, summer homes, and resorts. One of the first organizations to purchase lakefront property was the Cleveland Conference of Congregationalist churches who built a camp/retreat there in 1901. The Conference is still there, now owning 1800 acres including 1/4 mile on Lake Michigan. A restaurant on camp property is open to the public. Not to be outdone, the Michigan Christian Missionary Society later purchased 73 acres for a retreat on what was now known as Crystal Lake. A camp for girls was in continuous operation from 1920 until recently when the property was sold; the existing girls camp combined with a nearby boys camp as an economy measure.
The loss of 20 feet of depth was less catastrophic to Crystal Lake than it would have been to many other lakes: the lake fills a deep valley, and remaining depths extend to 175 ft. The lake was renamed Crystal Lake because of its extremely clean and clear waters. This is due to the extremely small watershed limiting ingress of polution; the lake itself occupies 35% of the watershed. The only town of any size on the lake itself is Beulah. However, Beulah sports a fine public beach of several hundred feet, beach house, playground, tennis courts and parking. The village park is complete with large pavilion, barbecues and picnic tables, and is almost entirely shaded by majestic hardwoods. During the summer, there are frequent free concerts in the park. The boat launch is large and well-maintained. The village park also provides a trailer park and campground with reservations accepted for nightly, weekly and seasonal spots.
Crystal Lake provides the full complement of water sports including swimming, boating, canoeing and water-skiing. Fishing guide services are available to better the angler's odds of a decent catch of Rock and Smallmouth Bass, Coho Salmon, Lake Trout, Brown Trout and Rainbow Trout.
Crystal Lake makes a great base camp for venturing farther afield in this historic area. A secondary road from M-22 at the north end of the lake leads about a mile to the Point Betsie lighthouse. Built in 1858, the light sits 52 feet above the lake and has a range of 27.5 miles. The point of land was know to the French as "Point Aux Bec Scies," meaning "sawed beak point" and marks the southern end of the Manitou Passage that lake schooners used to travel between the Sleeping Bear Dunes and North and South Manitou Islands. Watching the sunset over the lake from the Point Betsie life station is a tradition visitors would do well to incorporate into their vacation repertoire, with campfires and marshmallow roasts included. A few miles north, visitors can enjoy Visit Sleeping Bear Dunes National Lakeshore Park where you can climb dunes over 200 feet high, visit yet another lighthouse, and engage in several ranger-led activities.
The Benzie County area has plenty of recreational activities, including golf at several local golf courses. Crystal Lake Art Center, dedicated to the visual, performing, and literary arts, often has concerts scheduled. Nearby Frankfort is a prime spot for sightseeing by glider and hang gliding. For a time, Frankfort was the site of the Frankfort Sailplane Manufacturing Association; in 1938, the town hosted the Midwestern National Soaring Championship. Fall foliage tours by glider are especially popular and quite reasonable. The Betsie Valley bicycle trail runs between Frankfort and Thompsonville, including the village of Beulah. Winter sports such as snowmobiling, skiing, snowshoeing and ice fishing all have ample facilities in the area.
Fifteen miles from Beulah, The Interlochen Center for The Arts provides first-class art and educational experiences for both young and old on its 1200 acre campus. Founded in 1928, Interlochen Camp was the first performing arts camp of its kind for youth grades 3 through 12. It contains a summer camp for youth, a performing arts high school and college, and continuing education experiences popular with educators looking to upgrade their skills. The educational offerings include Creative Writing, Dance, Motion Picture Arts, Music, Theatre Arts and Visual Arts. Concerts and performances by world-class artists and musicians are scheduled regularly throughout the summer and open to the public. Its proximity to Interlochen makes Crystal Lake the ideal home base for the family of a life-long learner, a young and budding performance artist, or the fishing/hunting/hiking fan. Truly, at Crystal Lake, you can keep the entire family happy.
Crystal Lake is an easy 270 miles from Detroit, 300 from Chicago. Many week-enders fly into Traverse City thirty miles away.
Custom Crystal Lake MI house decor
Read our full review of these personalized lake house signs.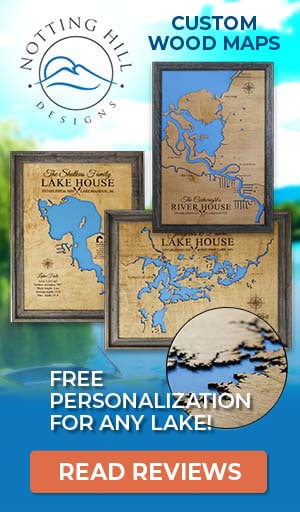 Things to do at Crystal Lake MI
Vacation Rentals
Fishing
Ice Fishing
Boating
Swimming
Beach
Canoeing
Water Skiing
Golf
Tennis
Camping
Campground
Picnicking
Hiking
Biking
Snowmobiling
Horseback Riding
Hunting
Wildlife Viewing
Playground
Fish species found at Crystal Lake MI
Bass
Black Bass
Brown Trout
Coho Salmon
Lake Trout
Rainbow Trout
Salmon
Smallmouth Bass
Trout
---
Best hotels and vacation rentals at Crystal Lake MI
The Crystal Lake MI map shown above is a simple and stress-free way to search for trip accommodations. But if you want to take a deeper dive to find the ideal waterfront home, cabin, condo, hotel or resort, visit our favorite lodging partners by clicking the buttons below.
Note: These are affiliate links so we may earn a small commission if you book through them. While there is no extra cost to you, it helps provide resources to keep our site running (thank you)! You can read our full disclosure policy here.
---
Crystal Lake MI photo gallery
New photos coming soon!
Crystal Lake MI statistics & helpful links
We strive to keep the information on LakeLubbers as accurate as possible. However, if you've found something in this article that needs updating, we'd certainly love to hear from you! Please fill out our Content Correction form.
Advertise your Crystal Lake MI vacation rental
LakeLubbers will soon offer homeowners and property managers the opportunity to to showcase their vacation rentals to the thousands of lake lovers searching our site daily for accommodations. If you'd like additional details, please contact our advertising team here.
Looking for the Crystal Lake MI forum?
LakeLubbers previously offered visitors the ability to create accounts and participate in lake forums. When we overhauled the site's content management system in 2021 we had to disable those features. We're evaluating options and welcome your comments and feedback here.
We also encourage you to join our lake-lovin' community on Facebook and Instagram!
Spread the word! Share our Crystal Lake MI article with your fellow Lake Lubbers!