Torch Lake, Michigan, USA
Lake Locations:
USA - Midwest - Michigan - Northwest -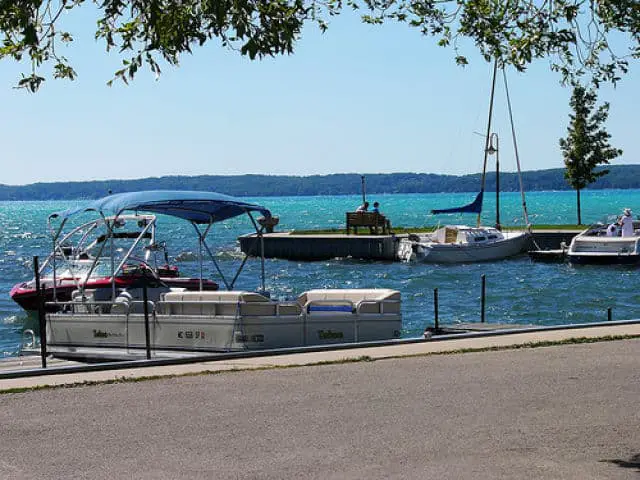 Torch Lake holds the dual distinction as Michigan's longest inland lake (18 miles) and its second largest inland lake (18,770 acres). The lake's unparalleled beauty is often attributed to its unique turquoise color. Torch Lake's name is translated from its Ojibwa name, Was-Wah-gonink, or "Lake of the Torches." This is due to the fact that local native Americans at one time employed torches to fish the lake at night. The torch lights attracted the lake's fish population, which would then be gathered through the use of spears and nets.
Torch Lake is a glacial lake located in the northwest corner of Michigan's lower peninsula, situated between Charlevoix (15 minutes) and Traverse City (30-40 minutes). This region of Antrim County is known as the Chain of Lakes, a moniker derived from the 14 lakes and connecting rivers that flow through the county. Torch Lake is part of the Lower Chain of Lakes which includes Intermediate Lake, Lake Bellaire, Clam Lake, Torch Lake, Lake Skegemog, and Elk Lake. Water flows into Torch Lake from Clam Lake by way of the Clam River; water flows out of Torch Lake by way of the Torch River into Lake Skegemog. Although glacial in origin, Torch Lake was made deeper by construction of a hydropower dam downstream on the Elk River in 1916. The dam blocks the flow of water (and boats) into Lake Michigan. The lake's maximum depth is an impressive 300 feet.
Boating on Torch Lake is prime-time recreation. Boaters can cruise for about 100 miles exploring all six Lower Chain lakes. A popular approach to Torch Lake is from Elk Rapids to the west. Boaters coming from Lake Michigan into the Chain of Lakes must arrange shuttle service past the dam. Torch Lake itself has several public access ramps, located at Torch Lake Village, Eastport, Alden, and one at the south end. The Torch River also has several public boat ramps.
Other popular Torch Lake water sports include sailing, windsurfing, kayaking, canoeing, jet skiing, and water skiing. Sailing and windsurfing lessons are available. Visitors who don't bring their own water transportation can rent boats, kayaks, and canoes from local businesses. After exploring Torch Lake by boat, take a dip in the lake's cool, refreshing water. A popular swimming place is the 2-mile long sand bar at the south end of the lake. People arrive by boat and jet ski to swim and socialize with others.
With an average depth of 140 feet, Torch Lake makes an excellent location to fish for trout (lake trout, brown trout, rainbow trout). While some trout spend the majority of their time in the coldest, deepest reaches of the lake, downrigger fishing is an excellent means of making a catch. Beyond trout, the visiting sportsman will also be rewarded with catches of yellow perch, smallmouth bass, rock bass. muskellunge, whitefish, and ciscoes.
Torch Lake is also famed for being the home of YMCA Camp Hayo-Went-Ha, the oldest American summer camp, still located on its original site, an area of approximately one square mile of the lake's shore in Central Lake Township. The camp was first opened in 1904.
Torch Lake's 40 miles or so of shoreline wend their way through towns and communities of various sizes, all with something to offer the interested traveler. The nearby town of Bellaire (only a little over 4 miles from the lake's eastern shore) features a historical museum that documents life in the area from the Civil War through the 1960s. The town is also home to the Antrim County Courthouse, an historic building that celebrated its 100th anniversary in 2005. The Grand Victorian Bed and Breakfast Inn is the premier lodging in this town. Built in the 1890s, it was placed on the U.S. Department of the Interior's National Registry of Historic Places in 1978 and opened to the public in 1989 as the bed-and-breakfast it remains today.
Three miles from Torch Lake's shores is another quaint northern Michigan town, this one called Alden, the perfect getaway location for the traveler who wants to balance their outdoor adventure with some shopping. Alden is also home to Alden Depot Park and Museum, a restored train depot dating from 1908 that features exhibits on local history.
Less than 10 miles north of the lake is the 156-acre Antrim Creek Natural Area on the shore of Lake Michigan, an ideal place for hiking, kayaking, and other outdoor activities. The Natural Area includes numerous endangered and protected species of plants, including the Pitcher's Thistle and the Lake Huron Tansy.
When temperatures dip, winter sports around Torch Lake heat up. Winter sport offerings include downhill skiing, cross-country skiing, ski boarding, snowshoeing, and snowmobiling. Cabin and home rentals ring the lake, providing ideal lodging year round, just steps from the water with unbeatable views.
While Torch Lake may be the second-largest inland lake in the state of Michigan, it is also a stepping stone to enjoy the entire Chain of Lakes and all of the surrounding beauty of historic Antrim County.
Things to do at Torch Lake
Vacation Rentals
Fishing
Boating
Sailing
Swimming
Canoeing
Kayaking
Jet Skiing
Water Skiing
Camping
Cabin Rentals
Hiking
Downhill Skiing
Cross-Country Skiing
Snowmobiling
Wildlife Viewing
Museum
Shopping
Fish species found at Torch Lake
Bass
Black Bass
Brown Trout
Cisco
Lake Trout
Muskellunge
Perch
Pike
Rainbow Trout
Smallmouth Bass
Sunfish
Trout
Whitefish
Yellow Perch
---
Torch Lake Statistics & Helpful Links
Spread the word! Share our Torch Lake article with your fellow Lake Lubbers!