Whatcom Lake, Washington, USA
Lake Locations:
USA - West - Washington - Northwest Washington & Islands -
Also known as:  Lake Whatcom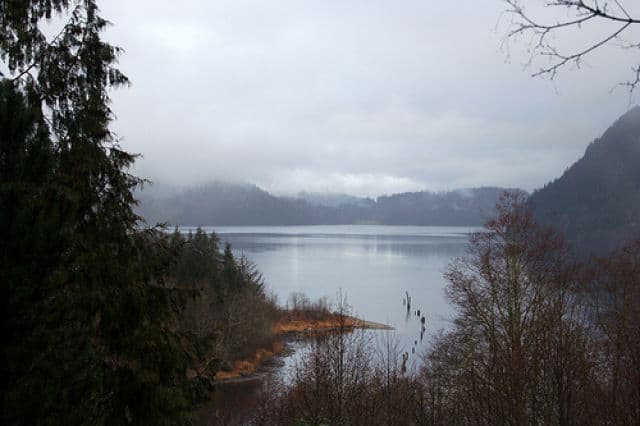 Whatcom Lake is a 5,000-acre natural lake surrounded by mountainous terrain located in Whatcom County, Washington. Whatcom is from a Nooksack Indian word meaning "noisy water", and was the name of a Nooksack chief. Whatcom Lake provides recreation, flood control, and drinking water to Whatcom County and vicinity.
The Whatcom Lake Dam, located on Whatcom Creek, regulates water levels for flood storage and recreation. The dam is owned and operated by the City of Bellingham at the northwest end of the lake. Whatcom Lake is filled by runoff from its surrounding watershed and diversion water from the Nooksack River during spring and fall. From November to February, the lake is maintained at 311.5 feet. In March the water is allowed to rise to 314.5 and is maintained at that level through September for summer recreation. The spillway gates are adjusted in October to slowly lower the water level back to 311.5 feet to prepare for spring flood control.
The Whatcom Lake area has been inhabited for nearly 12,000 years by many tribal groups in the Northern Cascade Mountain Ranges. Today, Whatcom County proclaims to be one of the most sought-out areas in the country because of ample opportunities for recreation, colleges, city parks, industry and cultural events. For off-water recreation, nearby golf courses offer a challenge during the dry season, and ski resorts are close by for a snowy day diversion.
The many benefits of living on the shores of Whatcom Lake include residents' private access to their own docks, beautiful scenery, and community parks for residents. Most private homes are located on the northern end and eastern side of Lake Whatcom. There is a wide variety of styles and ages of homes ranging from upscale lakefront property to smaller single family homes and rental properties.
Bloedel Donovan Park, located on Whatcom Lake and operated by the Bellingham Parks and Recreation Department, is a popular destination for lake visitors. This park offers swimming with a beach area, concession stands, ball fields, playground, and a pavilion that hosts year round community events. It has the lake's only public boat launch within the city limits and offers watercraft rentals in-season.
Nearly 12 miles long and just over a mile wide at its widest point, Whatcom Lake has been managed with many undeveloped areas to allow the watershed to thrive in a natural setting with forests of western hemlock, Douglas firs, red cedar along with stands of hardwood trees. For this reason, ample fishing is available from the banks of Whatcom Lake. Available to test your angling skills are many species of fish including the popular cutthroat trout, kokanee salmon, largemouth bass, smallmouth bass, and yellow perch.
With its scenic beauty of natural surroundings, the modern conveniences of city living, and wide variety of entertainment opportunities, Whatcom Lake is worth a visit.
Things to do at Whatcom Lake
Vacation Rentals
Fishing
Boating
Swimming
Beach
Golf
City Park
Playground
Fish species found at Whatcom Lake
Bass
Black Bass
Cutthroat Trout
Kokanee Salmon
Largemouth Bass
Perch
Salmon
Smallmouth Bass
Trout
Yellow Perch
---
Whatcom Lake Photo Gallery
Whatcom Lake Statistics & Helpful Links
Spread the word! Share our Whatcom Lake article with your fellow Lake Lubbers!