Cultus Lake, British Columbia, Canada
Lake Locations:
Also known as:  Swee-ehl-chah, Tsowallie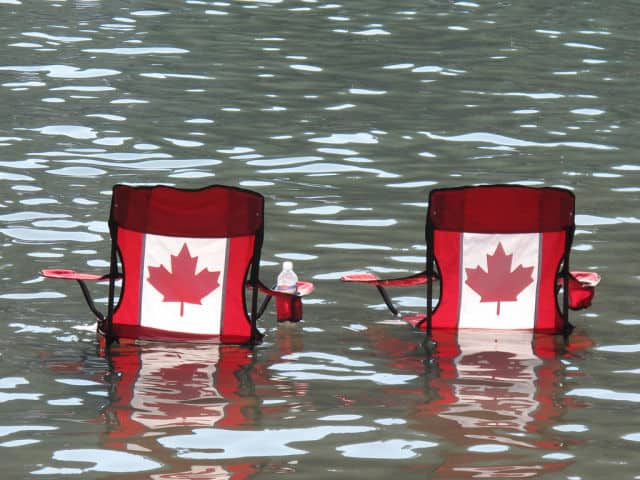 Located in Canada's beautiful British Columbia, Cultus Lake shares its shores with Cultus Lake Provincial Park, Cultus Lake Park (District of Chilliwack's municipal park), and Cultus Lake private development. Found one hour east of Vancouver and eight miles (13 kilometers) south of the city of Chilliwack, Cultus Lake is accessed by following the Columbia Valley Highway through the Fraser Valley region of southern British Columbia.
This glacial lake has long been a sacred site to people of Canada's Stolo Nation who knew the lake by the names Swee-ehl-chah or Tsowallie. The lakeshore served as a site for spirit quests until it was believed that the lake's special powers were depleted. The lake then became known as Cultus, a Chinook word meaning bad, useless or worthless. As early as the 1800s Cultus Lake has served as a recreational lake for area residents and visitors. In the 1920s summer residences began to appear along the eight-mile shoreline, and businesses soon followed. The Crown granted land for 251-acre (102 hectare) Cultus Lake Park in 1924. In 1932 Cultus Lake Park came under the ownership of the District of Chilliwack, and the Cultus Lake Park Board was established as a governing body under the Cultus Lake Park Act. Annual residential leases were introduced in 1932 and again in the 1940s when there was a growing demand for military housing. As the number of permanent residences increased, the Cultus Lake Park Act was amended to accommodate 21-year leases.
Cultus Lake maintains much of its 1,550 acre (627.4 hectares) surface area, average depth of 105 feet (32 meters) and maximum depth of 137 feet (41.8 meters) with inflow from surrounding streams. The lake's outflow becomes the headwaters of Sweltzer Creek. Not to be considered a dam, a salmon-counting weir has been placed on Sweltzer Creek beyond the north end of the lake.
Along the northeast shore you will find Cultus Lake Park. Designed with family fun and recreation in mind, the park offers swimming, boating, wind surfing, water skiing, a waterslide, horseback riding, hiking, go-carts, mini-cars, mini-golf and golf. Combine the recreational opportunities of Cultus Lake Park with the activities and amenities of Cultus Lake Provincial Park, and you will find one of the region's most popular vacation lakes. Established in 1948, the provincial park extends along the eastern and western shores of Cultus Lake covering 1,621 acres (656 hectares). In 1969 an additional 5,140 acres (2,080 hectares) were added to the park's eastern boundary to create a wilderness area named International Ridge Provincial Park.
While most of the western shore of Cultus Lake remains undeveloped park land, sizeable crowds are attracted to the campgrounds, resorts and developments at the north and south end of the lake. Both public and private sand beaches attract swimmers and sunbathers to the gently sloping shoreline. Boaters are welcome on Cultus Lake with the stipulation that they keep wakes 150 meters from shore. Regulations are posted to prevent erosion of banks and swamping of nests and wildlife habitat for such rare fauna as the Pacific giant salamander, coastal tailed frog and red-legged frog.
Two genetically unique fish species live within Cultus Lake: the Cultus pygmy sculpin and the Cultus sockeye salmon. The conditions found in Swee-ehl-chah create an ideal feeding ground for young fingerlings. All five varieties of salmon (sockeye, chum, coho, Chinook and pink) can be found in the lake depths, although fishing for salmon is prohibited. Anglers should not be disappointed; additional species include Dolly Varden trout, bull trout, rainbow trout, cutthroat trout, Rocky Mountain whitefish, threespine stickleback, northern pikeminnow, peamouth chub, largescale sucker, redside shiner, western brook lamprey, Pacific lamprey, several sculpin species and even an occasional white sturgeon. While the selection is broad, fishing is best before or after the lake's busy summer holiday boating season – and to be expected, a fishing license is required.
Summer visitors will enjoy walking the forested hills around Tsowallie. Several trails can be found within Cultus Lake Provincial Park, taking hikers on a quiet stroll or overnight trek past stands of Douglas fir, forests, and creek beds home to coyote, cougar, black bear, blacktail deer, beaver and variety of birds.
Cultus Lake is set within the Fraser Valley. This fertile valley extends from the coast to the Cascade Mountains, running parallel to the Canada-United States border and contains almost endless opportunities for outdoor recreation. Within the valley visitors will find numerous lakes and rivers surrounded by regional and provincial parks. Explore Fraser Valley and you will find camping, mountain biking, hiking, world-class fishing and white water rafting within driving distance of Cultus Lake.
Drive less than 10 miles north of Cultus Lake and you will find a full complement of services within the community of Chilliwack. Set in the upper Fraser Valley with a population near 76,000, Chilliwack is a charming western community offering an excellent selection of shops, restaurants, and attractions. Drive approximately 10 miles (3.3 kilometers) southeast of Cultus Lake and you will cross the U.S. border near the North Cascades National Park Complex. This mountainous region of the Cascades provides opportunities for backpacking, mountain climbing and wilderness excursions.
For decades Cultus Lake has been the location for family vacation memories – memories of swimming, picnics, days in the sun, hiking trips and family reunions. Those memories are still being made by new and returning visitors to Cultus Lake. Campgrounds, hotels, resorts, cottages and homes are among the vacation rentals found along or near the shores of Cultus Lake. If you are interested in building a home where you can vacation every day, real estate can be found in the Cultus Lake area. Consider the possibilities, and select Cultus Lake as your next vacation destination.
Things to do at Cultus Lake
Vacation Rentals
Fishing
Boating
Swimming
Beach
Whitewater Rafting
Water Skiing
Wind Surfing
Golf
Camping
Campground
Picnicking
Hiking
Mountain Climbing
Biking
Horseback Riding
Wildlife Viewing
Birding
Provincial Park
National Park
Fish species found at Cultus Lake
Bull Trout
Carp
Chinook Salmon
Cutthroat Trout
Dolly Varden Trout
Lamprey
Rainbow Trout
Salmon
Sculpin
Sockeye Salmon
Stickleback
Sturgeon
Sucker
Trout
Whitefish
---
Cultus Lake Photo Gallery
Cultus Lake Statistics & Helpful Links
Spread the word! Share our Cultus Lake article with your fellow Lake Lubbers!