Lake Cavanaugh, Washington, USA
Lake Locations:
USA - West - Washington - Northwest Washington & Islands -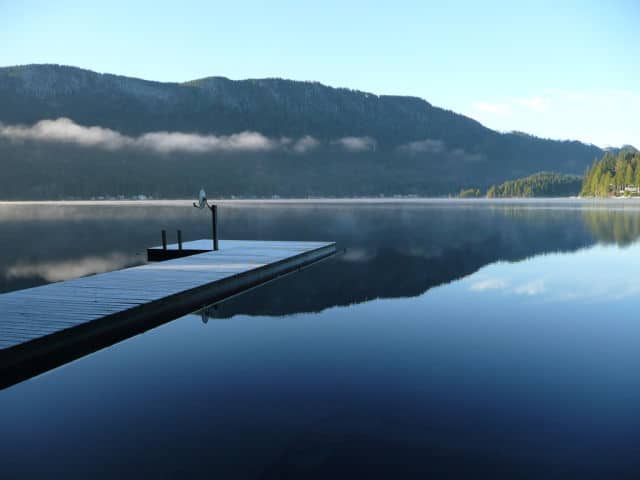 The snowy peaks of the Northern Cascades complement the multitude of evergreens that surround 844-acre Lake Cavanaugh. Located in Skagit County in Northwest Washington, Lake Cavanaugh is remarkably secluded.
Visitors to Lake Cavanaugh will find a small but very active community living here. Surrounding the circumference of the lake are many family homes. Just over 100 people call Lake Cavanaugh home. Some of them are seasonal residents who come to live at the lake during vacation periods, and others are at the lake year-round. Vacation rentals and real estate opportunities are available featuring beautiful lakefront homes and cabins, some with docks and beachfront. There is also land to build on. It is important to note that the homes on Lake Cavanaugh are serviced with water supplied directly from the lake, or otherwise from shallow wells.
The community is served by the Lake Cavanaugh Improvement Association. You would never guess there was so much activity amidst the quiet and stalwart evergreens, but the association is busy all year round putting on events and generally working to keep the lake community happy. Some attractive features of the lake community include a volunteer fire department, a lively community center, and a mix of fish derbies, pancake breakfasts, casino nights and creative fundraisers. Every year there is a race along the paved road that encircles the lake and offers great views. This same road is superb for cycling or a morning jog in the crisp air 1000 feet above sea level.
Activities seem limitless in this nature-lover's delight. On the water there's swimming, waterskiing, tubing, paddle boating, sailing, wakeboarding, kayaking and wind surfing. Anglers should look for trout, kokanee salmon, and largemouth bass. And though there is a community living here, the lake is accessible to the public. A boat launch is available on the north shore. Off the water, consider hunting, mountain biking, cross country skiing, horseback riding, snowshoeing, or snowmobiling.
Just about an hour north of Seattle and then just a few miles east of the Washington coast and the San Juan Islands, a vacation at Lake Cavanaugh can have a jam-packed itinerary of wonder and exploration. Go see the famous Space Needle, marvel at the Seafair's plane acrobatics or visit any of the renowned sites of culture, art, technology and beauty that the so-called "rainy city" attracts throngs of visitors for. Stop through a few of the quaint and attractive towns scattered among the Squagit Valley surrounding Lake Cavanaugh. Berry farms and vineyards will prove a treat. Take a ferry to the San Juan Islands and watch the orca whales. When you're finished with all of that and more, head home back to the snow covered peaks and thick of evergreens where your mind can become quiet with the peace that blankets the lake. Wake up the next morning and smile, because you know where you are is paradise.
Things to do at Lake Cavanaugh
Vacation Rentals
Fishing
Boating
Sailing
Swimming
Kayaking
Water Skiing
Wakeboarding
Wind Surfing
Tubing
Cabin Rentals
Biking
Cross-Country Skiing
Snowmobiling
Horseback Riding
Hunting
Casino Gambling
Fish species found at Lake Cavanaugh
Bass
Black Bass
Kokanee Salmon
Largemouth Bass
Salmon
Trout
---
Lake Cavanaugh Photo Gallery
Lake Cavanaugh Statistics & Helpful Links
Spread the word! Share our Lake Cavanaugh article with your fellow Lake Lubbers!