Stave Lake and Hayward Lake, British Columbia, Canada
Also known as:  Stave Reservoir, Hayward Reservoir
Welcome to the ultimate guide for history, statistics, local fun facts and the best things to do at Stave Lake and Hayward Lake.
If you're considering Stave Lake and Hayward Lake vacation rentals, we've made it super easy to explore accommodations and nearby hotels using the interactive map below. Simply click on a listing to compare similar properties, best rates and availability for your dates. Or keep scrolling to read our Stave Lake and Hayward Lake guide!
Stave Lake and Hayward Lake visitor and community guide
Stave Lake and Hayward Lake are reservoirs located about an hour east of Vancouver in British Columbia's Fraser Valley. Managed by BC Hydro, these lakes provide many recreational opportunities as well as a healthy portion of BC's hydroelectric power. A corner of Golden Ears Provincial Park encloses a portion of Stave Lake's northwestern shoreline, and a few private cottages cling to the steep hillsides on the eastern shore. Other than roads to the designated recreational facilities on the lakes, there is little access to the shore except by boat. The scenery is truly wilderness.
With over 14,000 surface acres, Stave Lake covers a large part of the former Stave River Valley. The name originated because this area was once a major supplier of the lumber needed to produce barrel staves that were used for shipping salmon. The original lake was only about a third of the size of the current reservoir; building of the Stave Falls Dam and powerhouse flooded nearby low-lying valleys and increased the lake's size considerably. In keeping with British Columbia's commitment to providing recreational access to such water bodies, the Stave Lake recreation area offers a swimming beach, picnic tables, restrooms and a campground reserved for group camping. A two-lane boat ramp allows for boat launching with convenient floating boat docks. Stave Lake permits motorized boats, while Hayward Lake immediately downstream does not. A camp for special needs children occupies a small portion of the southwestern shore of Stave Lake. Mud flats at the south end are popular among off-road vehicle fans, who often collect here to face off in friendly competition.
Fishing is a popular pastime, with rainbow trout, Dolly Varden, kokanee and cutthroat trout being the most popular prey. Catfish, northern pikeminnow, chub and suckers are also present, but these fish are not in great abundance because the lake does not contain the necessary vegetation for spawning and protection of fry. The best angling luck is usually expected near the mouths of the several inlets into the lake from the Stave River, small creeks and the Alouette Diversion Tunnel. That shouldn't prevent fishing fans from trying their luck while enjoying the large lake and its spectacular scenery.
The surrounding forests blanket the steep slopes of the nearby mountains in a sea of dark green. Small waterfalls often carry incoming streams over the last few feet to the lake. Wildlife are plentiful, including deer, black bear and smaller mammals. Boating on Stave Lake is enjoyable on calm days, but weather conditions can change quickly; the narrow valley funnels winds that can raise large waves in a matter of minutes. Old cedar stumps protrude from the water in several near-shore areas, making boating caution extremely important.
Immediately downstream after a three-mile stretch of river, Hayward Lake is enclosed by the Ruskin Dam. Hydropower produced at the Ruskin Dam is 'run of 'river', meaning large stores of water are not required for operation. Instead, Hayward Lake's 716 acres serve mainly as flood control for densely populated areas downstream. The lake also provides a recreation area which includes a swim beach, picnic area, boat ramp, fishing dock and lakeside trail. A fish spawning channel is located at the Ruskin Dam and is always interesting to observe during annual migration periods.
Several trails exist around Hayward Lake, including a four-hour day hike that circles the lake utilizing two separate trails. The Hayward Lake Trail along the east side allows hiking and mountain biking. It intersects the Railway Trail that skirts the west shoreline. Along the route, small waterfalls, ravines and stunning scenery make this well worth a day's outdoor adventure. Near the Stave Falls Dam upstream, the Stave Falls Interpretive Trail ventures a bit over a mile along a moss-encrusted rain forest trail accompanied by native bird songs. Along the trail ten stops with signage describe various aspects of the forestry resource management practices at the Mission Municipal Forest. The rural township district of Mission holds a number of 'tree farm' properties where sustainable forestry is practiced.
Stave Lake and Hayward Lake form a part of the Alouette-Stave-Ruskin Hydroelectric Project. The Stave Falls Dam was built originally in 1912 to provide electrical power to operate the interurban railway and electric street cars of Vancouver. The project was enlarged by the British Columbia Electric Railway (BCER) and eventually passed into the hands of BC Hydro. The Alouette Dam was built in the late 1920s and water diverted via a diversion tunnel to feed Stave Lake. The diversion tunnel supplies about 20% of the lake's water. Hayward Lake and Ruskin Dam followed in 1931. A fourth dam in the system, the Blind Slough Dam, separates Stave Lake's water from an adjacent lowland area. In times of high water this dam's floodgates can be opened to flood the slough and relieve water pressure on the dams and downstream areas. The Stave Falls Visitors Centre offers tours, exhibits and historical perspective centered around the hydroelectric system. It is open daily March into October. The Railway Trail traces the path of an old railroad line built to ferry materials and labor to the dams being built. Rail transportation still carries daily workers from the small cities along the Fraser River into Vancouver each day.
Although there is no camping at either Stave Lake or Hayward Lake, two small provincial parks nearby provide camping. Rolley Lake Provincial Park is located near the south arm of Stave Lake and offers swimming and fishing. Davis Lake Provincial Park is located east of the southern part of Stave lake and also offers lake swimming, fishing and rustic camping. Davis Lake is particularly good for bird viewing among the western hemlock forest stands. Camping at Davis Lake Park is walk-in only. Rolley Lake is stocked with cutthroat trout and rainbow trout, while Davis Lake is stocked with cutthroat trout.
Several bed & breakfasts exist near the two lakes, with hotels and motels located downstream along the Fraser River. One resort spa with lodging offers its services near Stave Falls. Guest rentals and short-stay rentals can be found in the area. The entire area is geared toward vacationing visitors, with plenty of small restaurants and convenience stores ready to provide food and supplies. So, come and experience this scenic and diverse area.
* Statistics listed are for Stave Lake only. All statistics are as listed by B C Hydro.
Custom Stave Lake and Hayward Lake house decor
Read our full review of these personalized lake house signs.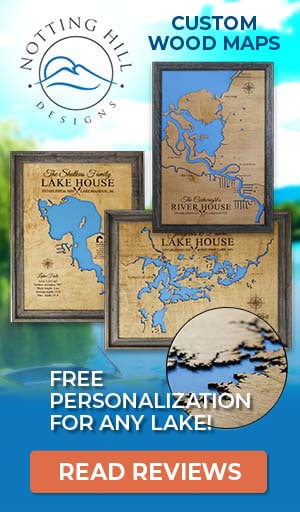 Things to do at Stave Lake and Hayward Lake
Vacation Rentals
Fishing
Boating
Swimming
Beach
Camping
Campground
Picnicking
Hiking
Biking
Waterfall
Wildlife Viewing
Provincial Park
Fish species found at Stave Lake and Hayward Lake
Carp
Catfish
Cutthroat Trout
Dolly Varden Trout
Kokanee Salmon
Rainbow Trout
Salmon
Sucker
Trout
---
Best hotels and vacation rentals at Stave Lake and Hayward Lake
The Stave Lake and Hayward Lake map shown above is a simple and stress-free way to search for trip accommodations. But if you want to take a deeper dive to find the ideal waterfront home, cabin, condo, hotel or resort, visit our favorite lodging partners by clicking the buttons below.
Note: These are affiliate links so we may earn a small commission if you book through them. While there is no extra cost to you, it helps provide resources to keep our site running (thank you)! You can read our full disclosure policy here.
---
Stave Lake and Hayward Lake photo gallery
New photos coming soon!
Stave Lake and Hayward Lake statistics & helpful links
We strive to keep the information on LakeLubbers as accurate as possible. However, if you've found something in this article that needs updating, we'd certainly love to hear from you! Please fill out our Content Correction form.
Advertise your Stave Lake and Hayward Lake vacation rental
LakeLubbers will soon offer homeowners and property managers the opportunity to to showcase their vacation rentals to the thousands of lake lovers searching our site daily for accommodations. If you'd like additional details, please contact our advertising team here.
Looking for the Stave Lake and Hayward Lake forum?
LakeLubbers previously offered visitors the ability to create accounts and participate in lake forums. When we overhauled the site's content management system in 2021 we had to disable those features. We're evaluating options and welcome your comments and feedback here.
We also encourage you to join our lake-lovin' community on Facebook and Instagram!
Spread the word! Share our Stave Lake and Hayward Lake article with your fellow Lake Lubbers!