Lake Waveland, Indiana, USA
Lake Locations:
USA - Midwest - Indiana - West -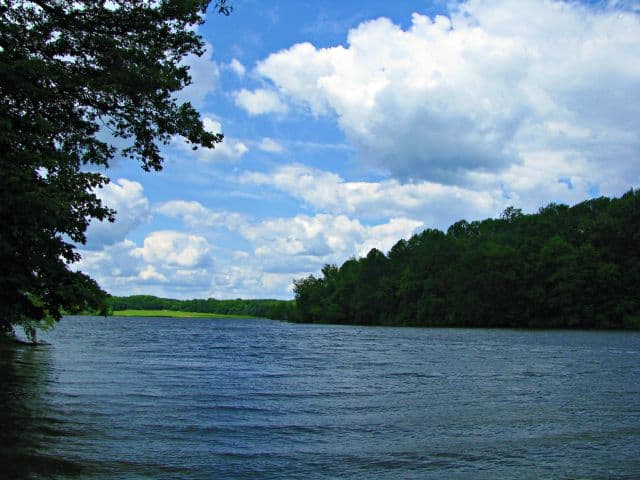 Nestled in the southwest corner of Montgomery County sits Lake Waveland, one of the county's greatest assets. The 360-acre lake is bordered by 248-acre Lake Waveland Park, providing more than 600 recreational acres. Lake Waveland exists because a local group of property owners and interested environmentalists thought the area needed a lake. The Little Raccoon Creek Conservancy District was formed under a state law that allows local groups to act legally to assist with such issues as erosion, flood control, recreation and water supply. The Conservancy District owns other dams and lakes in this area of Indiana. Although Indiana has a large number of streams and creeks that are prone to flooding, the state has few lakes. In 1970 the Conservancy created one of the best bass fishing lakes in the state, plus a popular campground and park.
Lake Waveland has no restrictions on boating, so lakelubbers here are free to enjoy power boating, water skiing, wakeboarding, personal water craft, sailing and pontooning. The irregularly-shaped shoreline is ideal for canoeing, kayaking and enjoying nature. A private development along the northwest shore holds the only lakefront homes. The rest of the lake is mostly wooded and attracts a number of species of birds and waterfowl. Lake Waveland Park provides a swimming beach and a boat ramp along with campsites that receive a steady stream of visitors over the summer season. The park has over 150 campsites ranging from modern to primitive and offers four rental cabins, with more planned for the future. Locals come here to swim and play as do visitors from far afield. The park offers playground equipment, tennis courts, a waterslide, basketball court, general store, bath house and boat rental. The lake has also attracted other outdoor-focused activities; an ATV facility with 200 miles of trails is being refurbished by the park and is expected to re-open soon.
Fishing is where Lake Waveland really shines. The lake holds largemouth bass, bluegill, muskie, black crappie, redear sunfish and channel catfish, with largemouth bass the stars of the show. A number of fishing tournaments are held here each year. Anglers say Lake Waveland has great structure, with flats, deep banks, and fallen trees along the shoreline. There are several areas provided for fishing from shore. Indiana Fish and Wildlife introduced muskie to the lake, stocks game fish based on careful monitoring, and has worked to reduce an overabundance of gizzard shad. The opportunity to catch either panfish or the larger trophy bass keeps the boat ramp parking lot full much of the year, with tournaments scheduled most weekends. Each year the park board sponsors a kids' fishing day to encourage youngsters to learn about the sport.
A number of events are held at the park each summer, including car shows, ATV races, and fireworks. Lake Waveland Park personnel have a number of proposed improvements they hope to make, including a possible 'frisbee golf' course. A nominal admission fee is charged to enter the park, with slightly higher fees paid by out-of-state visitors. Only 50 miles from Indianapolis, Lake Waveland is becoming more popular each year. The lake is also located close to two Indiana State Parks. Shades State Park is day-use only, although its Pine Hills Nature Preserve is popular among nature observers. Turkey Run State Park offers camping, but neither state park offers a lake. So, visitors to those parks naturally gravitate to Lake Wavelend to make their vacation complete.
The nearby town of Waveland is small but offers most camping supplies if they can't be purchased at the park's general store. Waveland is a picturesque little town with many Victorian homes along its tree-lined streets. Its name is unusual but has a reasonable explanation: the area was first settled by former residents of Kentucky. The founding fathers named it Waveland in honor of "a Kentucky gentleman's home". Waveland is only about 15 miles from Crawfordsville, the county seat of Montgomery County.
Historic Crawfordsville holds a number of historical sites. The General Lew Wallace Study & Museum is the preserved hideaway of the Civil War officer and author of the novel Ben-Hur. The Ropkey Armor Museum offers a wide variety of military armaments, a favorite with old soldiers and young boys everywhere. And the fascinating Rotary Jail Museum features one of only nine such jails ever built. This unique plan placed the pie-shaped cells inside a round 'cage' with only one door. To open a cell, the entire round cellblock was turned so that the proper cell had an exit. Built in the late 1800s, this jail was in use until 1970. The same building houses a cultural center featuring local arts. Several historic homes are also available for touring via a walking tour in Crawfordsville.
Lake Waveland is an example of inter-agency cooperation to produce a recreational facility and lake. The Little Raccoon Creek Conservancy District owns the lake; the Waveland Park Board (City of Waveland) administers the 248-acre park; and the Indiana Department of Natural Resources, Division of Fish and Wildlife takes care of the fishery. Visitors not inclined to camping can find local lodgings in the form of small motels and occasional private rentals. Real estate is sometime available on the lake itself but is extremely limited. Other real estate in the area is much easier to find. For the avid fisherman, vacationing or even living near Lake Waveland is a dream come true. So pack up the kids and the bass boat and come on down!
Things to do at Lake Waveland
Vacation Rentals
Fishing
Fishing Tournaments
Boating
Sailing
Swimming
Beach
Canoeing
Kayaking
Water Skiing
Wakeboarding
Golf
Tennis
Camping
Campground
Cabin Rentals
Hiking
Wildlife Viewing
Birding
State Park
Museum
Playground
Fish species found at Lake Waveland
Bass
Black Bass
Black Crappie
Bluegill
Catfish
Channel Catfish
Crappie
Gizzard Shad
Largemouth Bass
Muskellunge
Pike
Redear Sunfish (Shellcracker)
Shad
Sunfish
---
Lake Waveland Photo Gallery
Lake Waveland Statistics & Helpful Links
Spread the word! Share our Lake Waveland article with your fellow Lake Lubbers!