Cagles Mill Lake, Indiana, USA
Lake Locations:
USA - Midwest - Indiana - West -
Also known as:  Cagles Mill Reservoir, Cataract Lake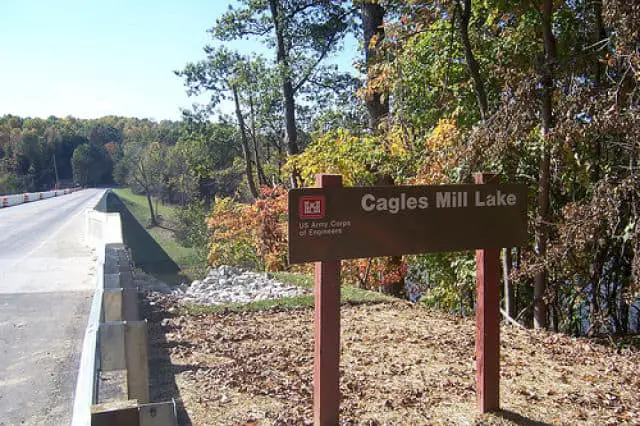 Cagles Mill Lake, also known as Cagles Mill Reservoir and Cataract Lake, is located half in Lieber State Recreation Area and half in Cataract Falls State Recreation Area. It is often referred to as Cataract Lake because of its location just outside of Cataract, Indiana. This 1,400 acre man-made lake is a popular recreation site and known for its waterfalls. The area surrounding Cagles Mill Lake is mostly forested land, full of deer, wild turkeys and a variety of other animals. Hunting is allowed in this area with the proper permits.
Authorized by the Flood Control Act of 1938, Cagles Mill Reservoir was created by building Cagles Mill Dam across Mill Creek. The Louisville District of the US Army Corps of Engineers operates the dam to prevent flooding in the Eel and White River watersheds. The Corps designed and constructed the dam in 1953, which measures 150 feet high and 900 feet long. Cagles Mill Lake has two elevation levels: summer pool and winter pool. During the fall and winter months the lake level is lowered, allowing melting winter snow and spring rains to fill the reservoir and prevent flooding downstream. The dam is located at the north end of the lake, flowing into Mill Creek.
Picturesque Cataract Falls are the headwaters of Cagles Mill Lake. Located at the southern end of the lake, the Upper and Lower Falls offer a majestic sightseeing experience. Upper Cataract Falls drop 30 feet; Lower Cataract Falls, about a half mile downstream, drop another 15 feet. There are numerous large rocks for the water to splash over, making an incredible whitewater display. You can view the falls from a hiking trail, which goes between the Upper and Lower Falls. Lower Cataract Falls can also be reached by boat. Take some time to photograph the historic Cataract Falls Bridge while visiting the Falls. This landmark is the only surviving covered bridge in Owens County, Indiana, and was entered in the National Register of Historic Places in April of 2005.
Cataract Lake offers a variety of opportunities for anglers with a fishing pier and two boat launch ramps. The lake is best known for its walleye; crappie can also be caught in its waters. The Indiana Department of Natural Resources (DNR) began stocking Cagles Mill Lake with walleye in 1986. DNR has stocked the lake with 4.2 million walleye fry annually since 1994. Boat rentals and organized fishing excursions are available at the marina for anglers who don't bring their own boats.
If you aren't interested in fishing, you can rent a pontoon boat and relax while enjoying the lake views. Cagles Mill Lake is open to waterskiing and offers water safari boat tours. Multiple picnic areas are located along the lake's 37 miles of shoreline, and Lieber State Recreation Area offers over 200 campsites so visitors can stay as long as they like.
While at Lieber State Recreation Area, you can enjoy hiking, horseshoe pits, hunting, picnicking, playground equipment, and a swimming pool. The park's activity center offers fun for the whole family. There is plenty to do when visiting Cagles Mill Lake. Be sure to contact the Visitor Information Center when planning your vacation.
Things to do at Cagles Mill Lake
Vacation Rentals
Fishing
Boating
Swimming
Swimming Pool
Water Skiing
Camping
Picnicking
Hiking
Hunting
Waterfall
Wildlife Viewing
Birding
Playground
Fish species found at Cagles Mill Lake
---
Cagles Mill Lake Photo Gallery
Cagles Mill Lake Statistics & Helpful Links
Spread the word! Share our Cagles Mill Lake article with your fellow Lake Lubbers!