Lake Freeman, Indiana, USA
Lake Locations:
USA - Midwest - Indiana - West -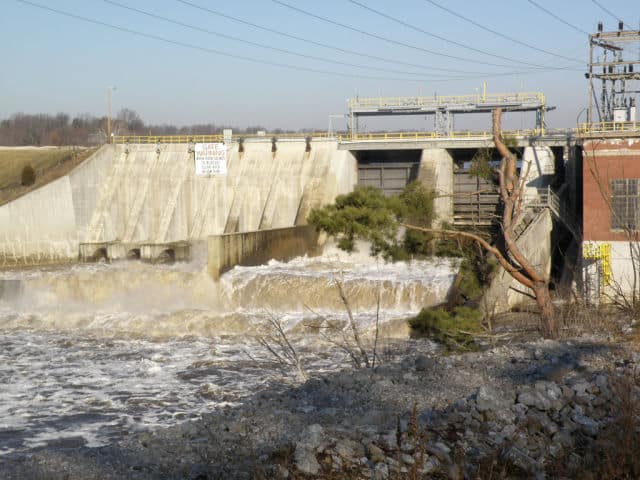 Nestled in the northern Indiana, Lake Freeman is one of two man-made lakes located just outside of Monticello. With the creation of the Lake Freeman and Lake Shafer the region is often referred to as the twin lakes area which is one of the largest summer vacation spots in the Midwest. The majority of land surrounding Lake Freeman is developed as commercial and residential, providing various summer homes, vacation rentals, resorts, fine dining and countless shopping. Lake Freeman is known to be less commercial than Lake Shafer providing an ideal setting for a relaxing vacation getaway.
Lake Freeman was created after building the Oakdale Dam in 1925. Both Lake Shafer and Lake Freeman are run-of-the-river hydroelectric dams and are owned and operated by the Northern Indiana Public Service Company. While the dams where designed to create power for the residents and businesses of Monticello, tourism around Lake Freeman now supplies economic capital to White County due to the nearly constant water level in the lakes throughout the year.
Each year from Memorial Day to Labor Day people come from all over to Lake Freeman to enjoy all that it has to offer. Lake visitors can enjoy lake views from vacation rentals or pull their RV into parks that offers full hook-ups. While the more rustic vacation goers may find campgrounds that offer electric and non electric campsites. Lake visitors will find so much to do they may not know where to begin. Beautiful beaches invites guest to unwind as they sunbathe or take a dip in the refreshing waters. Golfers may enjoy the many golf course and country clubs in the twin lake area. Lake visitors may also enjoy water parks, amusement parks, go-carts, mini-golf, and live entertainment that is located in close proximity to Lake Freeman. After a day full of play, Lake Freeman visitors may want to grab a bite to eat or dress up for some fine dining at restaurants that can be found just about anywhere. Lake guests may enjoy waterfront dining that offers beautiful views and romantic settings.
Anglers will enjoy casting their lines for bluegill, largemouth bass, smallmouth bass, and catfish. Anglers and pleasure boaters can launch their boats at the Bluewater Park which is located between Lake Shafer and Lake Freeman. Bluewater Park also offers a swimming beach, fishing piers, playground and several picnic shelters and is a great place for lake residents and visitors to enjoy some family fun. There are several full service marinas where visitors can rent boats if they did not bring one of their own or they can ride on a large pleasure excursion boat that can be seen on the waters of Lake Freeman.
It may take one visit for people to decide Lake Freeman is where they want to call home or even a summer home. The urban setting with quick access to larger cities may just be what someone may be looking for. Residential communities with lake access and splendid views will help new home owners to relax as they enjoy their lake front view from their decks.
Whether people come for a short stay or decide to call Lake Freeman home they will find just what they are looking for. Lake Freeman provides fun and adventure while the natural beauty of the lake grants relaxation and leisure entertainment.
Things to do at Lake Freeman
Vacation Rentals
Fishing
Boating
Swimming
Beach
Golf
Camping
Campground
Picnicking
Playground
Amusement Park
Shopping
Fish species found at Lake Freeman
Bass
Black Bass
Bluegill
Catfish
Largemouth Bass
Smallmouth Bass
Sunfish
---
Lake Freeman Photo Gallery
Lake Freeman Statistics & Helpful Links
Spread the word! Share our Lake Freeman article with your fellow Lake Lubbers!