Lake Shafer, Indiana, USA
Lake Locations:
USA - Midwest - Indiana - West -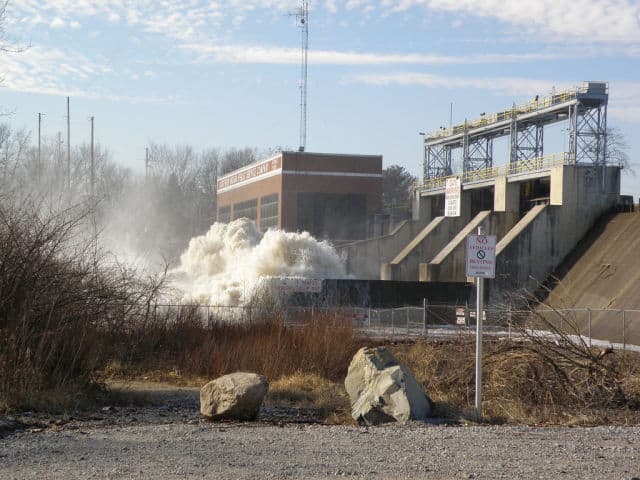 Lake Shafer is the summer destination of many Indiana families. Located just outside of Monticello, Indiana, Lake Shafer is one of two man-made lakes on the Tippecanoe River. Due to the constant flow of water from the river, the residence time of Lake Shafer is only 3 days. Lake Shafer is ten miles long and covers 1291 acres, and because of its location is a natural trap for sediment. Starting in 2004, there have been efforts to dredge the lake, removing sandbars and increasing the lake's depth. Lake Shafer's 50 miles of shoreline offer numerous recreational opportunities.
Lake Shafer was created by the building of the Norway Hydroelectric Dam one mile north of Monticello. The dam, made of earth fill and concrete, was completed in June of 1923. Lake Shafer has been completely drained four times for dam repairs since 1923. The dam is owned and operated by Northern Indiana Public Service Company (NIPSCO), and provides electrical power and recreation for the area. With its four generators, the Norway Dam is capable of producing up to 7,200 kw of electricity per hour. A second dam, Oakdale Hydroelectric Dam, was built just south of Monticello creating Lake Freeman. Up until World War II, these two dams provided enough energy to support Monticello and surrounding areas. Because both dams are run-of-the-river dams, the lakes maintain an almost constant water level. This has enabled both lakes to become centers for tourism. There are over 100 camps, resorts and tourist hotspots surrounding these lakes.
Lake Shafer is the more visited of the twin lakes due to the presence of the Indiana Beach Amusement Park and Camp Resort, which is the largest amusement park in the state of Indiana. Indiana Beach Amusement Park offers over 30 rides including 6 roller coasters. They also have an exciting water park and miniature golf course. After a busy day at the park you can relax at Sandy Beach and enjoy the amazing view. Spending the weekend at Lake Shaffer is made easy with a variety of rental cottages and homes. There are several marinas offering boat and jet ski rentals. Water skiing is also a popular summer activity. Lake Shafer is full with boat traffic every weekend throughout the summer. The summer population more than doubles the year-round population of Lake Shafer, and tourism contributes an estimated 70 million dollars.
Anglers come to Lake Shafer to compete in fishing tournaments and to take advantage of its diverse and plentiful fish population. Lake Shafer provides four public boat ramps along with several marinas. Lake Shafer hosts the annual American Bass Anglers Fishing Tournament as well as several other tournaments. With its abundant Common Carp, Channel Catfish, Largemouth Bass, Smallmouth Bass, White Bass, Hybrid Striped Bass, White Crappie, and Bluegill, fishing on Lake Shafer is always a recipe for excitement. Whether you're taking the kids for a family vacation or looking for a great place to fish, Lake Shafer is your destination.
Things to do at Lake Shafer
Vacation Rentals
Fishing
Fishing Tournaments
Boating
Swimming
Beach
Jet Skiing
Water Skiing
Golf
Camping
Amusement Park
Miniature Golf
Fish species found at Lake Shafer
Bass
Black Bass
Bluegill
Carp
Catfish
Channel Catfish
Crappie
Largemouth Bass
Smallmouth Bass
Striped Bass
Sunfish
White Bass
White Crappie
---
Lake Shafer Photo Gallery
Lake Shafer Statistics & Helpful Links
Spread the word! Share our Lake Shafer article with your fellow Lake Lubbers!