Lake Ontario, Great Lakes, USA & Canada
Lake Locations:
Canada - Ontario - Great Lakes - USA - Mid-Atlantic - New York - Finger Lakes - Greater Niagara - Thousand Islands -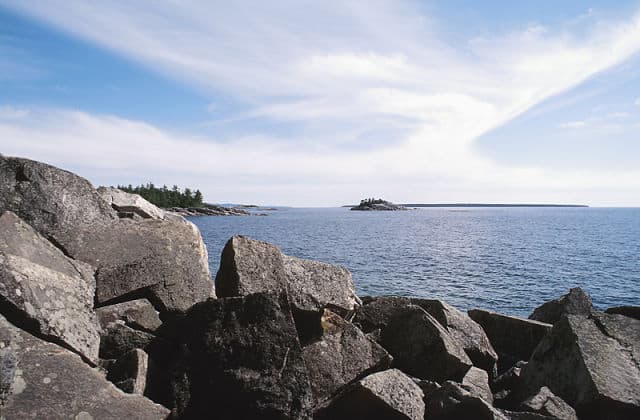 Lake Ontario, one of the world's five Great Lakes, weaves over state and country borders, delighting Americans, Canadians, and visiting tourists with its deep, clear, clean waters. Proudly home to a staggering 4,700,000 acres (7,340 square miles), Lake Ontario is the smallest of the Great Lakes, the perfect testament to the sheer size and importance of these great, glacial lakes. Having served as home to many over the years, Lake Ontario is today bordered by Toronto, Hamilton, and Rochester, serving as an aquatic playground to all who visit its shores.
Lake Ontario's name comes from a Huron word, meaning "great lake," counterpart to the neighboring Iroquois people's "Skanadario." In addition to its Native American names, the colossus has held several others, including "Lac Ontario ou des Iroquois," "Ondiara," and "Lac Frontenac." Such a wide variety of monikers reflects the massive reservoir's rich history, whose human intervention began with the Iroquois and Huron nations. Etienne Brule, the first modern European to set eyes on the lake, arrived in 1615, though artifacts indicate that he was beaten by the Norse, who arrived long before him. Today, Lake Ontario remembers its rolls in contemporary history, serving in the French and Indian War, the American Revolution, and the War of 1812.
About 80% of the water coming into Lake Ontario arrives from its western neighbor, Lake Erie, via the Niagara River. Lake Ontario tributaries and precipitation provide the rest. Over 90% of Lake Ontario's water flows to the St. Lawrence River with the rest being lost to evaporation, often falling in northern New York State as huge winter snowfalls. As the last of the downstream Great Lakes, issues relating to any of the lakes in the Great Lakes system are of major concern both here and as far upstream as Lake Superior. A dam at Kingston, Ontario regulates Lake Ontario water levels for hydroelectric power generation. The lake's water levels are managed by the International Joint Commission through the Board of Controls.
Though Lake Ontario is the smallest Great Lake by surface area, it is still a giant body of water. As the world's 14th largest lake, the lake measures approximately 193 miles long and 53 miles wide, affording an astounding 712 miles of navigable, hike-worthy, scenic shoreline. Its 802-foot depth makes Lake Ontario the second deepest Great Lake, appropriately inferior to Lake Superior.
With so much water, it's no wonder that Lake Ontario is world-renowned for its fantastic fishing opportunities, as anglers make yearly pilgrimages to fish in its waters. Black bass, brown trout, coho salmon, king salmon, lake trout, perch, spring kings, steelhead, and walleye are all area favorites, and avid anglers can choose to head out with a fishing charter, or on their own. For all those who venture onto Lake Ontario's fish-infested waters, however, a day of exciting fishing and beautiful nature watching await. As your hook dangles beneath the lake's lightly-rippling surface, drink in deep gulps of fresh New York-Ontario air, appreciate the scenery all around, and watch as boats pass in the distance. Indeed, the deep blue waters and complementary green scenery promise to relax you as much as its record-breaking fish do to get your pulse racing.
If you love the idea of a lazy day on the lake without the fish, boating will suit your tastes to a tee. If you don't bring your own boat, there are many marinas and boat rental companies around Lake Ontario that can suit your needs and preferences with canoes, kayaks, speed boats, pontoon boats, and even sailboats. With so many miles of shoreline and lake acreage to explore, don't preoccupy yourself with visiting the entire lake; instead, focus on your own, small slice of aquatic paradise. You'll investigate quiet coves, race over smooth water, and discover secret spots throughout the day, accompanied by just the sun and scenery. Watch for birds swooping overhead, animals drinking at the shoreline, and brave waterskiers doing tricks and jumping lake wake.
Back on land, you won't want for things to do. Lake Ontario is surrounded by parks and protected areas, and home to some of the best birding in the region. Around the lake's huge shoreline, you'll find tens of thousands of diving ducks, in addition to Atlantic Brant, Black-crowned Night Herons, Caspian Terns, Common Goldeneye, Common Merganser, Common Terns, Double-breasted Cormorants, Dunlin, Greater Scaup, King Eider, Oldsquaw, Red-breasted Merganser, Red-shoulderd hawks, Red-tailed hawks, Ring-billed Gulls, Sharp-shinned hawks, Surf Scoter, and White-winged Scoter, and so many more. Bring your binoculars, birding books, and cameras, because Lake Ontario promises to be one of the best birdwatching experiences you've ever had.
Adding to its diverse birding options, Lake Ontario is literally surrounded by biking and hiking trails, state parks, and national parks, which promise to fulfill your every outdoor urge. The multi-use, 485-mile Waterfront Trail, which winds through Ontario's residential roads, parks, and marinas is an excellent place to start your Lake Ontario journey. Around each bend, you'll find each view more fascinating, more spectacular than the one before it, and every photo op stop will do double-duty, allowing you to catch your breath and recover from the amazing sights before you.
For the closest local parks, check out the state and provincial offerings for your Lake Ontario location. Amazing nature awaits, like New York's Chimney Bluffs State Park, home to sculpted, spiraling bluffs that are so spectacular that you won't believe your eyes. Hiking and biking trails wind their way through almost every Lake Ontario lakefront park, and picnic areas are perfect for a relaxing, waterfront lunch. In winter, many of these state and provincial parks change focus, gearing up for cross-country skiing, snowshoeing, snowmobiling, and all other kinds of snowball fun.
Lake Ontario's gigantic size and unique natural beauty will make your days here blissful. With large cities bordered by protected areas, this American-Canadian lake is sure to satisfy every pleasure, whether it be the outdoor adventurer in search of an undiscovered scenic overlook, or the trained urbanite, hunting for city bargains. One thing is sure, though: once you give Lake Ontario a chance, you run the risk of never leaving this pristine, beautiful Great Lake.
Things to do at Lake Ontario
Vacation Rentals
Fishing
Boating
Sailing
Canoeing
Kayaking
Water Skiing
Picnicking
Hiking
Biking
Cross-Country Skiing
Snowmobiling
Hunting
Birding
State Park
Provincial Park
National Park
Playground
Fish species found at Lake Ontario
Bass
Black Bass
Brown Trout
Chinook Salmon
Coho Salmon
Lake Trout
Perch
Salmon
Steelhead Trout
Trout
Walleye
---
Lake Ontario Photo Gallery
Lake Ontario Statistics & Helpful Links
Spread the word! Share our Lake Ontario article with your fellow Lake Lubbers!