Lake Superior, Great Lakes, USA & Canada
Welcome to the ultimate guide for history, statistics, local fun facts and the best things to do at Lake Superior.
If you're considering Lake Superior vacation rentals, we've made it super easy to explore accommodations and nearby hotels using the interactive map below. Simply click on a listing to compare similar properties, best rates and availability for your dates. Or keep scrolling to read our Lake Superior guide!
Lake Superior visitor and community guide
Skipping over state and country borders, Lake Superior, the largest, deepest, coldest, cleanest, least developed, and most pristine of the Great Lakes, reigns as the largest freshwater lake in the world by surface area. By volume, this 31,820 square mile colossus ranks fourth – a whopping 2,900 cubic miles (9,799,680,000 acre feet), or 400,000 gallons of water for every person on Earth. Today, these many acres are home to national parks, water sport activities, and myriad ways to pass the hours.
Lake Superior goes by many names: in the indigenous Ojibwe language, it is called Gichigami, meaning "big water". In both The Song of Hiawatha (Henry Wadsworth Longfellow) and The Wreck of the Edmund Fitzgerald (Gordon Lightfoot), the giant lake is referred to as "Gitche Gumee." Finally, French explorers dubbed the lake le lac superieur, or Upper Lake, in the 17th century, from which came the English "Lake Superior."
Though not an inland sea, the lake is astounding in its enormity: its 20,288,000-acre surface area is larger than South Carolina and stretches more than 350 miles in length and 160 miles in width. Waves on Lake Superior can easily exceed 30 feet, and at 733 feet below sea level, the lowest depth of the lake — 1,333 feet deep — is also the lowest point on the North American continent. The lake offers 2,726 miles of shoreline to explore, and if you could uncork the lake's drain plug, it would flood both North and South America, covering the continents in over a foot of water. Truly, Lake Superior is an impressive body of water. Water levels on Lake Superior are regulated for hydroelectric power generation by gates on the Saint Marys River at Sault Sainte Marie. The lake's water levels are managed by the International Joint Commission through the Board of Controls.
The lake was first populated by the Plano 10,000 years ago, after the retreat of the last Ice Age's frozen glaciers. About 5,000 years later, the Shield Archaic peoples arrived, leaving evidence of their bows, arrows, canoes, and fishing equipment throughout the region. These early people are believed to be the direct ancestors to the Ojibwe and Cree, the lake's most recent indigenous inhabitants. However, by the 1700's, European influence around Lake Superior was strong, due largely in part to the booming fur trade. Today, what were once old mining and shipping towns have given way to modern shipping and a new industry: tourism.
Sprawling out over Minnesota, Wisconsin, Michigan, and Ontario (Canada), Lake Superior is lined with only a few small cities and towns, including Duluth (Minnesota), Superior (Wisconsin, Marquette (Michigan), Sault Ste. Marie (Michigan), Thunder Bay (Ontario), and Sault Ste. Marie (Ontario). It is by far the largest of the Great Lakes, able to contain the other four, plus and additional three Lake Erie's, and is also the coldest of these aquatic greats. Its isolation has allowed the lake to remain almost untouched, and its chilly waters have created a unique aquatic environment. In fact, one of the lake's most popular attractions is fishing, as it is home to more than sixty species of fish.
Going fishing on Lake Superior offers the chance to drink in a healthy gulp of clean air, stare in awe at incredible lake views, and quietly observe the many animals that come to drink at the lake's edge. From the seat of your boat, you will have front-row access to all that the lake offers, and as you troll in search of your next catch, you are sure to be constantly entertained by the tranquility and peace of Lake Superior. When you do get a bite, you'll likely catch coho salmon, king salmon, or lake trout, the Lake Superior's three most popular species. Otherwise, expect carp, herring, whitefish, muskellunge, pike, melt, bass, walleye, or perch to be dangling off the hook, delicious for your next meal.
For outdoor enthusiasts, one of the best ways to explore Lake Superior is on foot, hiking the many miles of trails available to visitors. The Superior Hiking Trail in northeastern Minnesota stretches 205 miles long, following the rocky coastline of the lake and snaking through the area's wild wilderness. There are several American and Canadian national parks are also filled with many trails, ranging from easy to strenuous, and offering you views of incredible forest, waterfalls, and even indigenous pictographs. Our U.S. National Parks — Isle Royale National Park (Michigan), Pictured Rocks National Lakeshore (Michigan), Apostle Islands National Lakeshore (Wisconsin), and Grand Portage National Monument (Minnesota) — bordering the lake, you are sure to find the type of trail you yearn for.
Depending on your Lake Superior location, your visit will not be complete without visiting one of the lake's incredible parks. Isla Royale National Park, located in scenic Michigan, is accessible only by boat or seaplane. Visitors to this park are welcomed by incredible hiking trails, pristine waterways for canoeing and kayaking, and several shipwrecks ready for exploration. Neighboring Pictured Rocks National Lakeshore, also located in Michigan, promises sandstone cliffs, beaches, sand dunes, waterfalls, lakes, forest, and shoreline that will beckon you to dip your toes into Lake Superior's cool, clean waters, which hug the park's acreage for more than 40 miles. Apostle Islands National Lakeshore, in nearby Wisconsin, is home to the Apostle Islands, known as the "Jewels of Lake Superior." 21 islands and 12 miles of mainland play host to a unique blend of cultural and national resources, where you can hike, paddle, sail, or cruise to enjoy it all. Grand Portage National Monument, Minnesota's slice of Lake Superior, is home to a Native American Reservation that helps form a bridge between people, time, and culture, connecting modern visitors to the Ojibwe families that tapped maple trees every spring along these Lake Superior shores.
For many, the lure of the outdoors is strong, and hiking and exploring trails and national parks is only the beginning of the journey. Along many of these trails, sprinkled throughout both the Canadian and American portions of Lake Superior, lie many campgrounds, offering everything from primitive camping to luxury RV-hookups with hot-water showers and playgrounds to keep the youngest family member happy. Sleeping under the starts on Lake Superior is a rare and wonderful opportunity, for in few other places will you be in such authentic nature surroundings.
Lake Superior is a vast lake, offering many opportunities for recreation and relaxation. From boating and hiking, to fishing and wildlife watching, the reservoir welcomes all visiting nature lovers and outdoor enthusiasts. And whether you bask in summer's heat or play in winter's powdering blanket of snow, a trip to Lake Superior will be one of quiet nature, adventurous days, and lots of fun.
Custom Lake Superior house decor
Read our full review of these personalized lake house signs.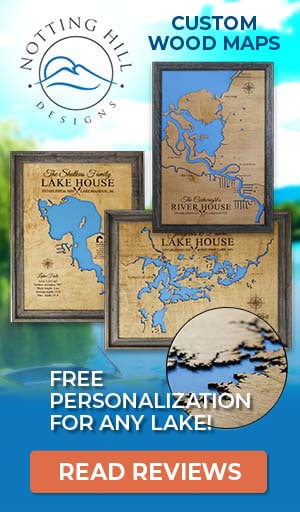 Things to do at Lake Superior
Vacation Rentals
Fishing
Boating
Sailing
Swimming
Beach
Canoeing
Kayaking
Camping
Campground
Hiking
Waterfall
Wildlife Viewing
National Park
Playground
Fish species found at Lake Superior
Bass
Carp
Chinook Salmon
Coho Salmon
Lake Trout
Muskellunge
Perch
Pike
Salmon
Trout
Walleye
Whitefish
---
Best hotels and vacation rentals at Lake Superior
The Lake Superior map shown above is a simple and stress-free way to search for trip accommodations. But if you want to take a deeper dive to find the ideal waterfront home, cabin, condo, hotel or resort, visit our favorite lodging partners by clicking the buttons below.
Note: These are affiliate links so we may earn a small commission if you book through them. While there is no extra cost to you, it helps provide resources to keep our site running (thank you)! You can read our full disclosure policy here.
---
Lake Superior photo gallery
New photos coming soon!
Lake Superior statistics & helpful links
We strive to keep the information on LakeLubbers as accurate as possible. However, if you've found something in this article that needs updating, we'd certainly love to hear from you! Please fill out our Content Correction form.
Advertise your Lake Superior vacation rental
LakeLubbers will soon offer homeowners and property managers the opportunity to to showcase their vacation rentals to the thousands of lake lovers searching our site daily for accommodations. If you'd like additional details, please contact our advertising team here.
Looking for the Lake Superior forum?
LakeLubbers previously offered visitors the ability to create accounts and participate in lake forums. When we overhauled the site's content management system in 2021 we had to disable those features. We're evaluating options and welcome your comments and feedback here.
We also encourage you to join our lake-lovin' community on Facebook and Instagram!
Spread the word! Share our Lake Superior article with your fellow Lake Lubbers!