Lake Erie, Great Lakes of North America
Lake Locations:
Canada - Ontario - Great Lakes - USA - Mid-Atlantic - New York - Chautauqua-Allegheny - Greater Niagara - Pennsylvania - Great Lakes - Midwest - Michigan - Southeast - Ohio - Northeast - Northwest -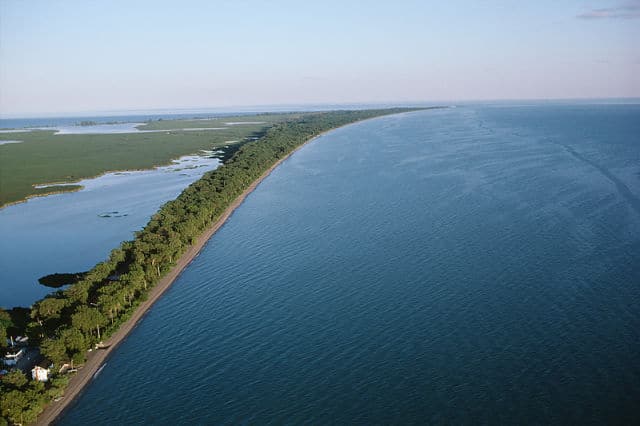 Lake Erie, one of the Great Lakes of North America, straddles the borders of Ohio, Pennsylvania, New York, Michigan, and the Canadian province of Ontario. The lake is named after the Native American tribe that inhabited its shores before being killed off by the Iroquois League for aiding their enemy, the Hurons.
In relation to the other four Great Lakes, Lake Erie is the fourth largest in surface area, the most southern-reaching, the shallowest, and the smallest by volume. But don't let that fool you: Lake Erie has a surface area of 9,940 square miles (6,261,500 acres!), stretches out over 241 miles long and 57 miles wide, boasts 871 miles of shoreline, and has a maximum depth of 210 feet. Interestingly, due to the lake's shallow average depth of 62 feet, Lake Erie is the only of the Great Lakes to frequently freeze over.
Nicknamed the "Walleye Capital of the World" and widely considered to be the best walleye fishing anywhere, Lake Erie is a sought-after angling destination. Due to its shallow depths, the lake hosts the ideal environment for walleye and is superb for ice fishing. But if walleye isn't your pleasure, don't despair. The lake is also well-known for its yellow perch, steelhead, salmon, and smallmouth bass. Go out to fish the depths on your own, or hire one of the many fishing charters in the area; either way, you're sure to have an exciting and satisfying fishing experience.
Lake Erie is huge and with its size comes a wealth of recreation options. Swim in the cool blue waters, go boating, take a hike, birdwatch, observe the native flora and fauna, play on a sandy beach, water ski, dine lakeside, and participate in a number of other activities. The options are almost endless, depending on your personal preferences.
While the official number is disputed, Lake Erie is said to have at least 36 islands. Of these 36, Presque Isle is the only one located in Pennsylvania. Originally a real island, Presque Isle is now a 3,200 acre sandy peninsula. Called Pennsylvania's only seashore, Presque Isle State Park has a beautiful coastline with 7 miles of protected, sandy beaches. Visitors enjoy swimming, boating, fishing, biking, and hiking along the park's 21 miles of trails. Also a National Natural Landmark, the island is a popular resting ground for migrating birds and has a larger number of endangered, threatened, and rare species than any other area of comparable size in Pennsylvania.
Presque Isle has four public boat launching areas. Vista Launch is appropriate for small and personal watercraft, Niagara Launch and Lagoon Launch can accommodate up to mediums size boats, while West Pier Launch, the biggest of the four, provides space to launch your large boat. There is also a marina with about 500 boat slips for permanent or temporary mooring of your watercraft.
Twenty of the 36 islands are located in Ohio: Ballast, Buckeye, Catawba, Cedar Point, Gibraltar, Green, Gull, Johnson's, Kafralu, Kelleys, Lost Ballast, Middle Bass, Mouse, North Bass, Rattlesnake, South Bass, Starve, Sugar, Turtle, and West Sister. Some inhabited, others abandoned, and some never-lived upon, these islands form part of the rich history and lore of Ohio's slice of Lake Erie. The Ohio Department of Natural Resources (DNR) provides State Parks on five of the islands: Catawba, Kelleys, South Bass, Middle Basse, and North Bass.
Lake Erie offers myriad activities for all ages. Go caving, explore a cavern, visit the area's lighthouses, relax and watch a beautiful sunset, or go sightseeing along the hundreds of miles of shoreline. If you're an animal lover, visit a real drive-through safari at the African Safari Wildlife Park. History buffs will wile away their hours at the Antique Car Museum and Johnson's Island Preservation Society. The whole family will squeal with glee at the famous Cedar Point Amusement Park, the scary Ghostly Manor, the exciting Island Adventures Family Fun Center, the refreshing Kalahari Resort and Indoor Waterpark, and the interactive Toledo Zoo. Whatever your pleasure, Lake Erie will surely live up to your expectations.
Things to do at Lake Erie
Vacation Rentals
Fishing
Ice Fishing
Boating
Swimming
Beach
Water Skiing
Hiking
Biking
Wildlife Viewing
Birding
State Park
Museum
Amusement Park
Antiquing
Fish species found at Lake Erie
Bass
Black Bass
Perch
Salmon
Smallmouth Bass
Steelhead Trout
Walleye
Yellow Perch
---
Lake Erie Statistics & Helpful Links
Spread the word! Share our Lake Erie article with your fellow Lake Lubbers!