Clendening Lake, Ohio, USA
Lake Locations:
USA - Midwest - Ohio - Northeast -
Also known as:  Clendening Reservoir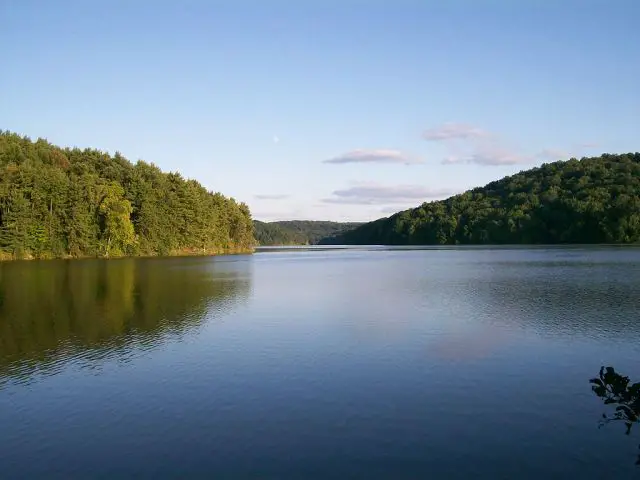 The call of the wild permeates the area surrounding Clendening Lake. The meandering reservoir stretches over 10 miles along Brushy Creek and is enclosed within public lands owned by the Muskingum Watershed Conservancy District. There is no development on the nearly 1,800-acre lake; the lake is to remain in undeveloped status for the benefit of both human and nature's visitors. The only facilities on the lake are a small concession-operated marina, campground, and a separate picnic area and playground near the dam. Beyond the forested public areas, farmland surrounds the lake with a few tiny villages scattered along the main roads. One would hardly believe such a wilderness paradise exists only two hours from Columbus and Pittsburgh.
Boating at Clendening Lake consists of canoes, kayaks, pontoons and fishing boats with a 10-horsepower limit. With its many miles of irregular shoreline, coves, branches and bends, Clendening lends itself perfectly to lazy days aboard a pontoon boat watching wildlife and spotting waterfowl in the shallows. The marina rents pontoons to visitors and offers dock space and storage for private boat owners. Bait, boating supplies, gas, snacks, propane, fishing tackle and souvenirs are sold at the marina. You can arrange for accommodations in one of several cabins or camping shelters rented by marina staff. Campground space is also reserved here; 80 electric sites join 20 non-electric sites in providing camp space for vacationers. Although there is no designated swimming beach, a swim area for boaters is marked by buoys near the marina. Clendening Lake is the perfect getaway destination for young families and the young-at-heart. A Boy Scout camp and a YMCA camp are located near the lakefront, serving up childhood memories to many youngsters that will be treasured forever.
Fishing is where Clendening Lake really shines. The reservoir has produced state-record catfish and is considered one of Ohio's best bass-producing lakes. The shoals and coves hold sunfish, crappie, perch, largemouth bass, flathead catfish and channel catfish. Saugeye are stocked annually. Bass tournament are held here most years, usually in the spring. Although anglers can fish from shore in several areas, some type of small boat is usually needed to get into the coves and to the far reaches of the many arms of the lake. An Ohio fishing license is required, and anglers should always check in advance for any special regulations or limits on fish. A public boat launch is available near the dam year round, although the marina and campground are closed in winter.
Ohio's premier hiking trail, the 1440-mile Buckeye Trail that loops around much of the state, skirts the shore of Clendening Lake, providing water views to trail fans from all over the Midwest. The Bowerston Trail section also hugs the lakefronts of Tappan Lake and Piedmont Lake. The multi-use trail is beautiful and sometimes strenuous, touching every corner of Ohio. Spring on the trail offers a profusion of wildflowers and plenty of opportunities for bird watching. The roads around the lake and campground are excellent for walking and bicycling.
The many acres of public land surrounding Clendening Lake are open for hunting during the fall. Deer, rabbit, squirrel, raccoon and waterfowl are all taken during their respective seasons. Occasionally a black bear will be sighted, although they are protected in Ohio. Those wishing to hunt should contact the ODNR Division of Wildlife for licensing and regulations. Muskingum Watershed Conservancy District also has maps that show where hunting is permitted. Because there are several large reservoirs in the surrounding area, private campgrounds are available nearby along either lakes or rivers, as are cabins, guest rentals and other forms of lodgings.
Clendening Lake and other nearby reservoirs were built primarily for flood control. After disastrous floods in the early 1900s, the Muskingum Watershed Conservancy District was formed to find a solution to flooding along the Muskingum River. Shortly after planning was begun, Congress passed the Flood Control Act of 1939, transferring ownership and control of dams and flood control structures to the federal government under the US Army Corps of Engineers. The US Army Corps of Engineers took over construction and control of the dams, and the Muskingum Watershed Conservancy District maintained ownership of the thousands of acres of adjacent land surrounding the reservoirs. Most of the land is considered open to the public. Many nearby reservoirs leased land to private owners for building cottages and homes, but Clendening Lake was reserved in undeveloped status.
There are no plans to offer leases or building lots near the lake, and only necessary improvements will be made to retain the wilderness feel. One visit to Clendening Lake makes nature lovers appreciate that thoughtful decision. Clendening Lake looks and feels wild and unspoiled. What better place to float lazily on a raft or stalk the wily largemouth? Come and visit wild Clendening Lake-it's only a couple of hours from the big city but a world away from traffic and noise.
Things to do at Clendening Lake
Vacation Rentals
Fishing
Fishing Tournaments
Boating
Swimming
Beach
Canoeing
Kayaking
Camping
Campground
Picnicking
Cabin Rentals
Hiking
Biking
Hunting
Wildlife Viewing
Birding
Playground
Fish species found at Clendening Lake
Bass
Black Bass
Catfish
Channel Catfish
Crappie
Flathead Catfish
Largemouth Bass
Perch
Saugeye Perch
Sunfish
---
Clendening Lake Photo Gallery
Clendening Lake Statistics & Helpful Links
Spread the word! Share our Clendening Lake article with your fellow Lake Lubbers!