Chippewa Lake, Ohio, USA
Welcome to the ultimate guide for history, statistics, local fun facts and the best things to do at Chippewa Lake.
If you're considering Chippewa Lake vacation rentals, we've made it super easy to explore accommodations and nearby hotels using the interactive map below. Simply click on a listing to compare similar properties, best rates and availability for your dates. Or keep scrolling to read our Chippewa Lake guide!
Chippewa Lake visitor and community guide
Chippewa Lake in Northeast Ohio is a little natural wonder, formed by retreating glaciers about 12,000 years ago that left a depression along Chippewa Creek. Native inhabitants used the lake's shoreline and surrounding wetlands long before the expansion of European settlers into the newly-opened Western Reserve. A scenic respite from area forests and grasslands, Chippewa Lake became a destination for settlers to swim, fish, and picnic; even the hardy settlers of English, Scots-Irish and Pennsylvania Dutch ancestry needed a welcome break from their toils on the farm. Located only 30 miles west of Akron and just south of the town of Medina, a settlement quickly sprang up on the eastern shore, and the little lake's fame grew.
Not large by inland lake standards, Chippewa Lake is less than 200 acres in size and only about 14 feet in depth. Extensive wetlands cover much of the area north and west of the lake, while two small villages are stretched along the eastern shoreline. The villages of Chippewa Lake and Gloria Glens Park are separated by an area that used to contain one of Chippewa Lake's best-known destinations: the defunct Chippewa Lake Amusement Park. Through a complicated history of ownership and deed restrictions, some of the property owners along the eastern shore have varying amounts of direct water access. In 1890, the Ohio Supreme Court ruled that the entire lake was privately owned. Therefore, only those property owners who could trace their access rights by deed had access to the water.
Both the Village of Chippewa Lake (formerly known as Chippewa-On-The-Lake) and Gloria Glens Park developed water access parks where ALL local residents could gain water access by purchasing a yearly residential pass, giving them access to the beaches, picnic areas, tennis courts, basketball fields and boat ramps. Until Medina County Parks purchased the western shore and the lake in 2007, there was no general public access to Chippewa Lake. The village beaches have roped-off swim areas, but no lifeguards are on duty. There are even fishing piers for anglers to try their luck from shore. The two towns act in most instances as one community in planning activities and assuring access to all residents.
The public boat launch on the west bank allows all comers to launch smaller motorized boats, sailboats, and personal watercraft (PWC). Village residents and those with direct water access can launch larger boats for water sports such as waterskiing and tubing. The Chippewa Lake Water Ski Show Team performs at area lakes during the summer. Fishing is also popular for largemouth bass, flathead catfish, bluegill, crappie and perch. A valid Ohio fishing license must be held, and all regulations apply.
In the area near the boat launch, Medina County maintains Krabill Shelter, a reserve-able building containing a kitchen, multipurpose area and office space. After the county purchased the lake, a series of grants and fund-raising activities allowed Medina County to work on restoring much of the wetland and inflowing stream health degraded from years of agricultural activity and neglect. A series of walking trails has been developed to allow nature lovers access to some of the wetlands and adjoining woodlands.
Medina County maintains Buckeye Woods Park to the north of Chippewa Lake, which can be reached along the 4-mile Chippewa Inlet Trail. The crushed limestone-surfaced pathway is idea for walking, mountain biking and cross-country skiing. Buckeye Woods Park abuts Schleman Nature Preserve, and both areas contain acres of restored wetland ideal for bird watching. Parking, rest rooms and picnic areas are conveniently located along the route. Increased lake access and improved opportunities to enjoy nature have increased Chippewa Lake's popularity to levels enjoyed during its amusement park heyday.
Chippewa Lake Amusement Park was first developed in 1875 when Edward Andrews organized Andrews Pleasure Grounds for picnics, social events and religious activities. The park grew to include a tourist steamboat on the lake, early amusement-style rides and even a couple of primitive roller coasters. The 1920s brought live concerts and dancing that filled to capacity nearly every night of the week, along with additional rides. Growth eventually tapered off, and the property was sold at auction to a second owner who tried valiantly to grow his way out of the accumulated debts of the Depression. In 1978, Chippewa Lake Park closed for good, due to declining ticket sales and competition from nearby Cedar Point. The park fell to ruin, with the ghostly remains of roller coaster tracks, penny arcade, concession stands and stage collapsed and peeking through young trees. In 2008, the property was sold and plans made to create a resort complete with hotel and spa called Chippewa Landing. Those plans appear to have been scrapped. Most of the rides have been removed, many of the buildings have burned, and what is left presents a faintly haunting memory of 100 years of Chippewa Lake fun. It is unclear what will happen to the park in the future.
There is little in the way of vacation accommodations at Chippewa Lake except for a few private rentals. Medina has a couple of hotels near the highways, and the occasional bed & breakfast can be found. A few guest cabins may be found in the surrounding area. Entertainment is usually of the laid-back, Midwestern variety. The surrounding area is rich in the history of the early pioneers who moved West from New England when the land was opened up for settlement after the Revolutionary War. Antique shopping is at its best in small out-of-the-way towns with nearly 200 years of history stored in barns and aging storefronts. A good portion of America can trace their ancestors through the area in their migration to the Midwest and the Plains beyond. A number of small historical society museums preserve the artifacts and the records of those early settlers. And anyone who can manage the trip on March 15 every year can view the perennial return of the turkey buzzards to Hinckley only about an hour away from Chippewa Lake. Nearby is the Northern Ohio Railway Museum. In Medina, the Little Wiz Fire Museum delights visitors with one family's collection of fire-fighting equipment.
Any trip to Akron and northeastern Ohio requires a stop at Chippewa Lake. Bring the mountain bikes,the hiking boots, and a good birding guide to identify the many birds. Canoe or row around Chippewa Lake and enjoy a last glimpse of the remaining rides at Chippewa Lake Park where they stand as aging sentinels through the growing trees. And marvel at how nature, with a little human intervention, can reclaim a degraded landscape to make it a welcoming wetland environment for birds and waterfowl. Your soul will be rejuvenated and your faith in Mother Nature restored.
Custom Chippewa Lake house decor
Read our full review of these personalized lake house signs.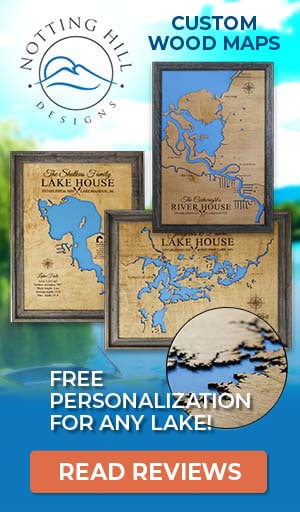 Things to do at Chippewa Lake
Vacation Rentals
Fishing
Boating
Sailing
Swimming
Beach
Canoeing
Jet Skiing
Water Skiing
Tubing
Tennis
Picnicking
Cabin Rentals
Hiking
Biking
Cross-Country Skiing
Birding
Museum
Amusement Park
Antiquing
Shopping
Fish species found at Chippewa Lake
Bass
Black Bass
Bluegill
Catfish
Crappie
Flathead Catfish
Largemouth Bass
Perch
Sunfish
---
Best hotels and vacation rentals at Chippewa Lake
The Chippewa Lake map shown above is a simple and stress-free way to search for trip accommodations. But if you want to take a deeper dive to find the ideal waterfront home, cabin, condo, hotel or resort, visit our favorite lodging partners by clicking the buttons below.
Note: These are affiliate links so we may earn a small commission if you book through them. While there is no extra cost to you, it helps provide resources to keep our site running (thank you)! You can read our full disclosure policy here.
---
Chippewa Lake photo gallery
New photos coming soon!
Chippewa Lake statistics & helpful links
We strive to keep the information on LakeLubbers as accurate as possible. However, if you've found something in this article that needs updating, we'd certainly love to hear from you! Please fill out our Content Correction form.
Advertise your Chippewa Lake vacation rental
LakeLubbers will soon offer homeowners and property managers the opportunity to to showcase their vacation rentals to the thousands of lake lovers searching our site daily for accommodations. If you'd like additional details, please contact our advertising team here.
Looking for the Chippewa Lake forum?
LakeLubbers previously offered visitors the ability to create accounts and participate in lake forums. When we overhauled the site's content management system in 2021 we had to disable those features. We're evaluating options and welcome your comments and feedback here.
We also encourage you to join our lake-lovin' community on Facebook and Instagram!
Spread the word! Share our Chippewa Lake article with your fellow Lake Lubbers!