Lake Clark, Alaska, USA
Lake Locations:
USA - West - Alaska - Southwest -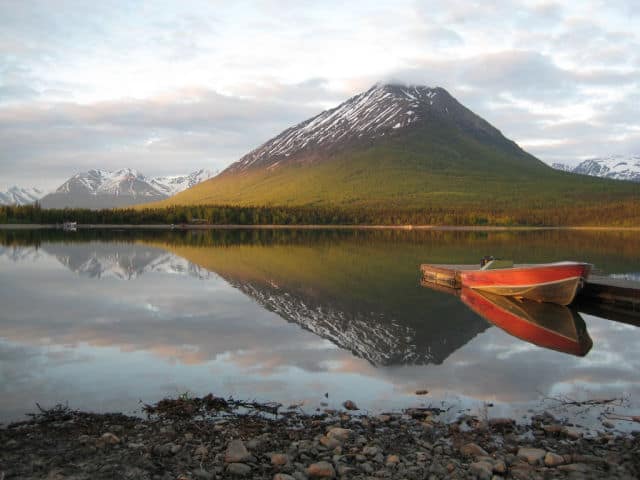 Lake Clark is located about 150 miles southwest of Anchorage in southern Alaska. The lake spans 128 square miles, making it the seventh* largest freshwater lake in the state. The lake is part of the 4 million acre Lake Clark National Park and Preserve. This park is often referred to as the "essence of Alaska" because it contains many of the geographical features found in Alaska as a whole, including mountains, volcanoes, coastal lands, and tundra. Visitors to Lake Clark can reap the benefits of the park's diversity by enjoying a multitude of activities in the Alaskan wilderness.
Lake Clark is located in a remote and mainly undeveloped section of Alaska. Access to the Lake Clark area is primarily by plane, and commercial flights are available from nearby Anchorage. Due to the rugged terrain, visitors interested in hiking and camping in the area are advised to use an expert guide unless they are extremely experienced and knowledgeable of the area. Lake Clark National Park is one of the least visited parks in the national parks system, with just over 4,000 visitors a year. However, those who make the extra effort to plan a trip to Lake Clark will be well rewarded: the area is filled with scenic views of mountains, glaciers, lakes, and waterfalls. The Visitor Center, located at Port Alsworth on Lake Clark, is a good first destination to get your bearings and learn more about the area. Luckily, there are also local inns that cater to travelers and offer accommodations as well as wilderness activities.
Fishing is of course one of the most popular activities at the lake. Due to its size–42 feet long and 5 miles wide–the lake is home to many different species of fish, including arctic char, grayling, dolly varden, northern pike, lake trout, rainbow trout, and salmon. In addition, the park itself contains many other smaller lakes that offer outstanding fishing. Most visiting anglers plan their trips to Lake Clark for July or August, the peak of fishing season, although fishing is available from May to October. There are local commercial fishing guides available, as well as charter boats and even float planes to get you around this massive lake and its surrounding areas.
Boating on Lake Clark isn't just for anglers; the lake offers spectacular scenery that makes a boat excursion a must for anyone. The glacial lake is known for its brilliantly blue waters. A trip on the lake offers visitors a view of the undisturbed wilderness surrounding Lake Clark, as well as the nearby mountains, capped with snow. For the more adventurous, Lake Clark National Park is home to three nationally designated wild and scenic rivers, and rafting tours are popular in the summer months.
Wildlife viewing, birdwatching, and nature photography are all favorite activities at Lake Clark. Brown bears, grizzly bears, and black bears can all be found near the lake in large numbers, and guided bear sightseeing trips are available. Nature lovers can also spot caribou and moose in the park, along with wolves, wolverines, red fox, and lynx. The preserve is home to over 190 species of birds, ranging from eagles and falcons to ducks, swans, and geese. During spring migration, hundreds of thousands of shorebirds, many of them sandpipers, flock to the coastal areas east of Lake Clark. Be sure to find a local guide to help plan your outdoor excursion, be it by boat, air, or on foot.
For those wanting to experience the true Alaskan wilderness, Lake Clark is the perfect destination. Although it is remote and undeveloped, its proximity to Anchorage and the availability of accommodations and local guides make it accessible for all visitors. Come see for yourself why Lake Clark is one of Alaska's best kept secrets.
*Acreage figures are from the Alaskan Dept of Hydrology. Shoreline lengths are not given as most of Alaska's large lakes have ill-defined shorelines: water collecting in the lakes does not pass thru the permafrost level and thus must either dissipate via evaporation or river drainage. Most shorelines are seasonal wetlands and their size depends on the amount of snow-melt and precipitation. Many lakes have no outlet so water simply continues to collect there, causing the lake to grow larger.
Things to do at Lake Clark
Vacation Rentals
Fishing
Boating
Camping
Hiking
Waterfall
Wildlife Viewing
Birding
National Park
Fish species found at Lake Clark
Char
Dolly Varden Trout
Grayling
Lake Trout
Northern Pike
Pike
Rainbow Trout
Salmon
Trout
---
Lake Clark Statistics & Helpful Links
At LakeLubbers.com, we strive to keep our information as accurate and up-to-date as possible, but if you've found something in this article that needs updating, we'd certainly love to hear from you!
Please let us know about it on our Content Correction form.
Spread the word! Share our Lake Clark article with your fellow Lake Lubbers!