Lake Louise, Alaska, USA
Lake Locations:
USA - West - Alaska - Southcentral -
Also known as:  Lake Louise State Recreation Area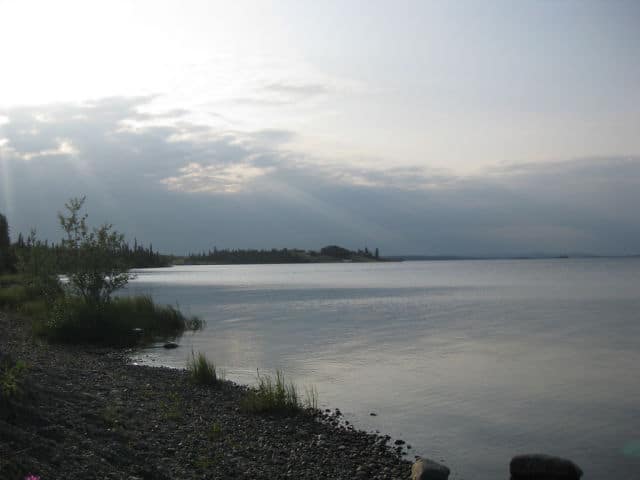 Lake Louise is located in the exciting Matanuska-Susitna Borough (Mat-Su for short) in Alaska. Lake Louise which connects to Susitna Lake boasts that it is one of the largest lake areas in Alaska that has road access making it a great stopping point for travelers. The community of Lake Louise that surrounds Lake Louise is considered the "jumping off point" to the most remote areas of Alaska.
One of the early explorers of the Mat-Su Valley, Lt. Castner, named the clear water Lake Adah after his girlfriend. Later, the lake was renamed Lake Louise in honor of Captain Glenn's wife. During the early days of the community, Lake Louise was only accessible by floatplane. The army built the nineteen mile road from Glenn Highway to Lake Louise by one team starting at the water and the other team at the highway until they met in the middle. Lake Louise became a favorite R & R spot for the army during the construction of Alaska's highways.
Lake Louise is a favorite playground for visitors and Alaskans alike. The area's lodges have become a frequent choice for corporate retreats, weekend getaways, and a base for year round activity. Lake Louise State Recreation Area covers 511 acres and has two campgrounds, Lake Louise and Army Point, which have accommodations for tents and RVs. Accommodations at Lake Louise Recreation Area also include picnicking with a covered picnic shelter, a boat launch and trails for walking or biking. During the winter, Lake Louise is bustling with activities like cross-country skiing, sled dog races and snow mobile events. There are plenty of snowmobile guides available to provide trips of different skill levels or just to take you to the most scenic areas.
Lake Louise is also a great warm weather area. Artic Grayling, Burbot and Lake Trout are abundant in Lake Louise. With two public boat launches, boat rentals and fishing charters available, anglers have different options to catch their limit. Ice fishing is also a favorite winter activity for the most avid anglers.
Be sure to bring a camera to capture the abundant wildlife of Lake Louise. Caribou and Moose often winter in the Lake Louise area and are frequently seen in the community. During the summer months, trumpeter swans, loons, and many other water fowl call Lake Louise home.
Lake Louise's shoreline is mostly residential with a wide range of water front homes and cabins. Lake Louise community's permanent population is very small and many homes are only used as vacation homes or vacation rentals. Lake Louise also offers residents and visitors boat storage facilities, a general store, service station, and is host to the Copper Basin 300, a snowmobile race.
The Mat-Su Valley covers more than 23,000 square miles and is one of the few agriculture areas in Alaska which grows huge vegetables due to its long hours of daylight during a one hundred day growing season. Lake Louise is only one of 3,000 lakes and wetlands in the Mat-Su Valley. Views are breath taking of the surrounding landscape that includes Talkeetna and Chugach Mountains and the Tazlina Glacier which is the largest northward flowing glacier. Views of the northern lights are exceptional from the Mat-Su area. There are ample opportunities for skiing and snowmobiling with many well marked trails through the scattered frontier communities.
Visit Lake Louise today and make it your base camp for all the exciting fun and adventure at Lake Louise and Mat-Su Valley.
Things to do at Lake Louise AK
Vacation Rentals
Fishing
Ice Fishing
Boating
Camping
Campground
Picnicking
Cabin Rentals
Hiking
Biking
Cross-Country Skiing
Snowmobiling
Wildlife Viewing
Playground
Fish species found at Lake Louise AK
Burbot
Grayling
Lake Trout
Trout
---
Lake Louise AK Photo Gallery
Lake Louise AK Statistics & Helpful Links
At LakeLubbers.com, we strive to keep our information as accurate and up-to-date as possible, but if you've found something in this article that needs updating, we'd certainly love to hear from you!
Please let us know about it on our Content Correction form.
Spread the word! Share our Lake Louise AK article with your fellow Lake Lubbers!