Kerr Lake, North Carolina & Virginia, USA
Lake Locations:
USA - South - North Carolina - Piedmont - Virginia - Southern Virginia -
Also known as:  Kerr Reservoir, John H Kerr Reservoir, Buggs Island Lake, Buggs Island Reservoir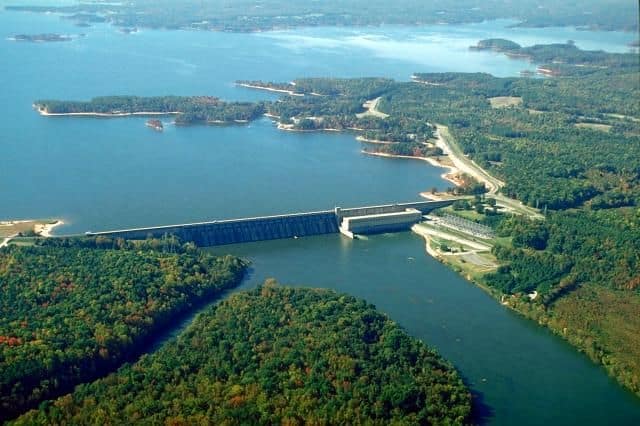 The 48,900-acre John H. Kerr Reservoir straddles the Virginia-North Carolina border. This impoundment of the Roanoke and Dan Rivers, completed by the U.S. Army Corps of Engineers in 1952, was created originally for flood control and for generation of hydroelectric power. Kerr Lake has become a recreational wonderland since then, with excellent fishing, boating, sailing, skiing, swimming, and camping opportunities.
The original name of Kerr Lake was Buggs Island Lake, named after an island in the Roanoke River just below the dam site in Mecklenburg County, Virginia. Samuel Bugg was an early Virginia settler, and locals still call the reservoir Buggs Island Lake. However, the lake's official name is the John H. Kerr Reservoir, named after the U.S. Senator from North Carolina – a strong supporter of the federal project. Waters from Kerr Lake Dam flow into Lake Gaston, another reservoir straddling the borders of Virginia and North Carolina. Kerr Lake is conveniently located to I-85, 45 miles from Raleigh, North Carolina and 110 miles from Richmond, Virginia.
Kerr Lake's full pond level is 300 feet above sea level, covering 76 square miles at this elevation. Lake levels usually fluctuate about 15 feet during each year. The Army Corps of Engineers owns to the 320 foot elevation, so there is little lakefront development. Kerr Reservoir is over 100 feet deep at the dam with an average depth of about 30 feet. It is Virginia's largest lake by surface area; upstream Smith Mountain Lake is Virginia's largest by water volume.
Kerr Lake invites you outdoors to enjoy the beauty of nature, the calm of the water, and all the fun that can be had while basking under a golden sun. Begin your trip as many do, enjoying the lake by boat, whether rented at a local marina or brought from home. There are boat launches located all around the 800-mile lake shoreline, so be sure to check for the one closest to your lodging. Powerboats enjoy the openness that its nearly 50,000 acres provides. Sailboats drift along, waiting to catch the perfect wind that will take them flying down the channel, testing their crews' skills as they pass green shores and interesting rock formations. The perfect follow-up activity to boating is a dip in the cool Kerr Lake waters. Though there are many defined swimming locations around the lake, most often found in the recreation areas, many boaters choose a quiet spot to drop their anchor and dive in. Whatever your pleasure, you'll surely enjoy the deep blue water's effect on your sun-drenched skin.
Eager anglers know Kerr Lake as one of the best fishing lakes in the eastern United States. Largemouth bass are the most popular catches at Kerr Lake. Crappie are the second most popular catches; the lake has one of the best crappie fisheries in the southeast. Kerr Lake is just one of the few lakes in the country where striped bass (stripers) reproduce naturally. Other popular catches include catfish and white perch. Drop in a line from your boat or head to one of the lake's fishing piers. Anglers can use either a Virginia or North Carolina fishing license on either side of the state line.
Facilities available at the Kerr Lake State Recreation Area near Henderson, North Carolina include boat ramps, camping, RV hook-ups, fishing piers, swimming, hiking trails, picnic areas, and a community building for group events. Henderson is also an auto-lover's new favorite place, boasting the East Coast Drag Times Hall of Fame; the Show, Shine, Shag & Dine Car Show; and the Corbitt Truck show. These annual events bring classic cars, nostalgic drag cars, powerful muscle cars, and classic trucks to Henderson, providing endless entertainment and education.
Clearly, Kerr Lake can be a place to kick back, put your feet up, and enjoy a picnic to the background music of a lake lapping at the shore. It can also be your home base for a vacation featuring classic cars, fine dining, and explosive entertainment. Lakeview vacation home rentals are ideal for week-long stays, nearby hotels are convenient for shorter visits.
Things to do at Kerr Lake
Vacation Rentals
Fishing
Boating
Sailing
Swimming
Camping
Picnicking
Hiking
Fish species found at Kerr Lake
Bass
Black Bass
Catfish
Crappie
Largemouth Bass
Perch
Striped Bass
White Perch
---
Kerr Lake Statistics & Helpful Links
Spread the word! Share our Kerr Lake article with your fellow Lake Lubbers!