Lake Gaston, North Carolina & Virginia, USA
Lake Locations:
USA - South - North Carolina - Piedmont - Virginia - Southern Virginia -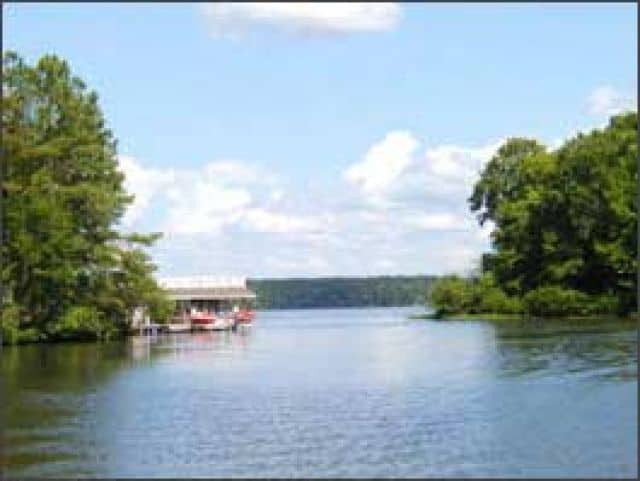 Lake Gaston covers 20,300 acres along 34 miles of Virginia and North Carolina real estate. The lake was created in 1963 by the Virginia Electric and Power Company (now Dominion Virginia Power) to generate hydroelectric power. Three lakes were created by dams on the Roanoke River. Lake Gaston is in the middle of the chain. Waters from Kerr Lake Dam, at elevation 300 feet above sea level, flow into Lake Gaston which has a full pond elevation of 200 feet above sea level. Waters from Lake Gaston Dam flow downstream into smaller Roanoke Rapids Lake at normal full pond elevation of 132 feet above sea level. Because regulations permit water level fluctuations of only one foot plus or minus from normal level, Lake Gaston enjoys relatively constant water levels with an average depth of 40 feet.
The Lake Gaston community straddles two Virginia counties (Brunswick and Mecklenburg) and three North Carolina counties (Halifax, Northampton and Warren) with Interstate 85 to the west and Interstate 95 to the east. The lake population is a diverse mix of vacation homeowners and retirees, with about one-half of the population full-time residents. The lake attracts visitors and transplants alike with its sparkling blue waters, relaxed lake lifestyle, and convenient location.
Hydrilla, an invasive aquatic plant, was introduced into Lake Gaston in the mid-1980's from boat trailers and motor propellers. In its efforts to stop the spread of hydrilla, the community treats the lake with herbicide applications and grass carp, a plant-eating fish with a preference for the weed.
Water enthusiasts love Lake Gaston with its 350 miles of shoreline to explore, seemingly endless acreage, and emerald green backdrop. In addition to the 34-mile long main channel, 20 smaller coves run north-south off the main channel. If you love boating, you'll feel right at home watching pontoon boats leisurely cruising the lake, jet skis enjoying a quick romp, power boats speeding across the reservoir, and water skiers, tubers, wake boarders whipping along behind boats. Sailboats, too, drift along, waiting to catch the perfect wind; sailboats pepper the lake's shoreline. Launch from any of the public boat ramps or marinas that dot the shoreline, and prepare for a day of prime lake enjoyment.
Anglers love Lake Gaston for the largemouth bass, striped bass, and black crappie caught here. Other species found in the lake include walleye, chain pickerel, white perch, catfish, and bluegill. The fishing is above average, a fact supported by the several annual fishing tournaments held on the lake. But whether you're a hobbyist or tournament-oriented angler, keep in mind that a fishing license is required for those over 15 in both North Carolina and Virginia. Anglers can use either a Virginia or North Carolina fishing license on either side of the state line.
Outdoor activities don't stop in the lake, though, as Lake Gaston is surrounded by beautiful spots. Campers flock to Americamps Lake Gaston, located on the Virginia side of the lake. The campground offers sites with water and electric hookups, some waterfront, as well as rental campers and rustic sleeping quarters that include air conditioning and a small refrigerator. Americamps is a perfect jumping-off point for nature hiking, bird watching, and animal watching, as it enjoys a prime wooded location. As you explore hardwood forests, keep your eyes open for swallows, robins, and the occasional owl, and watch as squirrels scavenge for acorns, chipmunks scurry up nearby trees, and white-tail deer prance through the forest. Here at Lake Gaston, all of nature will be your front door.
Though the reservoir is man-made, nature surrounds the lake. Whether you're looking for a vacation getaway or a permanent relocation, Lake Gaston is rich in convenience, rustic charm, and recreation.
Things to do at Lake Gaston
Vacation Rentals
Fishing
Fishing Tournaments
Boating
Sailing
Jet Skiing
Water Skiing
Wakeboarding
Camping
Campground
Hiking
Wildlife Viewing
Birding
Fish species found at Lake Gaston
Bass
Black Bass
Black Crappie
Bluegill
Carp
Catfish
Chain Pickerel
Crappie
Grass Carp
Largemouth Bass
Perch
Pickerel
Pike
Striped Bass
Sunfish
Walleye
White Perch
---
Lake Gaston Photo Gallery
Lake Gaston Statistics & Helpful Links
Spread the word! Share our Lake Gaston article with your fellow Lake Lubbers!