Mayo Lake, North Carolina, USA
Lake Locations:
USA - South - North Carolina - Piedmont -
Also known as:  Mayo Reservoir or Lake Mayo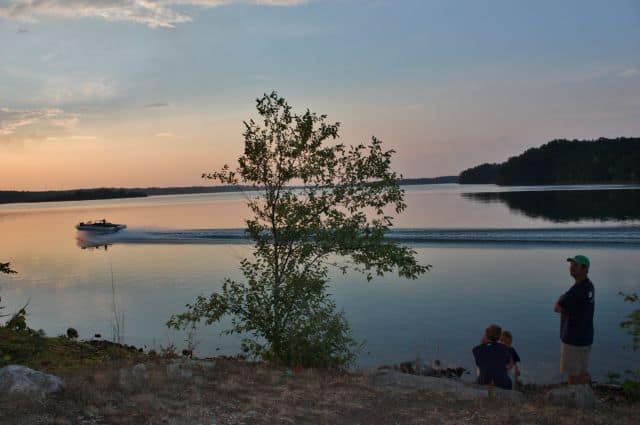 Mayo Lake, set in a landscape of gently rolling hills and farmlands, was formed when Carolina Light and Power Company (now Progress Energy) needed cooling water for a coal plant. The company built an earthen dam on Mayo Creek in the Roanoke River Basin, creating the 2,800-acre body of water in north-eastern Person County which borders Virginia. Mayo Reservoir's 85-mile shoreline is mostly wooded as a result of stipulations set forth by the North Carolina Department of Environment and Natural Resources (NCDENR) when CL&P proposed the dam and lake. The lake was named after Major William Mayo, an English engineer and surveyor who was partly responsible for making the boundary line between Virginia and North Carolina.
Because Mayo Reservoir's shoreline was left undisturbed, it is habitat to much of North Carolina's native animals such as the black bear, white-tailed deer, red fox, opossum, skunk, beaver, and bobcat. Hundreds of species of birds can be sighted and heard: grebes, herons, ospreys, hawks and owl are only a few of the areas bird species. Mayo Lake's waters are filled with fish. Largemouth bass, crappie, catfish, bluegill, bowfin, and pike are popular with fishermen that come to Mayo Lake. The lake is a vital recreation area for residents and visitors who take part in a series of events and festivals every year such as the TrySports' Mayo Lake Triathlon, the Annual Mayo Park Bass Classic, the Annual Mayo Lake Boat Day, or the Lake Mayo Canoe/Kayak Festival.
Mayo Park is a central area for family-oriented festivals and events on the lake. It is a 120-acre piece of land adjacent to the east of Mayo Lake, accessible from Neals Store Road; it provides facilities for boating, fishing, hiking, picnicking, RVs, canoeing, and kayaking. Features include an amphitheatre, wildlife observation deck, playgrounds, camping cabins, tent and RV campsites, and RV dump station. The park is open daily from sunrise to sunset for day activities and available for overnight camping every night except Monday and Tuesday nights.
On the many trails around Mayo Lake, you will find plaques that identify the lake's shoreline flora. Visitors can take hikes on these trails and learn about the plants and trees that characterize North Carolina's natural landscape. Markers in the water provide additional education about the fish and wildlife in and around the lake. During the summer, guided tours and nature hikes are offered.
Although Mayo Reservoir's shores are protected and regulated by the NCDENR, residents of the lake find joy living in mutual balance with its environment. There is one boat launch on the lake, but residents are not permitted to build permanent docks. There are both individual homes and community lots for rent and sale around Mayo Lake. Those with a green thumb and a love for things that grow may even buy farmland in the area.
Aside from the many opportunities for nature activities on Mayo Lake, Person County in North Carolina's charming Piedmont, offers a mix of interests to the eager visitor. Roxboro, the big vibes small-town, the center of which is just a few miles distance from the lake, offers a variety of live theatre, museum exhibitions, history tours, special festivals, events and an assortment of both ethnic and local eateries. Inns and motels are available for lodging. Homes, cabins, and cottages offer options for longer vacations, and there are a few camping facilities to choose from.
Person County Museum has a number of historic buildings located at its site and its handful of permanent exhibits include an African American History Room, Native American Room and a Titanic exhibit that features the two Person County members that survived the historic ship sinking. Catch a comedic act, lively play or photography exhibit at the Kirby historic movie house or get your adrenaline rushing at the Motorsports Dragway from March to December. Athletic enthusiasts and cyclists will be excited to take part in the Mayo Park Cyclysm Bicycle Tour while raising benefit funds for local children. The tour journeys through the scenic sights and landscapes of rural North Carolina. But if cycling is not quite your fancy, it's not the only way to experience Person County's rural life. Homegrown Handmade has plotted "art roads" and "farm trails" throughout North Carolina, where visitors may explore organic animal, fruit and vegetable farms, flower gardens and greenhouses and visit dynamic artisans of the area. Near Roxboro, and between Person and neighboring counties of Caswell and Granville, you can check out a strawberry farm, goat farm, woodworkers, winery, an "en aire" painter, potters, pimento cheese manufacturer and a lot more.
Additionally for even more entertainment, Person County is only about an hour from North Carolina's metropolitan Raleigh-Durham-Chapel Hill Triangle. But if your tastes are for the quaint, charming, soul-filling, countryside back roads kind of environment, a vacation in the Mayo Lake area will more than provide you with a time of leisure.
Things to do at Mayo Lake
Vacation Rentals
Fishing
Boating
Canoeing
Kayaking
Camping
Picnicking
Cabin Rentals
Hiking
Biking
Wildlife Viewing
Birding
Museum
Playground
Fish species found at Mayo Lake
Bass
Black Bass
Bluegill
Bowfin
Catfish
Crappie
Largemouth Bass
Pike
Sunfish
---
Mayo Lake Statistics & Helpful Links
Spread the word! Share our Mayo Lake article with your fellow Lake Lubbers!