Lake Norman, North Carolina, USA
Lake Locations:
USA - South - North Carolina - Piedmont -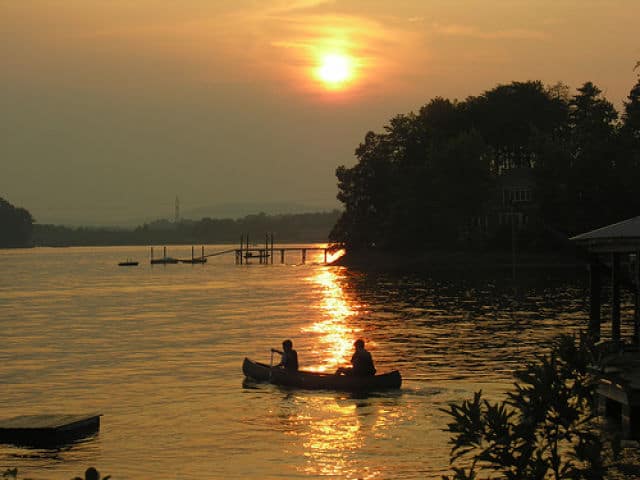 Lake Norman's 32,510 acres garner it the superlative of being North Carolina's largest manmade lake. An impressive 34 miles in length with 520 miles of shoreline, Lake Norman is fondly nicknamed the Inland Sea. Conveniently located near Charlotte and Interstate 77, Lake Norman is a popular vacation destination.
The lake was named for Norman Atwater Cocke, a retired president of Duke Power. Duke Power created the lake for hydroelectric power and water supply by damming the Catawba River. The Cowans Ford Hydroelectric Station began supplying electricity in 1963. Duke Power also built the McGuire Nuclear Station and the coal-burning Marshall Steam Station. The lake provides cooling water for both stations. The Marshall station began producing electricity in 1965 and the McGuire station in 1981.
Lake Norman's full pond elevation is 760 feet above sea level with a maximum depth of 110 feet and an average depth of 34 feet. Duke Power controls the water level to provide electricity, accommodate heavy spring rains, supply municipal water, and provide recreational opportunities. The maximum water drawdown is 15 feet.
With so many acres and miles of shoreline, the best way to see the lake is by boat. Several marinas grace the shores of Lake Norman, providing boat launches, boat slips, boat storage, boat rentals, boat repairs, and gas stops for when you need to refuel. With no horsepower or speed limit on the lake, powerboats, bass boats, sailboats, and pontoons share the sparkling waters with kayaks, canoes, and even the occasional paddle boat.
Lake Norman State Park hosts thousands of campers per year at its 33 campsites. Equipped with tent pads, picnic tables, and grills, the campsites afford a level of comfort while allowing you to commune with nature. Late at night, sleeping amidst the trees, you will feel closer to the lake than you thought possible as you watch the stars, smell the pine trees in the breeze, and let the sounds of nature lull you to sleep.
Anglers arrive at Lake Norman from miles around, with 'fish-tales' echoing in their minds of record-winning catfish, largemouth bass, crappie, striped bass, and yellow perch and white perch. Bass tournaments come to the lake annually, a testament to the opportunities available here. During winter, stripers are abundant and brave souls face winter's chill to drop a line in and reel in a big one. If cold isn't your pleasure, spring and summer bring warmer temperatures and the possibility to catch the lake's other resident fish, so don't despair. There truly are some prize-winning catches awaiting at Lake Norman.
Outdoor lovers are pleased to find miles of winding hiking and mountain biking trails available to the public. Pick a path, and you will be presented with beautiful lake vistas, mountain scenery, mature hardwood forests, and many opportunities to interact with the area wildlife. Nature photographers are advised to take their cameras, as photo opportunities await around every bend. Mountain bikers are encouraged to take the Itusi Trail, a 6.7 mile up-and-downhill path that winds through the forest and along the edge of the lake, providing a pleasant yet challenging biking adventure.
It's impossible to look at Lake Norman without wanting to dip your feet in. Designated swimming areas, complete with sandy beaches, will lure you to the lake's shores. You'll find the water to be pleasantly warm, and the sun above to be just bright enough to warrant a little nap on your beach towel. And when all that relaxation has really worn you out, take a box lunch to the nearby picnic area and indulge in a delicious pick-me-up.
Things to do at Lake Norman
Vacation Rentals
Fishing
Fishing Tournaments
Boating
Sailing
Swimming
Beach
Canoeing
Kayaking
Camping
Picnicking
Hiking
Biking
Wildlife Viewing
State Park
Fish species found at Lake Norman
Bass
Black Bass
Catfish
Crappie
Largemouth Bass
Perch
Striped Bass
White Perch
Yellow Perch
---
Lake Norman Photo Gallery
Lake Norman Statistics & Helpful Links
Spread the word! Share our Lake Norman article with your fellow Lake Lubbers!