Wolf Lake, Illinois & Indiana, USA
Lake Locations:
USA - Midwest - Illinois - Chicagoland - Indiana - North -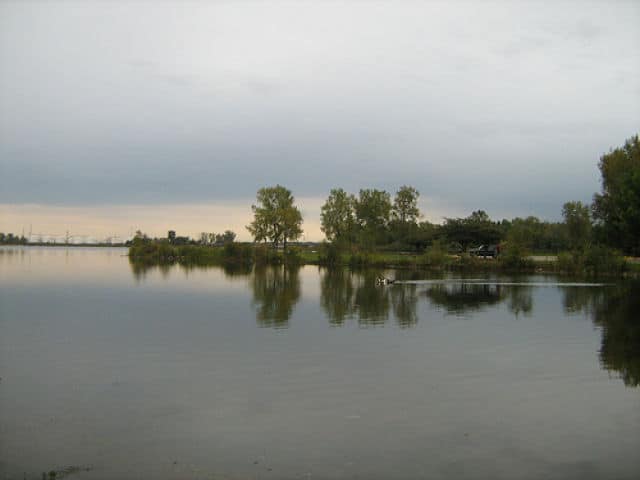 With Chicago, Illinois on one side and Hammond, Indiana on the other, Wolf Lake is a pocket of green offering respite to the weary city dweller. The water in Wolf Lake is so clear anglers can pick the fish they want to catch, and the fishing is so good it's worth a special trip to the "Windy City."
Wolf Lake is a natural glacial lake, one of the shallow depressions left over when the ancient Lake Chicago receded. It was one of five lakes, all less than four feet deep, surrounded by marshes. The area's soil is very porous and the water from one lake could mingle with others underground. Wolf Lake has been fed by this cool, clear, underground aquifer for thousands of years. The lake sits between the Grand Calumet and Calumet Rivers in the Calumet Area. At one point it was connected to Lake Michigan, but development interrupted and filled in the connection.
Residential and industrial development has played a huge role in the history of Wolf Lake. The lake is in an urban area and, since the birth of industrialization, has been subjected to a variety of pollutants. Surprisingly, it is a very clean lake; some scientist believe that is because the factories that sit on one of Wolf Lake's inflows filter the water they use for cooling before letting it flow into the lake. Flushing the lake this way may actually contribute to its health. The aquifer itself is another contributing factor in the lake's health. Because of their porous soil, Wolf Lake and Lake Michigan are hydrologically the same. Whatever the cause, Wolf Lake's water is clear enough to see the bottom.
The depth of the lake has been altered significantly. Wolf Lake has been dammed, diked, and dredged. Now, instead of a shallow four-foot deep lake, the lake has a maximum depth of 20 feet. The levees and dikes divide the lake into distinct sections. The US Army Corps of Engineers and the City of Hammond worked together on a wetland restoration project to clear channels and openings in the dikes and causeways. The project returned the lake to a more natural water level, and allowed fish to pass through more freely.
In August of 2002, 150 biologists descended on Wolf Lake for a BioBlitz. The scientists found over 2000 species, including river otters, the endangered Franklin's ground squirrel, and an unnamed beetle. The lake is a very diverse area and home to several endangered species, including black-crowned night herons, little blue herons, and the yellow-headed blackbird. The bird watching is exceptional, but the Iowa darter and banded kingfish are of more significance to anglers. The rare little fishes only live in a few lakes, and they signal a healthy lake with native vegetation, clear water and lots of fish.
Wolf Lake has abundant populations of black crappie, bluegill, and largemouth and smallmouth bass. The Indiana Department of Fish and Game stocks the lake with channel catfish, northern pike, and muskie, Perch America, Inc stocks the lake with walleye. Illinois also stocks Wolf Lake with channel catfish, northern pike, tiger muskie, and threadfin shad. Anglers even tell tales about a 100-year old lake sturgeon.
The Illinois portion of Wolf Lake is 468 acres and surrounded by the state-owned William Power Conservation Area. There are shaded picnic areas, boat launches and six miles of shoreline for bank fishing. In the winter, visitors are invited to ice fish and the fall brings waterfowl hunting. There is no camping or swimming. The 439-acre Indiana side of Wolf Lake is primarily owned by the City of Hammond. City-run Wolf Lake Park has a beach and boat launch. Take some time to venture east along Dune Highway to visit the Indiana Dune National Lakeshore with spectacular sand dunes and abundant flora and fauna.
About 60 percent of the shore of Wolf Lake is developed with highways, residences, parks and industry. Both the City of Hammond and Chicago are full of any amenity a visitor could want including restaurants, accommodations, shopping and world class museums. Tucked in the middle of all the urban development, Wolf Lake is a jewel that deserves to be treasured.
Things to do at Wolf Lake
Vacation Rentals
Fishing
Boating
Swimming
Beach
Camping
Picnicking
Hunting
Wildlife Viewing
Birding
Museum
Shopping
Fish species found at Wolf Lake
Bass
Black Bass
Black Crappie
Bluegill
Catfish
Channel Catfish
Crappie
Darter
Largemouth Bass
Muskellunge
Northern Pike
Perch
Pike
Shad
Smallmouth Bass
Sturgeon
Sunfish
Tiger Muskellunge
Walleye
---
Wolf Lake Statistics & Helpful Links
Spread the word! Share our Wolf Lake article with your fellow Lake Lubbers!