Wonder Lake, Illinois, USA
Lake Locations:
USA - Midwest - Illinois - Chicagoland -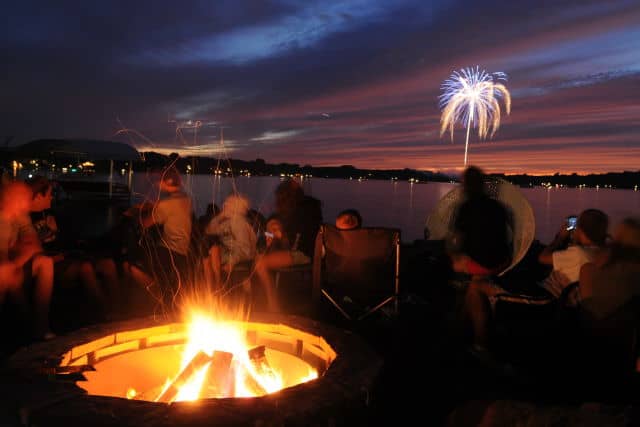 Wonder Lake is the 830-acre centerpiece of a planned lakefront community in the Chicagoland area of Illinois. That was the vision of developers in 1929 when they built a small dam across Nippersink Creek 50 miles northwest of the Loop. The lake is home to several thousand residents and their guests along the seven-mile shoreline. The community of Wonder Lake is served by public transportation, and a commute to metro Chicago makes accessing employment, entertainment and shopping easy.
Wonder Lake is actually a bit larger than the plans originally called for; an apparent surveying error allowed another low-lying area to be flooded as the lake filled. Nippersink Creek flows over the dam spillway on its way to join the Fox River Chain of Lakes a few miles downstream. The entire lake is shallow, with an average depth of six-and-a-half feet. The greatest depth is located at the dam. Several small islands dot the lake and provide nesting areas for birds and shelter for fish. All sorts of water sports are enjoyed in warm weather: water-skiing, wakeboarding, tubing, pontooning, canoeing and kayaking. The Wonder Lake Yacht Club has been in existence for 75 years and sponsors sailboat races regularly, with C Scow racing their particular specialty. In winter, ice fishing and ice skating draw lakelubbers away from the fireplace. A commercial marina serves lake residents with boat repairs and dock space as well as launching larger boats.
Each subdivision around the lake has its own beach area serving those living on back lots. Most also hold a boat ramp for those same residents. Picnic areas are usually included near the beach area so that everyone has access to the water and its cooling breezes. One of the activities that most non-residents are familiar with is the Wonder Lake Water Ski Show Team. Each week during the heat of summer, the public is invited to view the ski team performing stunts and synchronized skiing. With a membership approaching 140 skiers, mostly from the local area, the team has taken numerous water-ski championships.
Several areas around Wonder Lake are protected as game reserves. The Wonder Lake Sportsman's Club sponsors a variety of fishing tournaments and fund-raisers to facilitate lake clean-up efforts. The sportsman's club and the Wonder Lake Master Property Owners Association work together on lake monitoring and fish stocking. The waters hold smallmouth bass, largemouth bass, crappie, bluegill, walleye, muskie, sunfish, catfish and perch, along with rough fish such as carp and bullheads. Although the lake is considered private, many of the fishing tournaments allow teams of fishermen to enter as long as one of them is a resident. One popular annual event geared toward reducing the number of carp in the lake is the Annual Carp Kill, when anglers are allowed to use unusual methods of catching the less-than-desirable fish such as bow fishing.
Downstream from the dam, the 3,400-acre Glacial Park Nature Preserve offers plenty of trails for hiking, cycling, nature observation among the wetlands, and fishing and canoeing on the river. Only a few miles away, the many water features of the Fox River Chain of Lakes provide opportunities for river cruising, camping, and multi-lake boating.
Wonder Lake Master Property Owners Association has worked with state and federal agencies to solve problems with increasing weed infestations and sedimentation. Studies show that a large amount of sediment enters the reservoir from the Nippersink Creek watershed and is trapped by the dam. The dam is licensed as 'run-of-river', meaning it is a simple spillway with no real way to adjust water flow except in emergencies. The dam protects downriver areas from the sediment but leaves it in the lake instead. The property owners association undertook a massive dredging operation in 2015 to clear out much of the sediment and deepen the lake in some areas. The POA is also working with lakeshore owners to help them reduce sedimentation from erosion along the banks and installing wave reduction rip-rap barriers around the many small islands.
A number of properties along the shoreline regularly rent their homes and cottages on a short-term basis. Most rentals include the use of a boat or canoe. Most cottages on back lots include lake use rights. Lodgings can also be found at the private golf course near the lake and include club privileges. The Village of Wonder Lake has little in the way of commercial lodgings, but offers several restaurants, grocery stores, 'big box' department stores and some specialty shops along with medical and service facilities. Less than 10 miles to the south, the City of McHenry provides a few hotels and a wider variety of services. The METRA train system has a station at McHenry, making it easy to get to Chicago to visit museums, shopping opportunities, and world-class entertainment.
If you are visiting the Chicagoland area, stop by some summer Friday night to view the water ski stunts and find out more about this suburban lake. Real estate is always available, with a few buildable lots still existing. And, with a fishing derby several times a month, no angler will ever be bored. Schedule a few days at one of the local vacation properties and see how much fun it would be to become part of the Wonder Lake community.
*Depth statistics may not be current due to sedimentation and on-going dredging.
Things to do at Wonder Lake
Vacation Rentals
Fishing
Fishing Tournaments
Ice Fishing
Boating
Sailing
Swimming
Beach
Canoeing
Kayaking
Water Skiing
Wakeboarding
Tubing
Golf
Camping
Picnicking
Hiking
Ice Skating
Biking
Birding
Museum
Shopping
Fish species found at Wonder Lake
Bass
Black Bass
Bluegill
Carp
Catfish
Crappie
Largemouth Bass
Muskellunge
Perch
Pike
Smallmouth Bass
Sunfish
Walleye
---
Wonder Lake Photo Gallery
Wonder Lake Statistics & Helpful Links
Spread the word! Share our Wonder Lake article with your fellow Lake Lubbers!