Tuckertown Reservoir, North Carolina, USA
Lake Locations:
USA - South - North Carolina - Piedmont -
Also known as:  Tuckertown Lake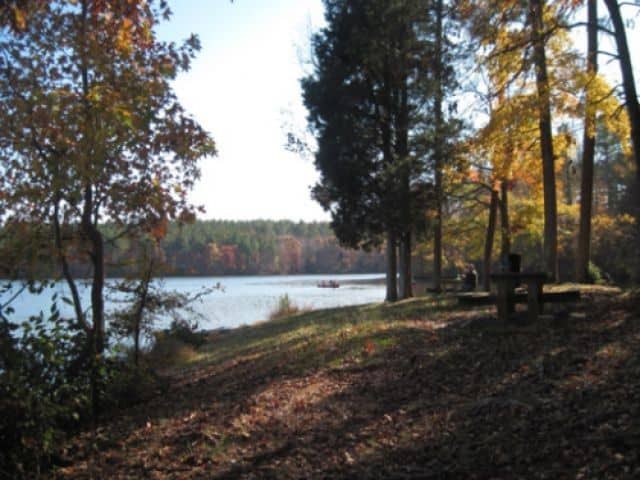 The Tuckertown Reservoir in North Carolina's Piedmont region is a stunning example of how hydroelectric power generation can mesh with habitat preservation and natural scenic beauty. Also called Tuckertown Lake, the 2500-acre reservoir is one of the area's most attractive scenic spots and protects hundreds of acres of wetlands and forest. The lake was created when Alcoa Power Generating Inc. (APGI) built a dam across the Yadkin River a few miles below their existing High Rock Dam. One of four dams in the Alcoa Yadkin Project, Tuckertown Reservoir was planned from the beginning to remain purposely undeveloped and a boon to native North Carolina wildlife. While nearby High Rock Lake quickly became a recreation mecca, Tuckertown was protected from over-use by strictly limiting private development on the lake. APGI has worked hard to assure that most of the 75-mile shoreline remains in a natural state; less than 2% of the land near shore is developed. A full 65% of the shoreline is held in conservation and wetlands protection. A 100-foot, forested buffer zone is maintained, so the few homes near the lakefront are hardly noticed from the water.
Although Tuckertown Lake is open to all types of boating, most boat traffic is fishing boats. Only on busy weekends do visitors see the occasional water skier or jet skier. Residents enjoy pontoon boats which they also use as docks when moored at the shore; private docks are not allowed on the shoreline. There are no campgrounds or private commercial businesses at Tuckertown Lake, although a few may be allowed in the future. APGI owns most of the land surrounding Tuckertown Lake separately from that which is considered part of the hydroelectric generation project. Most of these acres have been designated as North Carolina Game Lands and are open for public recreation use, as per State Game Land regulations. The railroad parallels nearly the entire eastern shore of the reservoir, which further limits the opportunity for future development. The many coves and inlets provide excellent wetland habitat for fish spawning, large amphibian populations and water bird nesting areas. Because the hydroelectric system is 'run of river', water levels remain quite stable throughout the year and never vary more than a couple of feet. The gate-controlled spillway releases excess water during flooding events.
Public boat access is provided at three separate areas around the reservoir. Because Tuckertown Lake has developed a reputation as a fine crappie fishing lake, many anglers flock to the lake to try for their limit of these two-pound whoppers. Largemouth bass and striped bass are also caught; the latter is regularly stocked by North Carolina Wildlife. Trolling motors are the propulsion of choice here as experienced anglers navigate stealthily over their favorite fishing grounds. Excellent bottom structure encourages these fish to grow large and healthy, providing plentiful sport for the dedicated fisherman. Fishing docks are also provided at some of the public launch sites, and there are plans to enlarge opportunities for bank fishing in the future.
Only 60 miles northeast of Charlotte, the reservoir is located in Davidson, Stanly, Montgomery and Rowan Counties. Formed by the Tuckertown Dam at the north end of Badin Lake and the High Rock Dam at the south end of High Rock Lake, the lake is part of the Yadkin Waterway and a highly attractive portion of the canoe and kayak routes on the Yadkin-Pee Dee River system. The three hydroelectric turbines are located below Tuckertown Dam.
The Tuckertown Reservoir area is a highly attractive place to live or play. The lake is only 35 miles east of Lowes Motor Speedway and just west of a large section of the Uwharrie National Forest. Uwharrie National Forest visitors can camp, fish, hike or cycle trails or use the equestrian camping area. A wide variety of wildlife can be seen in the park, and many people come specifically to view the bald eagles that often congregate near the Narrows Dam at the south end of Badin Reservoir. Here, fish stunned or injured by the generation turbines provide easy mealtime for these beautiful birds. Binoculars are recommended for best viewing.
Morrow Mountain State Park hugs the shoreline of Lake Tillery, the fourth reservoir in the Yadkin Project. North of High Rock Lake, small Boones Cave Park contains picnic area, canoe launch, hiking trails, a reproduction log cabin and a natural cave that teen-age Daniel Boone is reported to have frequented in the year his family resided in the area. The City of Asheboro is less than 40 miles from the lake and has several interesting attractions including the Asheboro Zoo. Near the lake itself, at least one campground advertises that visitors can pan for gold on the premises. There's even an old-fashioned drive-in theater about 15 miles away in Albemarle, and several golf courses within a short drive.
The only lodgings available at Tuckertown Lake are private residences that are occasionally rented by the day or week. Nearby High Rock Lake has a larger number of rentals. Hotels, motels, bed-and-breakfasts and campgrounds are easily located in the small towns around the lake, although not directly on the lake itself. A fishing or pleasure boating trip to Tuckertown Reservoir will likely leave you hooked as well. If you come here once, we know you'll be back!
Things to do at Tuckertown Reservoir
Vacation Rentals
Fishing
Boating
Canoeing
Kayaking
Jet Skiing
Water Skiing
Golf
Camping
Campground
Picnicking
Cabin Rentals
Hiking
Horseback Riding
Wildlife Viewing
Birding
State Park
National Forest
Drive-in Theater
Fish species found at Tuckertown Reservoir
Bass
Black Bass
Crappie
Largemouth Bass
Striped Bass
---
Tuckertown Reservoir Photo Gallery
Tuckertown Reservoir Statistics & Helpful Links
Spread the word! Share our Tuckertown Reservoir article with your fellow Lake Lubbers!