Belews Lake, North Carolina, USA
Lake Locations:
USA - South - North Carolina - Piedmont -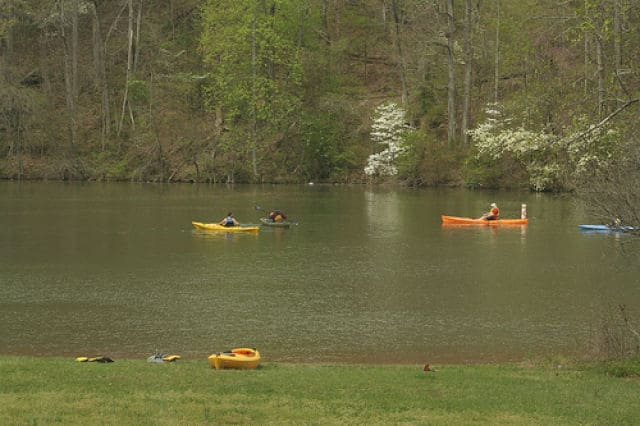 Belews Lake is nestled in the foothills of the Blue Ridge Mountains in beautiful north central North Carolina. The lake straddles Stokes, Forsyth and Rockingham counties and is surrounded by the towns of Walnut Cove, Belews Creek, Stokesdale and Pine Hall. Forests, waterfalls and mountain streams are abundant in the surrounding area, and Hanging Rock State Park is 15 miles to the northwest.
A man-made reservoir, Belews Lake covers 3846 acres behind a rolled-earth dam. The reservoir was built in 1973 to provide cooling water for Duke Energy's Belews Creek Steam Station located downstream. The Belews Creek Steam Station is the largest coal-fired plant in the Duke Energy system. The lake is over 100 feet deep in spots and can reach depths of 130 feet near the dam. The irregular 88-mile shoreline, mostly undeveloped, is filled with coves and bays.
Between 1974 and 1984, Belews Lake was contaminated by selenium from the power plant, which caused reproductive failure and deformities in fish. Beginning in 1986, however, Duke Energy changed its practices and selenium no longer entered the lake. The fish consumption advisory was lifted in August of 2000, and Belews Lake was removed from the list of impaired waters.
Belews Lake is a unique fishing spot. On cool mornings, the surface of the lake is covered with steam generated from the heat of the nearby power plant. The effect is both beautiful and eerie. In the fall, the foliage around the lake is fiery and vibrant. Bass fishing is quite popular and other regular catches include catfish, crappie and panfish. Signs around the lake recommend that fish-eaters limit themselves to one portion a week because of small quantities of selenium that still linger in the lake water.
In addition to anglers, the calm waters and lush forests of Belews Lake attract boaters, nature-lovers and adventure-seekers. Popular activities include sail boating, speed boating, paddling, camping, hiking and water sports. Wildlife around Belews Lake is plentiful. Loons are often seen in the lake's coves, and sometimes you can spot a beaver. In the fall and winter, Canada geese make their homes on the lake.
Things to do at Belews Lake
Vacation Rentals
Fishing
Boating
Sailing
Canoeing
Kayaking
Camping
Hiking
Waterfall
Wildlife Viewing
State Park
Fish species found at Belews Lake
---
Belews Lake Photo Gallery
Belews Lake Statistics & Helpful Links
At LakeLubbers.com, we strive to keep our information as accurate and up-to-date as possible, but if you've found something in this article that needs updating, we'd certainly love to hear from you!
Please let us know about it on our Content Correction form.
Spread the word! Share our Belews Lake article with your fellow Lake Lubbers!