Mountain Island Lake, North Carolina, USA
Also known as:  Mountain Island Reservoir
Welcome to the ultimate guide for history, statistics, local fun facts and the best things to do at Mountain Island Lake.
If you're considering Mountain Island Lake vacation rentals, we've made it super easy to explore accommodations and nearby hotels using the interactive map below. Simply click on a listing to compare similar properties, best rates and availability for your dates. Or keep scrolling to read our Mountain Island Lake guide!
Mountain Island Lake visitor and community guide
Anyone looking for lakefront property in the Charlotte, North Carolina area will want to look at Mountain Island Lake. Lakes in the Piedmont area of the state are nearly all reservoirs, and Mountain Island Lake is no exception,. The large 3,300-acre reservoir sprawls across the Catawba River Valley and meanders up several inflowing stream beds to create a twisting, varied landscape along 61 miles of shoreline. Only 10 miles from downtown Charlotte, the exclusive housing developments along Mountain Island Lake are in high demand. Along with providing power for the surrounding area, this Duke Energy lake also provides much of the drinking water to Mount Holly, Gastonia and Charlotte.
Mountain Island Lake was created in 1924, when Duke Energy commissioned a dam to be built across the Catawba River downstream from Lake Norman. The lake takes its name from the top of a former 'mountain' that now exists as a large island in the western part of the lake. Mountain Island Dam stores the water to operate the Mountain Island Hydroelectric Plant and supplies cooling water for the steam-generating Riverbend Steam Station. In the past, the Island was often used for camping, but that has been phased out; no campgrounds now exist along the lake. The lake has no designated swimming beaches, but several public boat ramps provide access to the water. Residents of the housing developments can take advantage of two resident-only marinas. Warm weather activities include water skiing, jet skiing, sailing, power boating and paddle sports.
The public has plenty of access to Mountain Island Lake's shoreline; the boat launch areas are regularly used by small boat owners such as fishermen and nature fans. The many coves along the irregular shoreline are a delight to explore from kayak or canoe. Fishermen enjoy angling for striped bass, smallmouth bass, catfish and white perch, along with smaller panfish. Bank fishing is possible in many areas of the shoreline, and a fishing platform is offered at the Tailrace below the dam. North Carolina's Wildlife Resources Commission manages the Tailrace site and monitors all fish species in the lake.
Mecklenburg County owns one county park along Mountain Island Lake's shores. Latta Plantation County Park is a part of the 1,351-acre Latta Plantation Nature Preserve, a former cotton plantation property that holds miles of walking and cycling trails. Home to picnic grounds, a boat ramp, the Carolina Raptor Center, historic Latta Plantation restored home and an equestrian center, the Nature Center occupies a large peninsula on Mountain Island Lake that protects several species of rare and endangered plants. The Raptor Center is the Southeast's largest eagle aviary and is dedicated to rehabilitation and education about these glorious birds of prey. The Preserve is a part of the Audubon Society's Mountain Island Lake Important Bird Area because of the habitat provided to migratory and nesting songbirds, wintering waterfowl, and the threatened natural community of bottom land hardwood forest which shelters them.
Miles of walking trains meander throughout the Preserve's peninsula. The equestrian center offers riding lessons, riding trails, pony rides, horse shows and a tack shop. The restored Federalist-style plantation house offers guided tours and educational field trips for school children. Roads exist between the various focal points of Latta Plantation Nature Preserve, but visitors are strongly encouraged to bring their bicycles to keep vehicle traffic to a minimum. The County Park area contains a 'sprayground', basketball court, multipurpose fields, tennis court, volleyball court, playground, soccer fields, picnic shelter and a recreation center offering summer day camps for children, athletic programs for youth, tennis academy, piano lessons and other enrichment programs. Multipurpose rooms, activity rooms and gymnasium provide space for a variety of adult and children's activities.
Two additional nature areas are available along Mountain Island Lake's extensive shoreline. Rural Hill Nature Preserve and Stephens Road Nature Preserve abut the lake and the inflowing creeks. Mecklenburg County also maintains Cowan's Ford Wildlife Refuge along the shore. Although close to Charlotte and Mount Holly, Mountain Island Lake maintains an aura of natural shorelines, heavily wooded margins and surprising solitude much of the time. Housing is set back some distance from the water itself, although many residents have their own docks, constructed via a permit process. Many of the residents are commuters from Charlotte and the lake can seem quite empty many weekdays, although considerably busier on the weekends.
The convenience factor is a huge attraction for homeowners at Mountain Island Lake. Charlotte's Bechtler Museum of Modern Art displays the work of notable 20th century artists. Nearby Discovery Place presents hands-on learning labs, an aquarium, rain forest and IMAX theater. Kids of all ages will love Carowinds Amusement and Water Park just south of the city near the South Carolina state line. The U.S. National Whitewater Center offers zip lines, whitewater rafting, hiking, mountain biking and a number of just plain fun outdoor-themed activities. NASCAR fans will love the NASCAR Hall of Fame. The Charlotte area also offers golf courses and all types of shopping venues.
Duke Energy has faced mounting criticism and lawsuits over recently-discovered leakage from unlined coal ash pits on their many coal generation properties. Some of these legacy storage pits are near Mountain Island Lake's shoreline, leading to concerns about ground water and lake pollution. However, residential areas along Mountain Island Lake are supplied with city water and sewer. Duke Energy is working with the EPA to eventually have all remaining coal ash removed from these old unlined pits. The problem developed over a period of years and it will likely be several years before all pollution issues can be mitigated. In the meantime, the Cities of Charlotte, Gastonia and Mount Holly are carefully monitoring their water quality and are assuring users that the water is safe to drink.
Visitors to Mountain Island lake will find a few guest rentals on the lake itself, usually in the form of private homes. Regular hotel lodgings are available along the nearby highways. Campgrounds are found nearby, including along the Catawba River and near Lake Norman upstream. Charlotte offers a wide variety of amenities such as bed & breakfasts, varied restaurants, and plenty of nightlife. It's no wonder that in 2014, Money magazine selected Mountain Island Lake as one of the best-value, big-city neighborhoods in the USA.
*Few statistics for depths and water volume are available.
Custom Mountain Island Lake house decor
Read our full review of these personalized lake house signs.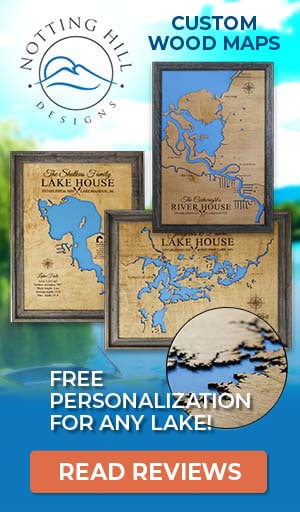 Things to do at Mountain Island Lake
Vacation Rentals
Fishing
Boating
Sailing
Swimming
Beach
Canoeing
Kayaking
Whitewater Rafting
Jet Skiing
Water Skiing
Golf
Tennis
Campground
Picnicking
Hiking
Biking
Horseback Riding
Wildlife Viewing
Birding
Museum
Playground
NASCAR
Shopping
Fish species found at Mountain Island Lake
Bass
Black Bass
Catfish
Perch
Smallmouth Bass
Striped Bass
White Perch
---
Best hotels and vacation rentals at Mountain Island Lake
The Mountain Island Lake map shown above is a simple and stress-free way to search for trip accommodations. But if you want to take a deeper dive to find the ideal waterfront home, cabin, condo, hotel or resort, visit our favorite lodging partners by clicking the buttons below.
Note: These are affiliate links so we may earn a small commission if you book through them. While there is no extra cost to you, it helps provide resources to keep our site running (thank you)! You can read our full disclosure policy here.
---
Mountain Island Lake photo gallery
New photos coming soon!
Mountain Island Lake statistics & helpful links
We strive to keep the information on LakeLubbers as accurate as possible. However, if you've found something in this article that needs updating, we'd certainly love to hear from you! Please fill out our Content Correction form.
Advertise your Mountain Island Lake vacation rental
LakeLubbers will soon offer homeowners and property managers the opportunity to to showcase their vacation rentals to the thousands of lake lovers searching our site daily for accommodations. If you'd like additional details, please contact our advertising team here.
Looking for the Mountain Island Lake forum?
LakeLubbers previously offered visitors the ability to create accounts and participate in lake forums. When we overhauled the site's content management system in 2021 we had to disable those features. We're evaluating options and welcome your comments and feedback here.
We also encourage you to join our lake-lovin' community on Facebook and Instagram!
Spread the word! Share our Mountain Island Lake article with your fellow Lake Lubbers!