South Twin Lake, Maine, USA
Lake Locations:
USA - New England - Maine - Maine Highlands -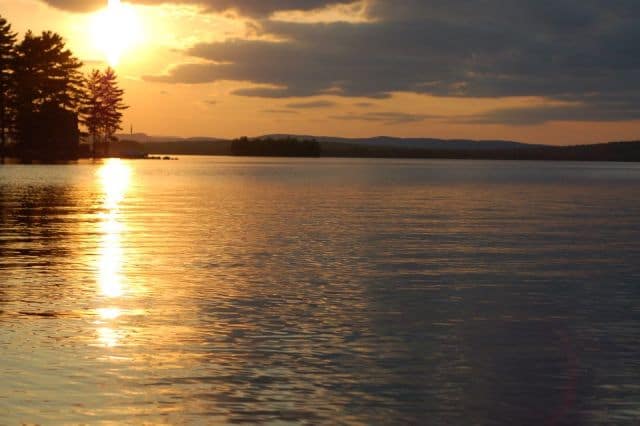 South Twin Lake is part of the splendid Pemadumcook Chain of Lakes which includes four other lakes (North Twin, Ambajejus, Elbow, and Pemadumcook Lakes). The lake system is in the Highlands region of central Maine in the midst of some of the most picturesque nature scenes of New England. The five lakes are all connected and are divided only by islands or rocks and narrow waterways. These various lakes are really one contiguous body of water, thus the description "chain of lakes." The lakes themselves used to be rivers but were expanded by dam usage. The system is fed by the West Branch of the Penobscot River which enters the water body through Ambajejus Lake.
Running parallel to the east side of South Twin Lake is the freight railroad Montreal, Main, and Atlantic Railway. And 6 miles east of that is the hospitable town of Millinocket which was founded when a group of individuals conceived the idea for a paper mill and the construction of North Twin Dam. The founders of the paper mill and dam became the Great Northern Paper Company. The town is now one of the most attractive destinations for vacationers looking for a breathtaking outdoors experience. For those looking for a place to call home, Millinocket is a cozy place to settle.
There are various dams throughout the lake chain, but North Twin Dam is the one that most directly impacts South Twin Lake. It is established between Elbow Lake (connected to North Twin Lake) and the adjacent Quakish Lake. The present dam is now operated by the Canada-based Brookfield Renewable Power Company and is used for generating power, flood control, and recreation.
South Twin Lake is a water heaven. Take a drift down its quiet waters and its neighbor lakes. As summer ends, fall foliage brings a brilliant display of color and a sight for sore eyes. One can also look up to the majestic Mt. Katahdin which is the highest mountain peak in Maine. Echoing throughout the vast space, one can hear the truly beautiful calls of Maine's loons.
South Twin Lake is great for fishing and offers access to stocked landlocked salmon and lake trout. Wild fish are white perch, lake whitefish, pickerel and cusk. Smelt enters the system during springtime from the West Branch of Penobscot River. Other recreational opportunities in the area include whitewater rafting on Penobscot River, canoeing or kayaking on the West Branch of the river, camping, moose-watching in the nearby woods, hunting and hiking. The nearby Baxter State Park, a 204,733-acre wilderness area, offers many additional options for enjoyment. Winter time brings another season of fun and affords various winter activities, cross country skiing, snowshoeing, snowmobiling, and ice fishing.
The region is a popular tourist destination and patrons will find a multitude of inns, cabins, lodges, and recreation guides and services.
Things to do at South Twin Lake
Fishing
Ice Fishing
Canoeing
Kayaking
Whitewater Rafting
Camping
Cabin Rentals
Hiking
Cross-Country Skiing
Snowmobiling
Hunting
State Park
Fish species found at South Twin Lake
Cusk
Lake Trout
Perch
Pickerel
Pike
Salmon
Smelt
Trout
White Perch
Whitefish
---
South Twin Lake Photo Gallery
South Twin Lake Statistics & Helpful Links
Spread the word! Share our South Twin Lake article with your fellow Lake Lubbers!