Brassua Lake, Maine, USA
Lake Locations:
USA - New England - Maine - Maine Highlands -
Also known as:  Little Brassua Lake-historic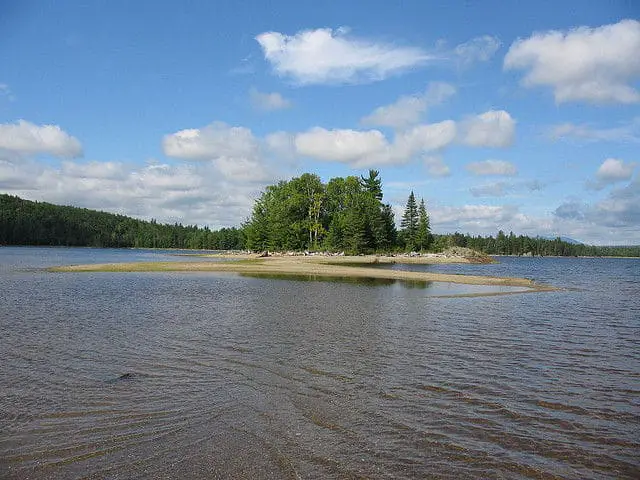 Sprawling across almost 9,000 acres of the Maine Highlands Region, Brassua Lake is actually little known. The large reservoir was created in 1925 when a dam was built across the outlet on the lower Moose River to generate hydroelectric power. The dam raised water levels nearly 30 feet and caused two already sizeable lakes-Brassua and Little Brassua Lake-to merge into one. Most of the surrounding lands have been managed for timber resources for the past 100 years, leading to a near-wilderness setting with few lakeside cottages and a few sporting camps gracing the shoreline.
Located only five miles west of better-developed Moosehead Lake, Brassua Lake's wide waters have delighted lucky cottagers and camp guests who have discovered this, one of Maine's most scenic landscapes. One group that has increasingly enjoyed Brassua Lake's abundance is fishermen; the lake supports a thriving cold-water fishery, producing brook trout, landlocked salmon and smelt. The salmon are stocked regularly, both here and in Moosehead Lake, providing for excellent fishing in the lakes and along Moose River which flows between the two. Only one developed boat ramp exists on the lake that is publicly accessible: the owners of the hydroelectric dam allow the public to utilize a ramp near the dam itself. Due to periodic drawdowns of the water level, vast areas of shallow water present themselves to shoreline fishing with waders and float tubes. Chub, cusk and sucker are also present, but the main angling targets are the trout and salmon, along with smelt in winter. All Maine fishing regulations apply, and fishermen must be properly licensed.
The lake is available for most water sports, but launching facilities for larger boats are limited. No marinas or commercial docking facilities exist on the lake, although that may change in the near future. After being owned and managed by Great Northern Paper Company for many years, about 5,673 acres on the east and west shorelines and islands within the lake have been sold to Moosehead Wildlands Inc. The new owners have submitted a plan which places some of these lands-about 20%-in conservation status forever. The other 4,117 acres are to be made accessible to the public for 20 years for use of a 'to-be-developed' trail system, hunting, horseback riding and outdoor enjoyment. A new development of private homes on a large peninsula along the eastern shore in being designed. Planned improvements include some commercial facilities, although the exact nature of these has not been disclosed.
The dam also has changed hands. In this rapidly-changing energy production industry, Kennebec Water Power Company sold Brassua Dam to Brookfield Renewable Energy, a group of investors who specialize in renewable energy production. Little information is available at present on what plans the company has for Brassua Dam's hydroelectric production, but there is no indication that its current use will be altered. Until further notice, it is expected that the boat ramp is still public access.
In placing these wooded lands in public usage, Moosehead Wildlands is continuing the traditional use of these lands by the public for hiking, hunting, snowmobiling, cross-country skiing and fishing. The new designation simply adds to the large amount of publicly-accessible forest lands in the area, already heavily used by patrons of Moosehead Lake facilities. One of the main Interconnected Trail System snowmobile trails passes along the shoreline of Brassua Lake, joining other snowmobile trails in the network at nearby Greenville. The Moosehead Lake Region trails include the 150+ mile Moosehead Trail circling the lake. Hunting is a popular sport in the area in season as is wildlife viewing. Common to the area are moose, black bear, deer, red squirrel, beaver, porcupine, snowshoe hare, coyote and bobcat. Birds and waterfowl are numerous and often seen.
A few primitive campsites are available near the shoreline, some under the management of the solitary commercial sporting camp at Brassua Lake. The camp resort also rents lodge rooms, bungalows, camping cabins and yurts, along with RV spaces. More primitive campsites are planned by Moosehead Wildlands in their new development plans. No major roadways or easy-access locations will be added. Much access will still be via old logging roads. Limited access and sparse development is in keeping with what the few cottage owners along the shoreline find most attractive about their remote lake. A few of these property owners rent their facilities on short-term vacation rental basis and often include a canoe or small boat for vacationers' use. Many of these properties include a small swimming beach and feature a fire ring for evening campfires while listening to the night sounds of the northern wilderness.
Brassua is unique as a place name. A 1905 United States Geological Survey publication called "The Origin of Certain Place Names in The United States" lists this as the only reference to the place name Brassua. The name is reported to have been the name of an Indian chief and means straightforward or 'frank'. And cottage owners and visitors won't hesitate to tell you what they love about Brassua Lake. Besides the scenic beauty of the lake itself and its numerous wildlife, there are other nearby attractions that can be accessed within an hour or so by car. Steamship SS Katahdin offers lake cruises in Moosehead Lake all summer, and hiking on Mt. Kineo and Borestone Mountain will keep the physically-fit coming back for more. Cross-county skiing, snowshoeing and nature photography add to the enjoyment of this pristine area.
Although there are limited forms of lodgings available at Brassua Lake, nearby Rockwood offers some motels and eating establishments, while Greenville at the south end of Moosehead Lake holds all sorts of places to stay, including hotels, cottages, guest houses and bed & breakfasts. All types of outdoor outfitters can be found in the region, and sporting goods, including snowmobiles, may be rented. So, bring your outdoor provisions of choice, including binoculars and hiking boots. The longer you stay, the more you'll find to do and experience at Brassua Lake.
*The size of Brassua Lake varies in documents between 8,979 acres and 9,454 acres. This may be the surface area at both high water and low water levels.
Things to do at Brassua Lake
Vacation Rentals
Fishing
Boating
Swimming
Beach
Canoeing
Tubing
Camping
Cabin Rentals
Hiking
Cross-Country Skiing
Snowmobiling
Snowshoeing
Horseback Riding
Hunting
Wildlife Viewing
Birding
Fish species found at Brassua Lake
Brook Trout
Carp
Cusk
Salmon
Smelt
Sucker
Trout
---
Brassua Lake Photo Gallery
Brassua Lake Statistics & Helpful Links
Spread the word! Share our Brassua Lake article with your fellow Lake Lubbers!