Sebec Lake, Maine, USA
Lake Locations:
USA - New England - Maine - Maine Highlands -
Also known as:  Lake Sebec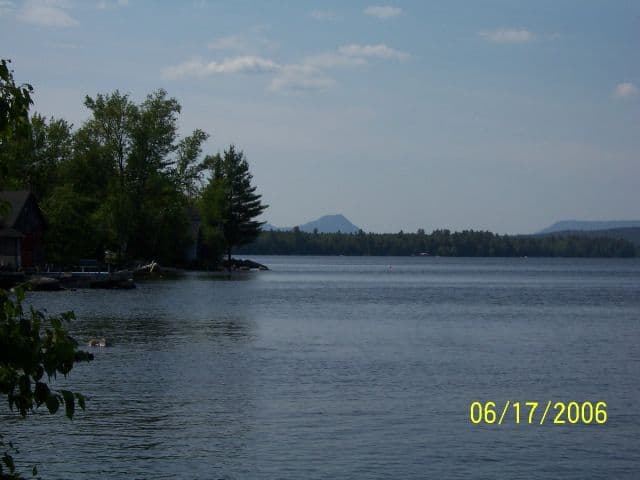 Located in central Maine's Piscataquis River Valley, Sebec Lake is surrounded by a land of recreational opportunity. Whether you come to relax in New England's rural countryside or accept the challenge of the Appalachian Trail, Sebec Lake has it all. Boating, fishing, hiking, hunting, canoeing, scenic drives and wildlife viewing are among the many activities found in the Maine Highlands region that surrounds Sebec Lake.
A scenic 45-mile drive northwest of Bangor takes you to the rolling hills and wooded shoreline of Lake Sebec. The 11-mile long lake is formed on the Sebec River by the Sebec Dam. Twice a year Sebec Lake's water level is lowered from its average depth of 42 feet to encourage the salmon spawning. While Bangor Hydro-Electric Company owns the Sebec dam, Ampersand Sebec Lake Hydro, owner of the Sebec Hydro Project, manages the water level.
More than 800 properties are tucked among the trees surrounding Sebec Lake. Whether you select a lakeside or countryside vacation rental, the lake will provide the perfect home away from home. Here you can wake to fresh mountain air, plan your daytime excursions, and relax to the calling of loons at the end of a perfect day. Visitor needs are served by the quaint communities of Dover-Foxcroft, Bowerbank, Milo, Willimantic and Sebec. And, if you'd like to vacation for life, these towns also offer varying real estate and property options. Within easy distance you have access to hunting and fishing outfitters, hiking guides, museums, antique shops and restaurants.
Peaks-Kenny State Park is near the community of Dover-Foxcroft. Here you will find 813 acres offering campsites, picnic areas, restrooms, showers, a bathhouse and beach. Several public parks and ramps can be found along Sebec Lake's shoreline, concentrated in the communities of Dover-Foxcroft, Sebec and the village of Sebec Lake. The Milo Public Boat Landing provides access to Sebec Lake from the Sebec River. Launch your boat and ride past the islands and coves leading into the lake; pause to enjoy herons, beavers and loons; or cast a line for the river's pickerel, bass, yellow perch, trout, and salmon.
Maine's Inland Fisheries and Wildlife Department places Sebec Lake in Region E (Moosehead Region). They state that the pristine waters of Sebec Lake are one of the original homes of landlocked salmon in Maine. Stocked lake trout can also be found along with smallmouth bass and white perch.
The dramatic view that spans Sebec Lake's horizon includes Mount Katahdin. At 5,267 feet, it is Maine's highest mountain and the end of the Appalachian Trail. To the north of Sebec Lake is Borestone Mountain. Here you can hike the trails of the 1,640-acre Borestone Mountain Audubon Sanctuary or visit their interpretive nature center. Located within the shadows of the mountains are Moosehead Lake, Maine's largest lake, and Baxter State Park, where you can enjoy hiking, climbing and camping.
Whether you choose to canoe, kayak, bike, hike or drive into Sebec Lake's countryside, the scenery is spectacular. Not to be missed are the nineteenth-century Katahdin Iron Works State Historic Site and two National Natural Landmarks. The first is Gulf Hagas, a 3.5-mile long gorge that is part of the Appalachian Trail. In contrast to the rugged bedrock of the gorge, "The Hermitage" holds 35 acres of Maine's oldest white pines and is protected by the Nature Conservancy.
Summer is not the only busy season at Sebec Lake. When "leaf peepers" arrive to view the spectacular color around Lake Sebec, thoughts turn to camping, hiking and the chance to hunt. Among the wildlife to be found in the forests or game preserves are black bear, moose, deer, elk and game birds. During the winter, Sebec Lake residents can expect to see temperatures approach zero with area snowfalls averaging 85 inches annually. This is the season for ice fishing, snowmobiles, skis, snowshoes and dogsleds. No matter the season or choice of recreation, a stay at Sebec Lake will place you central to it all.
Things to do at Sebec Lake
Vacation Rentals
Fishing
Ice Fishing
Boating
Swimming
Beach
Canoeing
Kayaking
Camping
Picnicking
Hiking
Biking
Snowmobiling
Snowshoeing
Hunting
Wildlife Viewing
Birding
State Park
Museum
Antiquing
Fish species found at Sebec Lake
Bass
Black Bass
Lake Trout
Perch
Pickerel
Pike
Salmon
Smallmouth Bass
Trout
White Perch
Yellow Perch
---
Sebec Lake Statistics & Helpful Links
Spread the word! Share our Sebec Lake article with your fellow Lake Lubbers!