Ross Lake, Washington USA & British Columbia Canada
Also known as:  Ross Reservoir
Welcome to the ultimate guide for history, statistics, local fun facts and the best things to do at Ross Lake.
If you're considering Ross Lake vacation rentals, we've made it super easy to explore accommodations and nearby hotels using the interactive map below. Simply click on a listing to compare similar properties, best rates and availability for your dates. Or keep scrolling to read our Ross Lake guide!
Ross Lake visitor and community guide
Spectacular Ross Lake is one of the seldom seen gems in north-central Washington. This fantastic 22-mile long reservoir covers 11,680 acres along the flooded Skagit River Valley. Nestled between high sloping banks and against a backdrop of what are often called the Washington Alps, those who visit here are in for a wilderness experience like few others. And the best part is, Ross Lake is only three hours from Seattle. The northern end of the lake extends into British Columbia, Canada.
There are no city amusements or signs of civilization on the banks of Ross Lake except for one resort property that has existed there for 60 years. Nearly 20 camping areas lie along the shoreline and on islands in the lake. Only two of them can be reached by car. Camp sites are either reached on foot or by boat, with the majority of them having a boat dock. Accessing the shoreline from the USA side is across rough gravel roads, so the resort camp wisely rents canoes, single and double kayaks, and 14-foot fishing boats with motors. Visitors cannot reach the resort's floating cabins by car; those coming by canoe paddle upstream along RipRap Creek from Diablo Lake and portage a mile across the dam, then paddle up the lake to the resort. The resort operates a water taxi service that picks up their guests and other lake visitors by prior arrangement in trucks downstream, then transports them by boat to either their rentals or to one of the lakeshore campsites.
A Backcountry permit is required to camp at Ross Lake and can be obtained from the Ranger Station or the resort store. Most campsites are rather primitive, with no real facilities other than a fire ring and boat dock. Rainbow trout and Dolly Varden trout or char can be caught in the lake's clear, cold waters, although tackle is limited to artificial lures and barbless hooks. Fishing season is from July 1 to October 31st. A total of three rainbows can be kept; the char must be released. An appropriate fishing license is required for the country one is fishing in (USA or Canada). The dividing line for the two countries is clearly marked, but those desiring to fish the full range of the lake might be well advised to purchase both permits.
Swimming in Ross Lake is possible, but the only sandy beach areas are at the two largest campgrounds. The water remains quite cold year round. Ross Campground on the Canadian side offers more developed amenities and a day-use area within the 88-site campground. As water levels vary dramatically from season to season, the Canadian shoreline is often high and dry except between June and October. Many of the boat docks are not usable in times of low water. Luckily, water levels correspond quite well to fishing season.
Tucked within the Ross Lake National Recreation Area, Ross Lake is further surrounded by North Cascades National Park, Okanogan National Forest, Skagit Valley Provincial Park, and EC Manning Provincial Park. All of these parks are blessed with great hiking trails among abundant wildlife and pristine woods. Those who enjoy mountain hiking will find that Hozomeen Mountain, Ruby Mountain, and Desolation Peak are within sight from much of the lake. Nearby Jack Mountain towers a full 7000 feet above the surface of the water. The National Park Service provides trail maps for download on their website, and more detailed maps may be purchased at the Visitors Center.
The heavily wooded slopes along Ross Lake support a wealth of flowers in spring, including lupine, honeysuckle, columbine and wild roses. Great blue herons, eagles, owls and kingfishers are often seen near the shore. Observant hikers may glimpse coyote, grey wolves, deer, beaver, martin, chipmunk and even an occasional black bear. Very rarely a cougar may be seen. In this pristine wilderness, it isn't hard to imagine the lives of the ancient forest dwellers that archaeological evidence shows once traveled through the valley. Pottery shards from the American southwest give evidence that the Skagit River Valley was once part of an important native trade route.
Most first-time visitors coming from the south will want to stop at the North Cascades Visitor Center near the village of Newhalem for access to maps, information on local trails, conditions and special alerts. Those not intending to camp or stay at the floating resort on Ross Lake will find all types of alternate lodgings along Route 20 between I-5 and Ross Lake National Recreation Area. Guest houses, rental cabins and small motels are all available. This scenic area has long attracted nature lovers and free spirits who enjoy waking up to wilderness and pure air. There are plenty of local artisan shops, small cafes and guest cottages available to entertain visitors. Even if serious hiking or fishing is not on your personal agenda, there is plenty of scenery to be seen from the highway and refreshingly quaint places to stop and recharge.
The dam impounding the Skagit River that forms Ross Lake was built in several stages, beginning in 1937. The Skagit Hydroelectric Project builders first built what was then called Ruby Dam to impound a storage pool for two other dams downstream that provided hydroelectric power to the City of Seattle. The dam was later enlarged and still later renamed Ross Dam after the late director of the project. The last enlargement caused 480 acres in British Columbia to become part of the growing lake. Generating turbines were eventually added to provide even more electricity. A 'Ross High Dam' project to raise the water levels another 100+ feet ran into major environmental protests, causing the planned expansion to be placed on hold for 80 years. An agreement was signed between the two countries for BC Hydro to provide electric power to Seattle for the cost of what it would have spent to enlarge the dam. The electricity from the Skagit Project and that from the agreement result in Seattle being one of the 'greenest' cities in the United States. Won't you come and visit beautiful Ross Lake?
Custom Ross Lake house decor
Read our full review of these personalized lake house signs.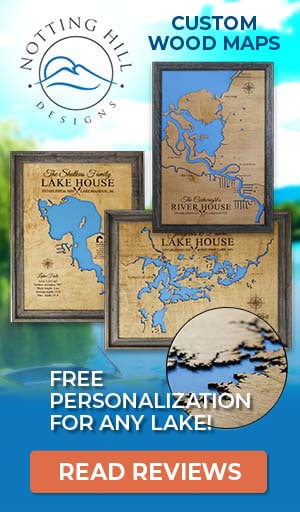 Things to do at Ross Lake
Vacation Rentals
Fishing
Boating
Swimming
Beach
Canoeing
Kayaking
Camping
Campground
Cabin Rentals
Hiking
Wildlife Viewing
Birding
Provincial Park
National Park
National Forest
Fish species found at Ross Lake
Char
Dolly Varden Trout
Rainbow Trout
Trout
---
Best hotels and vacation rentals at Ross Lake
The Ross Lake map shown above is a simple and stress-free way to search for trip accommodations. But if you want to take a deeper dive to find the ideal waterfront home, cabin, condo, hotel or resort, visit our favorite lodging partners by clicking the buttons below.
Note: These are affiliate links so we may earn a small commission if you book through them. While there is no extra cost to you, it helps provide resources to keep our site running (thank you)! You can read our full disclosure policy here.
---
Ross Lake photo gallery
New photos coming soon!
Ross Lake statistics & helpful links
We strive to keep the information on LakeLubbers as accurate as possible. However, if you've found something in this article that needs updating, we'd certainly love to hear from you! Please fill out our Content Correction form.
Advertise your Ross Lake vacation rental
LakeLubbers will soon offer homeowners and property managers the opportunity to to showcase their vacation rentals to the thousands of lake lovers searching our site daily for accommodations. If you'd like additional details, please contact our advertising team here.
Looking for the Ross Lake forum?
LakeLubbers previously offered visitors the ability to create accounts and participate in lake forums. When we overhauled the site's content management system in 2021 we had to disable those features. We're evaluating options and welcome your comments and feedback here.
We also encourage you to join our lake-lovin' community on Facebook and Instagram!
Spread the word! Share our Ross Lake article with your fellow Lake Lubbers!