Bumping Lake, Washington, USA
Lake Locations:
USA - West - Washington - South Central Washington -
Also known as:  Bumping Reservoir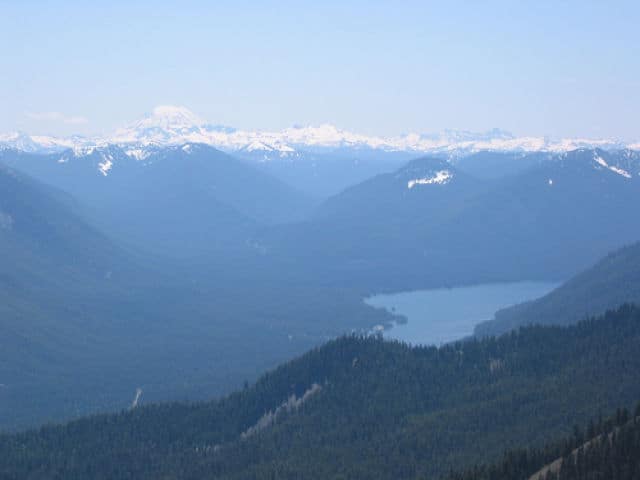 Lying near the shadow of Mt. Rainier, Bumping Lake is the first of six reservoirs owned and operated by the Bureau of Reclamation. Part of the Yakima Project, these reservoirs store water to irrigate the fertile land in south-central Washington. Bumping Lake Dam impounds an original natural glacial lake located within the Naches Ranger District of the Wenatchee National Forest. Surrounded by the breathtaking natural beauty of the Cascade Mountains in northwest Yakima County, Bumping Lake offers a full range of outdoor experiences for Washington's South-Central Tourism Region.
Land surrounding Bumping Lake is owned by the Bureau of Reclamation and is managed predominantly by the Forest Service for recreational purposes. The Bumping Lake area offers minimally-developed and primitive accommodations with sailing, canoeing, kayaking, boating, camping, hiking, fishing, hunting, and picnicking provided at Upper Bumping Lake Campground and Lower Bumping Lake Campground. Boat launching is available at a nearby marina for fees and also offers boat rentals for a period of two to eight hours. Enjoy whitewater paddling on Bumping River which flows to the American River tributary and on to the Naches River.
Bumping Lake's heavily wooded ten-mile shoreline, and the mountainous terrain beyond Nelson Ridge, have many wildlife habitats protecting six federally listed endangered or threatened wildlife species. These include American Peregrine Falcon, Northern Spotted Owl, Northern Bald Eagle, Marbled Murrelet, gray wolf, and the American grizzly bear. Wildlife hunting is allowed with special permits and licenses.
Bumping Lake typically reaches its maximum level, 33,700 acre-feet, in early June with the snowmelt and is maintained at this level until mid to late August when water releases begin for late summer irrigation. As irrigation demands grow and residential developments increase, the Bureau of Reclamation is finding it more difficult to meet their contractual demand for water. Expansion of Bumping Reservoir may become the acceptable alternative with two plans under consideration. The larger expansion would construct a dam 4,500 feet downstream of existing Bumping Lake Dam creating a new surface area of 4,120 acres. A second, smaller alternative would expand Bumping Lake to 3,500 acres. Either expansion would likely close access to Bumping Lake during construction but would eventually incorporate fish ladders and improved fish habitat.
The completion of Bumping Lake Reservoir in 1910, and five additional reservoirs in theYakima Project, decimated salmon runs on the Yakima River. Runs estimated at 300,000 to 960,000 fish in the 1880s dropped to 8,000 between 1981 and 1990. Native summer Chinook, coho and summer steelhead were also greatly reduced. Numbers of returning fish have increased in recent years with improvements in river management, habitat and hatchery programs. Today, Bumping Lake offers great fishing for rainbow trout, cutthroat trout, bull trout and kokanee which average six to nine inches.
Bumping Lake Trail is excellent for day hikes or extended walks to Blankenship Meadows and Mosquito Valley (take note of the name and bring repellant during warm months). The more daring and adventuresome will enjoy back country trips into the hills and mountains of William O. Douglas and Goat Rock Wilderness areas to the south and Norse Peak Wilderness to the north of Bumping Reservoir. With large winter snow accumulations, cross-country skiing, snow-shoeing, and snowmobiling are popular along the many miles of mountainous trails.
Bumping Lake is surrounded by two of the many scenic byways that crisscross the Cascades. Chinook Scenic Byway begins in the community of Naches, east of Bumping Reservoir, and veers north through the Wenatchee National Forest, ending at Mount Rainier National Park. White Pass Scenic Byway also starts at Naches and travels south of Bumping Lake passing Rimrock Lake, Mount Rainier, Gifford Pinchot National Forest, Mount St. Helens National Volcanic Monument and Riffe Lake, ending at Interstate 5 south of Seattle.
Surrounded by rugged mountain terrain, coniferous forests, crystal clear water with a wide variety of wildlife, Bumping Lake is great find for those wanting a peaceful getaway and back to nature respite. The rapidly growing communities east of Bumping Lake are seeing increases in vacation rentals, resorts, and real estate developments catering to the needs of visitors and new residents. Yakima, Ellensburg and Roslyn are only three of the communities where you can complete your trip by enjoying mouthwatering cuisine, unique shops and comfortable accommodations. Stay by a babbling brook or under whispering pines and watch the day fade away over the mountains knowing that the wild and remote areas of Bumping Lake will greet you in the morning.
Things to do at Bumping Lake
Vacation Rentals
Fishing
Boating
Sailing
Canoeing
Kayaking
Camping
Campground
Picnicking
Hiking
Cross-Country Skiing
Snowmobiling
Hunting
Wildlife Viewing
Birding
National Park
National Forest
Fish species found at Bumping Lake
Bull Trout
Chinook Salmon
Cutthroat Trout
Kokanee Salmon
Rainbow Trout
Salmon
Steelhead Trout
Trout
---
Bumping Lake Photo Gallery
Bumping Lake Statistics & Helpful Links
Spread the word! Share our Bumping Lake article with your fellow Lake Lubbers!