Lake Sammamish, Washington, USA
Welcome to the ultimate guide for history, statistics, local fun facts and the best things to do at Lake Sammamish.
If you're considering Lake Sammamish vacation rentals, we've made it super easy to explore accommodations and nearby hotels using the interactive map below. Simply click on a listing to compare similar properties, best rates and availability for your dates. Or keep scrolling to read our Lake Sammamish guide!
Lake Sammamish visitor and community guide
At just under 5,000 acres, Lake Sammamish is one of the major recreational lakes in the state. The lake provides activities for fishermen, boaters, jet skiers, water skiers, swimmers, picnickers, and those just wanting to enjoy the scenery. Lake Sammamish is less than a 30 minute drive from Seattle, making it a convenient day trip for visitors and residents of the area alike. More than a million people in the region visit Lake Sammamish every year.
Lake Sammamish (pronounced "suh-MAM-ish") is a freshwater lake, seven miles long and one and half miles wide, formed by glacial activity. It is bordered by various parks including Marymoor Park at the lake's north end and Lake Sammamish State Park at its south end. Issaquah Creek feeds the lake, which then drains into Lake Washington via the Sammamish River. The East Lake Sammamish Trail runs the length of the lake (and then some) and connects to a 40 mile trail system that runs from Issaquah to the east, north to Redmond, Kenmore and Bothell, then south along the Burke-Gilman Trail to Ballard Locks at Puget Sound. With the impressive trail system as well as various state and county parks along the shore, visitors have plenty to do and see whether they want to stay for just the day or make it an extended visit complete with overnight camping.
Lake Sammamish provides habitat for a variety of coldwater fish including kokanee salmon, coho salmon, and chinook salmon, as well as birds and other wildlife. The Washington Department of Fish and Wildlife's Issaquah Salmon Hatchery is located along Issaquah Creek, a relatively short distance upstream of Lake Sammamish. Other coldwater and warmwater species in the lake include largemouth bass, rainbow trout, walleye, perch, steelhead trout, and cutthroat trout. Smallmouth bass are prevalent in Lake Sammamish and are often seen at near state record size. Bird watching is very popular around the lake with species such as the bald eagle, great blue heron, various sparrow species, and orange-crowned warbler.
The water quality of Lake Sammamish has long been a concern for local activists. In 1968, sewage was diverted from Lake Sammamish, which reduced phosphorus inputs by about 35 percent. Phosphorus concentrations gradually increased again between 1978 to 1996, due to urbanization throughout the watershed. In 1995, a citizen's task force, Partners for a Clean Lake Sammamish, worked to identify issues and implement a water quality management plan. Working with other state and county entities, much attention has been brought to the issues and steps taken to improve water quality. More protection has come from the fact that the lake has received "natural resource of statewide significance" designation by the Shoreline Management Act. The act is based on the philosophy that the shorelines of the state of Washington are among the most valuable and fragile of its natural resources. Therefore, shores with this designation are more closely monitored with respect to their utilization, protection, restoration and preservation.
Another issue for Lake Sammamish has been water levels. Historically, the water levels of Lake Sammamish fluctuated greatly. In the early 1960's the Army Corps of Engineers completed a channel dredging and straightening project that included construction of a weir at the lake's outlet. The result was the virtual elimination of flooding in the Sammamish River valley and the reduction of maximum flood elevations and seasonal water surface elevations in the lake. Due to damage and deterioration of the original structure, the weir was rebuilt in 1998 with a slightly updated design, which also improved the passage of breeding salmon during low flow.
Lake Sammamish enjoys a rich history due in large part to its Native American settlers. The original lake name was Squak Lake, but the name evolved into Lake Sammamish. The word "Sammamish" comes from a Native American word "Samena," meaning "hunter." For centuries, the Lake Sammamish area was an important culture zone and gathering place for local Native American tribes. Tribes celebrated their winter festivals at the south end of the lake, where they hunted, fished and gathered berries in preparation for winter. In more recent times, the Lake Sammamish area has seen some of the most rapid growth in the Greater Seattle Metropolitan Area due to the strong local economy which includes the presence of companies such as Microsoft, Nintendo and many other high-tech businesses.
Lake Sammamish has many accommodation options ranging from resorts and bed and breakfasts to cabins and other vacation properties along the shores. For those looking to relocate to the Seattle area, the lake is conveniently located and still has waterfront lots to build on and as well as condos and homes for sale. The area has exploded in recent years including the Seattle suburbs of Redmond, Snoqualmie, Fall City, Issaquah and Bellevue, which are located nearby. Just two miles away is the city of Sammamish which was incorporated in 1999. A Shoreline Master Plan and heavy community involvement will ensure that Lake Sammamish remains a valuable resource for visitors and residents alike.
Custom Lake Sammamish house decor
Read our full review of these personalized lake house signs.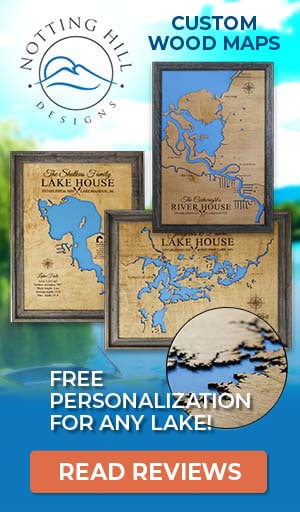 Things to do at Lake Sammamish
Vacation Rentals
Fishing
Swimming
Jet Skiing
Water Skiing
Camping
Cabin Rentals
Hiking
Hunting
Wildlife Viewing
Birding
State Park
Fish species found at Lake Sammamish
Bass
Black Bass
Chinook Salmon
Coho Salmon
Cutthroat Trout
Kokanee Salmon
Largemouth Bass
Perch
Rainbow Trout
Salmon
Smallmouth Bass
Steelhead Trout
Trout
Walleye
---
Best hotels and vacation rentals at Lake Sammamish
The Lake Sammamish map shown above is a simple and stress-free way to search for trip accommodations. But if you want to take a deeper dive to find the ideal waterfront home, cabin, condo, hotel or resort, visit our favorite lodging partners by clicking the buttons below.
Note: These are affiliate links so we may earn a small commission if you book through them. While there is no extra cost to you, it helps provide resources to keep our site running (thank you)! You can read our full disclosure policy here.
---
Lake Sammamish photo gallery
New photos coming soon!
Lake Sammamish statistics & helpful links
We strive to keep the information on LakeLubbers as accurate as possible. However, if you've found something in this article that needs updating, we'd certainly love to hear from you! Please fill out our Content Correction form.
Advertise your Lake Sammamish vacation rental
LakeLubbers will soon offer homeowners and property managers the opportunity to to showcase their vacation rentals to the thousands of lake lovers searching our site daily for accommodations. If you'd like additional details, please contact our advertising team here.
Looking for the Lake Sammamish forum?
LakeLubbers previously offered visitors the ability to create accounts and participate in lake forums. When we overhauled the site's content management system in 2021 we had to disable those features. We're evaluating options and welcome your comments and feedback here.
We also encourage you to join our lake-lovin' community on Facebook and Instagram!
Spread the word! Share our Lake Sammamish article with your fellow Lake Lubbers!