Lake Roosevelt, Washington, USA
Lake Locations:
USA - West - Washington - Northeast Washington -
Also known as:  Lake Franklin D. Roosevelt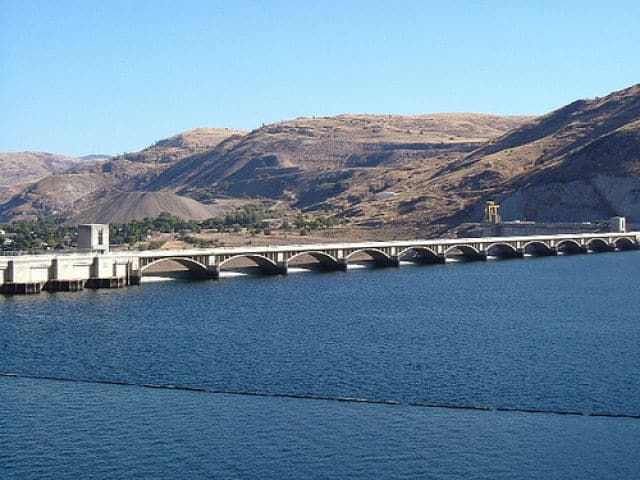 Lake Roosevelt, located approximately 90 miles northwest of Spokane, Washington, covers 82,000 acres with a shoreline of 630 miles. Lake Roosevelt, also known as Lake Franklin D. Roosevelt, was formed when the Grand Coulee Dam was completed in 1942.
As part of Franklin D. Roosevelt's New Deal to create jobs and stimulate the economy, and in conjunction with the Columbia River Basin project, the damming of the Columbia River and Grand Coulee project began when the first stake was planted on July 16, 1933. Today the Grand Coulee Dam provides crop irrigation to over 600,000 acres of agriculture land, flood control to communities downstream on the Columbia River, and electrical power to over four million residents in eleven western states. In addition, the creation of Lake Roosevelt National Recreation Area provides vacation and recreational facilities to over one million visitors a year. The Lake Roosevelt Recreation Area and Grand Coulee Dam are managed by the Bureau of Reclamation, the National Park Service, the Confederated Tribes of the Colville Indian Reservation, the Spokane Tribe of Indians, and the Bureau of Indian Affairs as a cooperative venture.
Lake Franklin D. Roosevelt is long and narrow, stretching out over 150 miles from the Grand Coolee Dam to the Canadian border. The width generally ranges from one-half to one mile, narrowing as it nears British Columbia in Canada. With a maximum elevation of 1,290 feet and a minimum elevation of 1,208 feet, the lake level is adjusted by the Bureau of Reclamation in cooperation with the U. S. Army Corps of Engineers, the National Oceanic and Atmospheric Administration (NOAA) Fisheries, and the Bonneville Power Administration to provide hydroelectric power, irrigation, and water for downstream fisheries. Typically, the lake levels are lowered in late fall or early winter in preparation for flood control from the spring and early summer runoff at which time the lake is allowed to refill to full or almost full capacity by late June.
If you would like to explore the natural wonders of Lake Roosevelt but still enjoy the comforts of home, rent a houseboat and enjoy nature watching from the on-board hot tub. While cruising, keep an eye on the shore for wildlife including black bear, moose, elk, and mountain lion. Smaller game you might witness frolicking and drinking from the lake could be beavers, coyotes, mink, bobcat, and the endangered gray wolf. If you prefer to put your head back and gaze overhead, you might just see a few of the over 200 species of birds in their natural habitat including the endangered bald eagle. Should you wish to try your luck with fishing, your bait may be swallowed by rainbow trout, largemouth bass, smallmouth bass, sunfish or crappie. If you decide you must leave the luxury, there are many places along the shoreline where you can anchor and go on shore to visit local amenities.
Of course, if you prefer to enjoy the traditional ways of exploring nature such as camping, swimming, boating and hiking, the Lake Roosevelt National Recreation Area offers many campsites, boat ramps and swimming areas for the public use. Golfing and horseback riding are also available.
History buffs will want will to spend time at the Keller Heritage Center and Kettle Falls Historical Center where exhibits show the history of the Coulee area and 9000 years of human life from the early Native Americans to present. More excitement can be found at the Two Rivers Casino located on the Spokane Indian Reservation or the Coulee Dam Casino on the Colville Indian Reservation. Be sure to enjoy the beautiful laser light show at the Grand Coulee Dam. The colorful show tells the story of the dam with a combination of music, narration and lights. Shows are free and can be viewed nightly from the end of May to the end of September at many vantage points around the dam.
With a shoreline in Ferry County, Stevens County, Lincoln County, Grant County, and Okanogan County as well as the Spokane Indian Reservation and the Colville Indian Reservation, Lake Roosevelt runs through miles of public and private land. Four distinct seasons, scenic views of Lake Roosevelt, abundant nature, and close proximity to many recreational facilities entice visitors to return as permanent residents or to invest in a vacation or second home in this beautiful area. Whether you crave a quiet commune with nature, the lights and bells of a casino, or a relaxing day on the beach, Lake Roosevelt has it all.
Things to do at Lake Roosevelt
Vacation Rentals
Fishing
Boating
Swimming
Beach
Golf
Camping
Hiking
Horseback Riding
Wildlife Viewing
Birding
National Park
Casino Gambling
Fish species found at Lake Roosevelt
Bass
Black Bass
Crappie
Largemouth Bass
Rainbow Trout
Smallmouth Bass
Sunfish
Trout
---
Lake Roosevelt Photo Gallery
Lake Roosevelt Statistics & Helpful Links
Spread the word! Share our Lake Roosevelt article with your fellow Lake Lubbers!