Punderson Lake, Ohio, USA
Lake Locations:
USA - Midwest - Ohio - Northeast -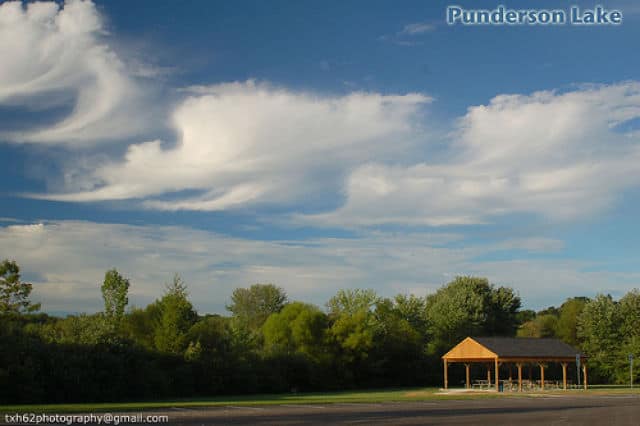 A widely-kept secret in the northeastern region of Ohio is the beautiful surroundings and recreation available at Punderson Lake. Completely enclosed by Punderson Lake State Park, this is one of only a few natural lakes in Ohio. Careful development by the State of Ohio has optimized recreational opportunities surrounding the 80-acre lake, including fishing, swimming, camping and hiking trails.
Part of the lakefront facilities inherited when the state took possession of Punderson Lake was a beautiful Tudor-style mansion featuring indoor and outdoor pools and many guest rooms, a chalet and over a score of comfortable, furnished two-bedroom cabins. The mansion now serves as a meeting and conference area for a variety of local community and greater Cleveland events, while the guest rooms, chalet and cottages can be rented for personal use as 'vacation stay' location. Next door, a state-owned 18-hole championship-class golf course is popular. The Ohio Department of Natural Resources (DNR), in conjunction with a volunteer group, the Friends of Punderson, have developed a variety of year-round activity locations which attract thousands of visitors over the course of the year.
Six hundred feet of sandy swimming beach fronts a campground holding almost 190 campsites, most of which are suitable for RVs. Picnic grounds, playgrounds, grills, picnic shelters and plenty of shade make Punderson Lake one of the most popular spots in the region every summer weekend. A new nine-hole disk golf course has recently opened, and an archery practice range joins nearly 14 miles of hiking and walking trails within the park. One multi-use trail is accessible to both walkers and cyclists for a distance of over two miles. A tennis court, volleyball and basketball courts are available. A small marina rents boats, although the lake allows only electric motors. Canoeing and kayaking are popular along the nearly three-mile shoreline. In winter, a small lighted sledding hill attracts winter sports fans, The many winding trails are popular for cross-country skiing, with two trails designated specifically for cross-country skiing. Three snowmobile trails are available within the park. The Musher's Trail is available for dog sledding. The State Park is open all winter for such activities.
Wetlands around Punderson Lake offer ideal spots for observing the many species of birds, small mammals and wildflowers. Every weekend during the summer, naturalists offer informational discussions and guided walks. Nearly everything imaginable is packed into this spacious 741-acre park, including a public boat dock and two fishing piers. In an effort to provide more activities of interest to park visitors, the Friends of Punderson sponsor events such as a Halloween Party and youth fishing derby which allow new groups of park fans to become familiar with everything that is offered here.
Fishing is always a big drawing card, as the lake is surveyed regularly to maximize fishing pleasure. Largemouth bass, crappie, channel catfish, bluegill and even rainbow trout can be caught. The channel catfish are stocked every other year, because they do not successfully reproduce well in small lakes of this size. The rainbow trout are planted varieties and have surprised fishery experts with over-summering in the lake on occasion. The deepest 'hole' in the lake is 57 feet and no doubt helps the trout survive the warmer water temperatures of a typical Ohio summer. Fish-attracting structures are tentatively planned for the future. An Ohio fishing license is required, and all fishing regulations must be observed. Two other small lakes are also located within the park and open to fishing.
In addition to Punderson Lake State Park, two more state parks within 20 miles offer their own natural features to show off the state's diversity. Both are day-use parks also supported by the Friends of Punderson and have unusual features of interest to nature lovers and hikers. Nelson-Kennedy Ledges State Park covers only 157 acres, but protects an unusual area of rock ledges and cliffs surrounded by unusual rock formations. Hiking trails cover most of the area, and the formations support a rare ecological niche inhabited mostly by plants seen in far colder climates. Twenty miles south, Tinker's Creek State Park is 355 acres of swamp and marshes, offering hiking, fishing, picnic grounds and cross-country skiing.
Punderson Lake has a long history of European settlement, beginning with early land speculator Lemuel Punderson, who built a small dam downstream on the outlet creek to operate a grist mill before 1810. It was his family who built picnic areas along the lake and the original manor house and cottages. The dam washed out in the 1980s and was never replaced, leaving Punderson Lake similar to when glaciers formed it eons ago. This area of Ohio was settled early in Ohio's history as the land was opened up for sale and settlement soon after 1800. One of the more interesting historical museums in the area maintains the Century Village Museum. The Geauga County Historical Society showcases a full village of 22 historic buildings and over 16,000 artifacts reflecting 100 years of settlement in a Western Reserve Village, starting in 1788. Artisans demonstrate traditional crafts, and interpretive guides lead visitors on a tour through the facilities in small groups. A Civil War exhibit details the experience of the 29th Ohio Volunteer Infantry during the war. The Village is located at Burton, about five miles east of Punderson Lake.
The area around Punderson Lake is well populated, so alternate lodgings can be found nearby in the form of bed & breakfasts, country inns and small motels. This is Amish country, so farm markets, unique crafts and rustic scenes are numerous among the well-kept Amish farms. There are several subdivision neighborhoods near Punderson Lake, some with lakefront property on other nearby lakes. And with downtown Cleveland only 40 miles away, the big city is close enough for a an evening's entertainment or fine dining while staying at the campground. But Punderson Lake is so enjoyable you may never have the urge to travel any farther than the golf course snack bar. Make your reservations now; the family will love Punderson Lake.
Things to do at Punderson Lake
Vacation Rentals
Fishing
Boating
Swimming
Beach
Canoeing
Kayaking
Golf
Tennis
Camping
Campground
Picnicking
Cabin Rentals
Hiking
Cross-Country Skiing
Snowmobiling
Dog Sledding
Birding
State Park
Museum
Playground
Fish species found at Punderson Lake
Bass
Black Bass
Bluegill
Catfish
Channel Catfish
Crappie
Largemouth Bass
Rainbow Trout
Sunfish
Trout
---
Punderson Lake Photo Gallery
Punderson Lake Statistics & Helpful Links
Spread the word! Share our Punderson Lake article with your fellow Lake Lubbers!