Mosquito Creek Lake, Ohio, USA
Lake Locations:
USA - Midwest - Ohio - Northeast -
Also known as:  Mosquito Creek Reservoir, Mosquito Lake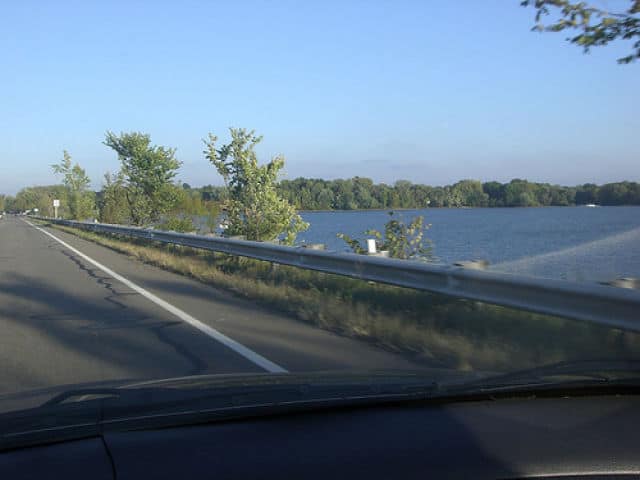 Mosquito Creek Lake is one of the highlights of Northeast Ohio. At 7850 acres, it is the second largest inland lake in the state. Also known as Mosquito Creek Reservoir, Mosquito Creek Lake is located just outside of Cortland and only 50 miles East of Cleveland. The area surrounding Mosquito Creek Lake is a mixture of beautiful countryside and suburban neighborhoods. The lake travels nine miles through Trumbull County, and people from all around travel to this lake every year to take advantage of its amazing recreational opportunities, which include fishing and wildlife observation. Its 40 miles of shoreline are easily accessible from the five recreational facilities maintained by the Corps of Engineers and the Ohio Department of Natural Resources.
The Mosquito Creek Lake project was authorized by the Flood Control Act of 1938. It is one of sixteen flood control projects in the U.S. Army Corps of Engineers' Pittsburgh District. Mosquito Creek Lake has been in full operation since its completion in 1944. Its impressive rolled earth dam stands 47 ft. high and 5650 ft. long. It's composed of 271,000 cubic yards of earth and 27,000 cubic yards of rock. The dam enables the lake to hold the equivalent of 29 inches of precipitation. The lake stores the water, which the Corps of Engineers releases downstream during dry periods. One of the truly unique features of Mosquito Creek Lake is its uncontrolled natural spillway at the north end of the lake. When water at the dam reaches an elevation of 904 feet, the flow of water switches direction and flows north through the natural spillway into a tributary of the Grand River, which eventually leads to Lake Erie.
The fishing at Mosquito Creek Lake is like no other. With fishing allowed from a boat or the shoreline, there is opportunity for everyone, and the fish are always biting. Anglers seek out Mosquito Creek Lake to fish for Walleye, Crappie, Bass, Northern Pike, Catfish, Yellow Perch, and Bluegill. This migration of anglers doesn't stop when the weather turns cold. Mosquito Creek Lake is also known for it's amazing ice fishing. Daring cold-weather anglers can expect to pull Walleye and Pan fish from the icy waters. When you are done fishing but not ready to go home, the challenging tail waters below the dam offer a great opportunity for anglers to practice their skills.
Fishing isn't the only reason people make the pilgrimage to this amazing lake. From sailboats to powerboats, boats of all types can be found on Mosquito Creek Lake. Most of the lake allows unlimited horsepower, which is very attractive to boating enthusiasts usually faced with restrictions. The small handful of restricted speed zones is clearly marked and identifiable. It is also a popular site for water skiing and jet skiing. The swimming beach and picnic areas along Mosquito Creek Lake allow people the opportunity to just come and enjoy the view of this majestic lake.
Mosquito Lake State Park provides 234 campsites, so visitors are more than welcome to stay awhile. While you're there you can take advantage of the miles of trails designed for walking, hiking, snowmobiling, horseback riding, and biking. The wildlife refuge at the north end of the dam, although closed to the public except for guided tours, is Ohio's finest wildlife viewing area. From almost anywhere around the lake, you have the opportunity to see Red-tailed Hawks, March Hawks, Sparrow Hawks, Bald Eagles, Osprey, Goshawks, and Blue Heron. Mosquito Creek Lake is clearly a bird watcher's paradise. The wildlife refuge is also the home of the Massasauga Rattlesnake, one of the rarest reptiles in the state of Ohio.
Mosquito Creek Lake truly has something for everyone so be sure to add it to your year-round destination list. While you're there be sure to call about a tour of the Operation Tower.
Things to do at Mosquito Creek Lake
Vacation Rentals
Fishing
Ice Fishing
Boating
Sailing
Swimming
Beach
Jet Skiing
Water Skiing
Camping
Picnicking
Hiking
Biking
Snowmobiling
Horseback Riding
Wildlife Viewing
Birding
State Park
Fish species found at Mosquito Creek Lake
Bass
Bluegill
Catfish
Crappie
Northern Pike
Perch
Pike
Sunfish
Walleye
Yellow Perch
---
Mosquito Creek Lake Photo Gallery
Mosquito Creek Lake Statistics & Helpful Links
Spread the word! Share our Mosquito Creek Lake article with your fellow Lake Lubbers!