Pymatuning Lake, Pennsylvania & Ohio, USA
Lake Locations:
USA - Mid-Atlantic - Pennsylvania - Great Lakes - Midwest - Ohio - Northeast -
Also known as:  Pymatuning Reservoir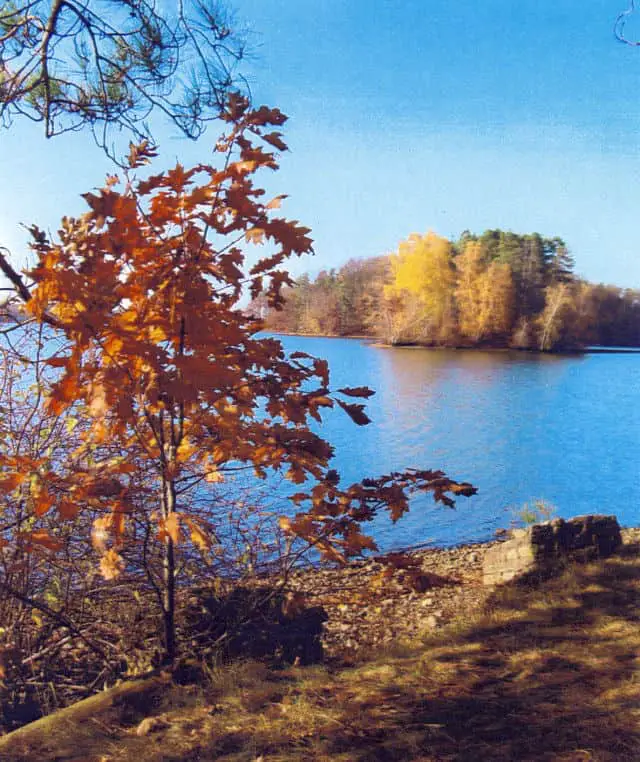 Pymatuning Lake, located in northwestern Pennsylvania and spilling over into northeastern Ohio, is a lake of superlatives: Clocking in at 17,088 acres in area, 17 miles in length, and 1.6 miles in width, it is the largest lake in Pennsylvania aside from Lake Erie. Pymatuning Lake is also one of North America's most important conservation areas, especially for the Common Goldeneye, Canada Goose, and Hooded Merganser.
Like many North American lakes, Pymatuning is a man-made reservoir. Completed in 1934, its average depth is about 15 feet, with a maximum depth of about 35 feet. Its shoreline measures 70 miles. The lake's three campgrounds comprise the most campsites in one area in all of Pennsylvania. With more than 4.5 million annual visitors, Pymatuning State Park, within which the lake is located, boasts more visitors per year than almost any other park in the state. All these superlatives add up to one thing: great fun for you and your family.
Pymatuning Lake is famous for its four-season offerings. Beginning in the warm summer months, water sports opportunities abound. Boating is one of the most popular, although visitors should be aware that there is a 20 horsepower limit imposed on all motorboats. There are three boat marinas on the lake — Jamestown Watercraft Concession, Espyville Marina Concession, and Linesville Marina Concessionaire; all offer rental boats, fishing gear, and places to moor your boat.
Five beaches and seemingly endless acres of cool, sparkling waters lure thousands of swimmers every year. Fill your afternoon with a power swim, a lazy dip, or spend hours floating on a raft in the calm waters. Catch some rays in the sand and observe children building sand castles around you. No matter what you do, you'll leave the water and beach feeling relaxed and refreshed.
Fishing is another popular Pymatuning activity: the Pennsylvania State Park's Fish and Boat Commission operates one of the largest warm-water hatcheries in the world. The lake is well-stocked, so bring your pole (or rent one) and get set to catch walleye, crappie, muskellunge, bluegill, perch, smallmouth bass, and largemouth bass. And don't let the seasons stop you: summer fishing and winter ice fishing are both allowed and enjoyed on this Pennsylvania lake.
One of the most unique sights at Pymatuning Lake is its Spillway Concession at Linesville, where the "ducks walk on the fishes' backs." Each year, 300,000 visitors come to the lake to feed the carp and the ducks thousands of loaves of bread each week. The carp, in their mad scurry to capture as many morsels as possible, are so thick in the water that the ducks, in competition for the bread, are able to walk the lake on the backs of the fish. This is truly a must-see, must-do event!
If you choose to visit the area during the cold winter months, you'll be greeted with white vistas and myriad snow-based activities. Cross-country skiing is an ever-popular activity, as Pymatuning State Park's walking and biking trails are covered with powder and readied for your skis. Another exhilarating option is to tackle the five miles of snowmobiling trails at the abandoned railroad grade near Tuttle Campground. Fun for the whole family can be found on the sledding hills near the dam at Jamestown, or simply in the creation of snow angels and snowmen. No matter what you do there, you'll enjoy your stay at Pymatuning Lake.
Things to do at Pymatuning Lake
Vacation Rentals
Fishing
Ice Fishing
Boating
Swimming
Beach
Camping
Campground
Hiking
Biking
Cross-Country Skiing
Snowmobiling
State Park
Fish species found at Pymatuning Lake
Bass
Black Bass
Bluegill
Carp
Crappie
Largemouth Bass
Muskellunge
Perch
Pike
Smallmouth Bass
Sunfish
Walleye
---
Pymatuning Lake Photo Gallery
Pymatuning Lake Statistics & Helpful Links
Spread the word! Share our Pymatuning Lake article with your fellow Lake Lubbers!