Olallie Lake, Oregon, USA
Lake Locations:
USA - West - Oregon - Mt. Hood-The Gorge -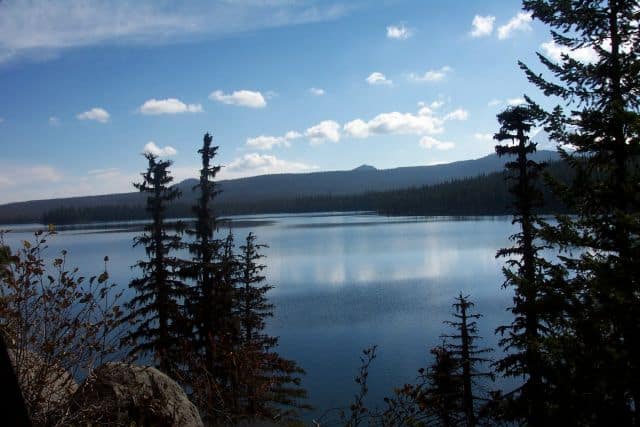 Proclaimed to be one of the cleanest lakes in Oregon, Olallie Lake's major source of water is snow melt. Far off the beaten path and at the end of a gravel road, the trip is worth every bump when you catch that first breath-taking glance of the lake sparkling against a backdrop of thick woods and majestic volcanic peaks of Mount Jefferson in Mount Hood National Forest.
Olallie is Chinook for berry and is a proper description as many visitors trek to the meadows and marshes for berry picking during the harvest season. Visitors also come for the peacefulness of the area. Nestled in the area known as Olallie Lakes National Scenic Area is approximately 30 lakes with Olallie Lake being the largest of all. Here visitors can enjoy camping, biking, hiking, birdwatching, fishing, and boating. No motor boats are allowed but row boats, canoes, kayaks, and tubes are the best way to explore the beauty of the shoreline without the noise of motors to disturb the sounds of nature. Fishing for salmon, rainbow trout and brook trout is excellent as the area is well known among anglers for great catches.
For overnight stays at the pristine Olallie Lake area, plan ahead. There are a few campgrounds around the lake operated by the Forestry Service that offer rustic campgrounds without electric or water hookups. Water is piped from the lake through a filtration system to the campgrounds for drinking water. It is this reason that swimming is not allowed in Olallie Lake, but if you insist on swimming in cold water, there are lakes within walking distance of the campground that do allow swimming. Overnight accommodations in the forest also include a few cabins, lodges, and yurts. For a new adventure, you can rent a yurt which is a tent-like structure with a wooden floor; yurts are equipped with sleeper sofas, propane fireplaces, propane cooktops, dining table and chairs, propane lights and an icebox with your own private out house.
Olallie Lake is located in the Mount Hood and The Gorge Tourism Region of Oregon. It is here that outdoor adventurists can hike rugged trails, bike along mountain ridges, ride the rapids with whitewater rafting, kiteboard, and hang glide off the peaks. Snow lovers will delight in the area's long ski season that offers downhill skiing, snowboarding, cross-country skiing, and snowshoeing.
Vacation rentals throughout the region range from cozy bed and breakfast, chalets, cottages, home rentals, ski resorts, motels, and many campgrounds. If you prefer to enjoy the area the least strenuous way, the views are splendid around every curve if you wish to explore by car. Travel along some of the original Oregon Trail, pull over at scenic overlooks and take photographs, visit historic museums and cultural exhibits; any of these will give a sampling of the beauty and history of the region. Of course, shopping venues, dining establishments, antiques shops, farmer markets and wineries will provide ample opportunity for you to pullover and explore at your leisure. All of this is just a short ride from Olallie Lake.
Paddle your boat to the middle of the cool water, snuggle under a warm blanket, take a deep breath of clean mountain air, as you watch the sky turn amber as the sun sets among the background music of the frogs, birds, and insects. Yes, there are still places that are virtually untouched by human influence and this quiet paradise is waiting for you. Make plans to visit Olallie Lake and the Mount Hood National Forest and get back to nature.
Things to do at Olallie Lake
Vacation Rentals
Fishing
Boating
Swimming
Canoeing
Kayaking
Whitewater Rafting
Tubing
Camping
Campground
Cabin Rentals
Hiking
Biking
Downhill Skiing
Snowboarding
Cross-Country Skiing
Birding
National Forest
Museum
Antiquing
Shopping
Fish species found at Olallie Lake
Brook Trout
Chinook Salmon
Rainbow Trout
Salmon
Trout
---
Olallie Lake Photo Gallery
Olallie Lake Statistics & Helpful Links
Spread the word! Share our Olallie Lake article with your fellow Lake Lubbers!