Detroit Lake, Oregon, USA
Lake Locations:
USA - West - Oregon - Willamette Valley -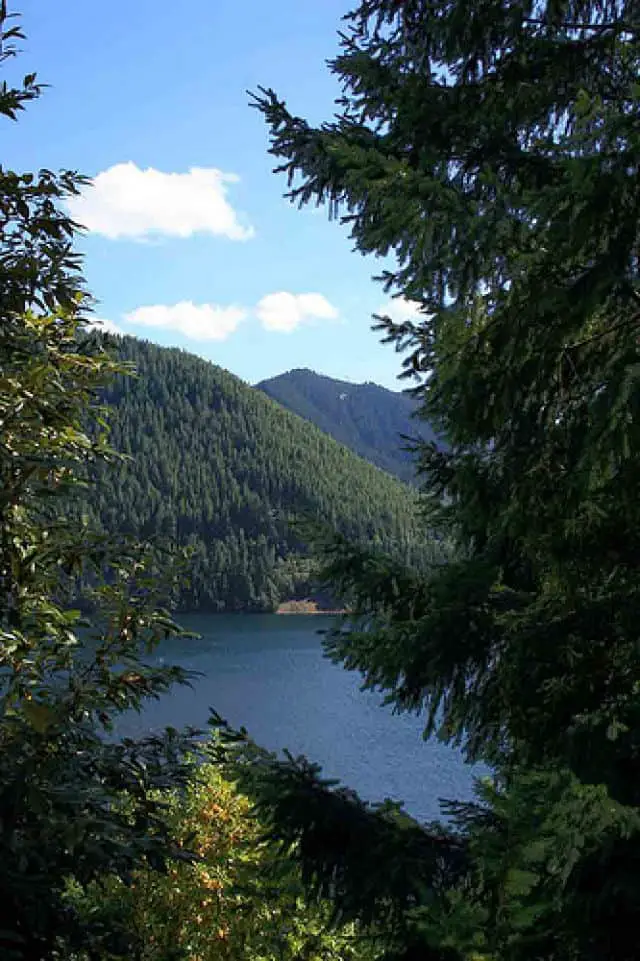 Conveniently located just 46 miles south of Salem in Oregon's Willamette Valley tourism region lies Detroit Lake, a 3,580-acre artificial freshwater reservoir that provides water for the City of Salem and its surrounding municipalities. Detroit Lake boasts a maximum depth of 440 feet, with water levels fluctuating as much as 25 feet per day. Maximum elevation is 1,569 feet above sea level. Astonishingly, this number fluctuates about 110 feet annually, which previously made it difficult to lower boats into the water at certain times of the year. Ramps have been conveniently constructed to solve this problem.
The Detroit Lake Dam was built by the U.S. Army Corps of Engineers in 1953. Before this time, it was the site of the proposed transcontinental Oregon Pacific Railroad. At an astounding 463 feet tall and 1,523.5 feet wide, at the time of its construction the dam was one of the eight tallest in the world. This gravity-operated, concrete dam (with a gated spillway) features two generators that can produce up to 100,000 kilowatts of energy. The Detroit Lake Dam along with its sister dam, Big Cliff, collectively make up the Detroit Lake Project – which controls water entering from the North Santiam River.
Detroit Lake is tucked inside the Detroit Lake State Recreation Area, in the middle of the beautiful Cascade Mountains and the North Santiam Canyon. The park offers 300 camp sites that can be reserved two days to nine months in advance. Amenities include full-service electric campsites, playgrounds, boat ramps, picnic areas, and two floating toilets – the latter facilities are ever-popular for their sheer novelty and convenience. One floating toilet is located near Piety Island, which also features a lovely campground.
Horse shoe, basketball, and volleyball courts are available on Detroit Lake's mainland, and high season is May-September. Stretching for 110 miles, the Willamette National Forest also encompasses the 1.6 million acres surrounding Detroit Lake. The woodland's topography ranges from volcanic peaks to thick blankets of Douglas-fir, Oregon's state tree. The forest is home to at least 16 conifer species and 300 types of fish and wildlife.
Detroit Lake hosts a slew of recreational activities, like boating, sailing, water skiing, swimming, camping, and wildlife watching. The lake is mesotrophic, a desirable level of slightly green water that hosts an impressive amount of wildlife. Ospreys, water fowl, and bald eagles are frequently sighted here, as are Fender's blue butterflies and western pond turtles.
Detroit Lake anglers love fishing year-round for prizes like rainbow trout and salmon, which are stocked annually. Catfish, kokanee, pumpkinseed, largemouth bass and landlocked chinook are other great catches.
Hiking is another popular diversion at Detroit Lake, and the most traveled nearby trails are the Breitenbush Gorge, Coffin Mt. Lookout, Elk Lake to Battle Axe, Marion Lake, and Opal Lake – all of which promise stunning views and great workouts. Additional nearby activities include recreational gold mining excursions, Chinese underground tours, and a visit to the Crater Rock Museum.
Wildlife lovers will appreciate the impressive variety of critters present both above and below the water at Detroit Lake. Novel things to see and do – like gold mining and floating toilets – make for entertaining diversions when not taking advantage of some of the best fishing, camping, and boating opportunities in the state.
Things to do at Detroit Lake OR
Vacation Rentals
Fishing
Boating
Sailing
Swimming
Water Skiing
Camping
Campground
Picnicking
Hiking
Horseback Riding
Wildlife Viewing
Birding
National Forest
Museum
Playground
Fish species found at Detroit Lake OR
Bass
Black Bass
Catfish
Chinook Salmon
Kokanee Salmon
Largemouth Bass
Pumpkinseed
Rainbow Trout
Salmon
Sunfish
Trout
---
Detroit Lake OR Photo Gallery
Detroit Lake OR Statistics & Helpful Links
Spread the word! Share our Detroit Lake OR article with your fellow Lake Lubbers!