East Lake, Oregon, USA
Lake Locations:
USA - West - Oregon - Central -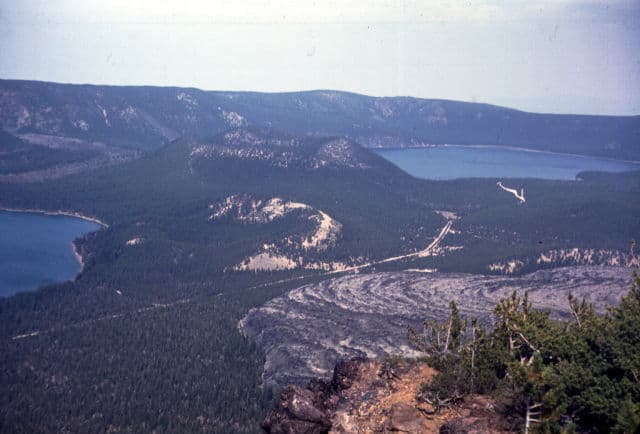 East Lake is one of two lakes that sit in the caldera of the Newberry National Volcanic Monument within the Deschutes National Forest in central Oregon. Covering 1,050 acres, this snowmelt and spring-fed lake is an excellent trout lake and a popular spot for camping and picnics.
East Lake shares its unique geologic home with 1,531-acre Paulina Lake. Both lakes are well known for their trophy-size brown trout. East Lake regularly produces brown trout over 10 pounds; the lake record for brown trout is a 22.5 pounds which is proudly on display in a cafe near the lake. There are a number of boat ramps on East Lake that allow anglers a chance at an Atlantic salmon, kokanee salmon, brook trout, brown trout, and rainbow trout. Rainbow trout are the mainstay at the lake and can be readily caught by anglers of all ages. Because of East Lake's high altitude and ice-cold water, these fish stay active throughout the year. Fly fishing is also very popular. East Lake differs from Paulina Lake in that 20 to 30 percent of the lake is fairly shallow. Weed beds along the shoreline are perfect for young baitfish that attract big browns. Fly fisherman do extremely well in these weedy areas.
Stocking of East Lake and Paulina Lake began in 1912 when a local citizen group wished to turn the area into fishing lakes. Horse-drawn wagons brought buckets full of rainbow trout to the lakes. In 1916, when the road to the lakes was slightly improved, brook trout were introduced into the crystal-clear lakes. Today, the lake is well known for its big fish. Note: Although most fish taken from Oregon lakes and streams are safe to eat, refer to the Oregon Fish Consumption Guidelines (link below) before eating fish caught from any Oregon waterway.
In addition to fishing and boating, visitors to East Lake enjoy camping at several campgrounds on the lake along with swimming, wildlife watching, cave exploring, mountain biking, hiking, and horse trails. There is also a small resort and RV park on the lake that offers lodging, dining, showers, boat rentals and a general store. In addition to campsites, visitors can pick from many private vacation rentals and real estate in the surrounding area.
Covering over 500 square miles, Newberry Volcano is one of the largest shield volcanoes in the lower 48 states. The area was named after J. S. Newberry, a scientist with an 1855 railroad surveying party. The volcano's summit contains a 17 square-mile caldera, referred to as the Newberry Crater. East Lake and Paulina Lake may have started out as one lake, but were divided by lava and ash to eventually become two separate lakes. The Newberry National Volcanic Monument contains over 50,000 acres of lakes, obsidian fields, lava formations and waterfalls. In summer, naturalists lead walks and campfire programs take place at a small outdoor amphitheater. Although the road to the monument's highest point, Paulina Peak at 7985 feet, is narrow and unpaved, it is the showcase of the crater of the Newberry Volcano. In the winter, the crater offers more than 100 miles of snowmobile trails for the snowmobile enthusiast.
Wildlife and bird watchers will be delighted with the number of bald eagles that fly over East Lake, which is also home to osprey, migrating ducks, geese, and tundra swans. Dozens of song birds live in the Newberry National Volcanic Monument, and mammals making the area their home include pine martens, badgers, deer, elk and bear. The entire Monument area has been set aside as a wildlife refuge to protect these animals in their natural habitat.
For additional outdoor activities, the Deschutes National Forest offers over a million acres for exploration. Within the Forest there are five wilderness areas, six scenic rivers, the Metolius Conservation Area with its rushing streams, cool springs, lush forests, abundant wildlife, and mountain views, and the Oregon Cascades Recreation Area, the largest unprotected, roadless area left in the Cascades. Over seven million people visit the Deschutes National Forest every year.
East Lake is approximately 35 miles southwest from the city of Bend, a friendly and inviting town nestled against the eastern foothills of the Cascade Mountains. Known for its year-round outdoor activities, visitors to Bend can enjoy skiing, snowboarding, golfing, fishing, hiking, biking and rafting. The city of La Pine is located west of the lake and is named for the towering pines that surround the rural community. At 4,235 feet, La Pine has the highest elevation of any community within the Central Oregon region, making it a winter wonderland for all types of snow-related recreation. The town of Three Rivers is located just north of La Pine and is a mix of residential and vacation homes as well as open land for hiking and exploring. Vacation rentals, shopping and all the latest amenities can be found in all three towns. For golfers, there are several top-rated courses nearby to choose from.
For some excellent fishing in a unique area, East Lake offers vacationers a beautiful location for endless outdoor activities. World-class climbing routes, mile upon mile of beautiful hiking trails, and over 3,000 skiable acres are just some of the attractions in this outdoor sport paradise.
Things to do at East Lake
Vacation Rentals
Fishing
Boating
Swimming
Golf
Camping
Campground
Picnicking
Hiking
Biking
Snowboarding
Snowmobiling
Horseback Riding
Waterfall
Wildlife Viewing
Birding
National Forest
Shopping
Fish species found at East Lake
Brook Trout
Brown Trout
Kokanee Salmon
Rainbow Trout
Salmon
Trout
---
East Lake Statistics & Helpful Links
At LakeLubbers.com, we strive to keep our information as accurate and up-to-date as possible, but if you've found something in this article that needs updating, we'd certainly love to hear from you!
Please let us know about it on our Content Correction form.
Spread the word! Share our East Lake article with your fellow Lake Lubbers!