Nantahala Lake, North Carolina, USA
Lake Locations:
USA - South - North Carolina - Mountains -
Also known as:  Lake Nantahala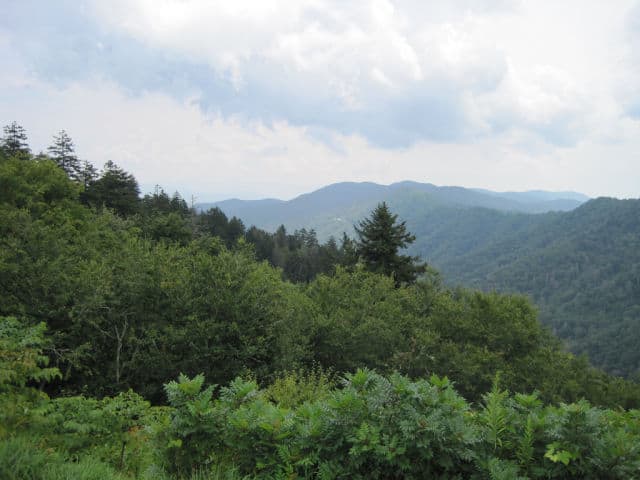 Nantahala Lake is one of the most pristine lakes in North Carolina. Located within the Nantahala National Forest at an elevation of 3,012 feet, the 1,605-acre lake is surrounded by the Blue Ridge Mountains of western North Carolina. Nantahala Lake is a large part of the Little Tennessee River Basin, a fertile region for support of wild trout and a diversity of other fish. It is also home to three federally-listed endangered species: the Spotfin Chub fish, Appalachian Elktoe Mussel, and the Little-wing Pearlymussel.
Nantahala Dam, a rockfill dam which impounds the lake in the middle of the Nantahala River, stretches 1,042 feet across and reaches 250 feet in maximum height. The project was constructed by the Nantahala Power & Light Company (now owned by Duke Energy) in 1942 and was created for hydroelectric generation. It is also used for flood control. Lake Nantahala empties into Nantahala River which in turn drains into Lake Fontana and then into the Little Tennessee River.
Anglers, who come to Lake Nantahala from all over the country, find an abundance of trout, bass, catfish, walleye, crappie and sunfish. There is also a population of kokanee salmon in the lake – offspring of the group of salmon stocked there in the 1960s by the North Carolina Wildlife Resources Commission. The stock was meant to provide forage fish for other predator fish in the lake and is now a favorite for anglers to catch. Nantahala Lake is the only one in North Carolina with kokanee salmon.
"Nantahala" is the Cherokee word for "Land of the Noonday Sun." The Cherokee called the area Nantahala because the gorges and some areas of forest are such that only the noonday sun can penetrate the depth and thickness of them. Lake Nantahala is serene with stunning views of the surrounding peaks and North Carolina wildlife. There are no municipalities in the immediate area. This makes Nantahala ideal for those wanting a getaway lake experience with breathtaking nature scenes, views of native wildlife, beautiful sunsets, and quiet waters.
Nantahala Lake is a great place for a vacation cabin or permanent home. There are secluded cabins and large vacation houses for rent on or near the lake. There are also lots in gated communities, cabins, and houses for purchase in the area, but the lake's shoreline is not over-packed with residences. According to National Forest rules, only 5% of the surrounding lake land may be developed which makes Lake Nantahala a cozy and private place to live for those looking for a true mountain lake retreat.
Residents, vacationers, and visitors enjoy boating, fishing, swimming and camping on Lake Nantahala. The lake has two public boat landings, and primitive camping sites are scattered around the lake on national land. Lakes End Diner and Marina to the north offer the only marina, restaurant and fuel service on the lake. Fishing and sporting supplies are also available there.
Outdoor recreation has no bounds in the Nantahala Lake area. Thousands of visitors per year pilgrim to the region for whitewater rafting which is a booming industry on the Nantahala River. Kayaking, canoeing, and paddling on the river and in Nantahala Gorge are other popular attractions and complement water activities on Lake Nantahala. The Nantahala National Forest, Great Smoky Mountains National Park, Cherokee National Forest, and Joyce Kilmer Memorial Forest offer dynamic wildlife opportunities. There are miles and miles of hiking trails and camping opportunities in the surrounding Appalachian forests and mountains. The Appalachian Trail passes just a few miles to the east of Lake Nantahala and can be joined by other hiking trails. Snowboarding and skiing can be found at the Cataloochee Ski Area in nearby Maggie Valley. Adjacent to the Great Smoky Mountains you will find the home and lands of the Eastern Band of the Cherokee Indians. Drama, Cherokee arts, dance, storytelling, a museum, and Cherokee village are just a few of the possibilities for immersing yourself in the culture of one of the nation's oldest group of inhabitants.
Lake Nantahala is located near Franklin, Asheville, and the Higlands-Cashiers area and is only about 2.5 hours from Atlanta, Georgia. All cities offer a wealth of heritage, novelty, arts, and entertainment. Franklin is known for its gem mining opportunities. You may also satisfy your curiosity at the Scottish Tartans Museum or Wilderness Taxidermy. With so many sites of interest, you equally have many options for dining and lodging and will not be disappointed.
Things to do at Nantahala Lake
Vacation Rentals
Fishing
Boating
Swimming
Canoeing
Kayaking
Whitewater Rafting
Camping
Cabin Rentals
Hiking
Snowboarding
Wildlife Viewing
National Park
National Forest
Museum
Fish species found at Nantahala Lake
Bass
Carp
Catfish
Crappie
Kokanee Salmon
Perch
Salmon
Sunfish
Trout
Walleye
---
Nantahala Lake Photo Gallery
Nantahala Lake Statistics & Helpful Links
Spread the word! Share our Nantahala Lake article with your fellow Lake Lubbers!