Lake Toxaway, North Carolina, USA
Lake Locations:
USA - South - North Carolina - Mountains -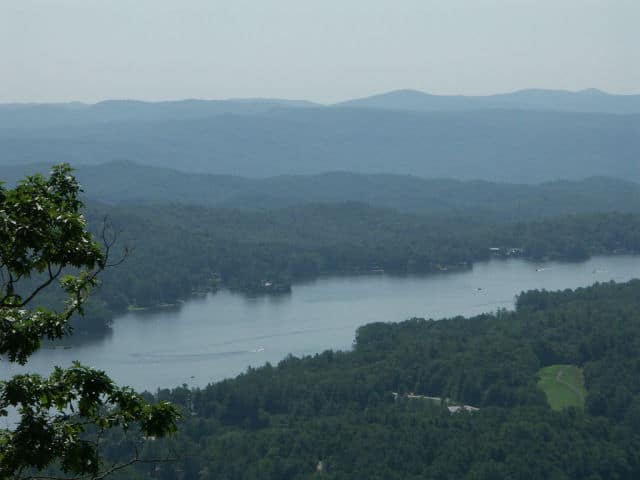 Tucked away amidst the ancient Appalachian Mountains is the largest private lake in North Carolina – Lake Toxaway. Lake Toxaway, spanning 640 acres, was built in 1902 by a powerful entrepreneur, E. H. Jennings. Jennings, who visited the wild, undeveloped region in 1890 fell in love with the area's splendor and founded the resort company, Toxaway Company, in 1896 ("Toxaway" is a Cherokee word for "red bird"). By 1902, an earth-filled dam was formed on the Toxaway River, creating a lake, and by 1903, Toxaway Inn was up, running and open for business on the lake's banks. The Inn's luxurious amenities and services attracted the rich and famous to its gates who arrived by railroad. Thomas Edison, Henry Ford, George Vanderbilt, the Carnegies and Harvey Firestone were among some of the Inn's guests.
Lake Toxaway, three miles long and one mile wide and with a shoreline of 14 miles, was the very first lake built in the Appalachians. High in the pristine mountains, it is situated at 3,010 feet above sea level in an area that is still largely wild and unspoiled due to its unsuitability for heavy development. Ever since the early 1900s, visitors flocked to the lake and inn, that is until August 13, 1916, when Mother Nature poured heavy rains in the area, washing away the lake's earthen dam and further widening what is today the Toxaway Falls. The entire lake practically drained overnight! Business at the inn naturally suffered, and it was eventually demolished in 1948.
In 1961, the dam and lake were reconstructed. Lake Toxaway is still privately owned by the Lake Toxaway Company, and today is largely surrounded by exquisite and luxurious homes and estates in communities that occupy a 5000-acre stretch of land.
Only property owners and their guests have access to Lake Toxaway who enjoy swimming, boating, waterskiing, sailing and fishing. (Jet and kite skiing are not permitted.) Rainbow trout, largemouth bass, smallmouth bass, bluegill, catfish, sunfish and walleye are some common species of fish residing in the lake. Golf courses surrounded by natural beauty, tennis courts, swimming pool, fitness center, and country club are other recreational amenities accessible to estate owners and vacationers.
Real estate options on the lake range into the millions of dollars. You may have a lake home, mountain home or golf home fashioned with lavish architectural designs, or you may rent a property for vacation to get better acquainted with the lake's community. If petite and cozy is more your taste, a small cottage might be the home that fulfils your dreams.
Lake Toxaway is surrounded by several mountains in the Nantahala National Forest. This part of North Carolina receives about 100 inches of rainfall per year. A combination of the region's mountainous and wet habitat makes it conducive to waterfalls, many of which can be sighted from Lake Toxaway. This is why Transylvania County is called the "Land of Waterfalls." Surrounded by so much grandeur, Lake Toxaway members can indulge in nearly every outdoor recreation possible. The Nantahala National Forest, Pisgah National Forest, and Gorges State Park, adjacent to Lake Toxaway Estates, offer plenty of hiking, backpacking, fly-fishing and camping adventures. Close to Lake Toxaway is also the DuPont Forest, the Great Smoky Mountains National Park, and Sumter National Forest. With all of these natural preserves, options for activity are limitless. You can put your calves to burn on mountain biking trails, go canoeing, kayaking or rafting in any of the forests' rivers, take a helicopter or motorcycle tour, straddle the back of a majestic horse and take to exploring, ride in a hot air balloon, or go climbing and snow skiing.
In the county seat of Brevard, entertain yourself with fine theatre and performing arts, or have a little mind-boggling fun at the Blue Ridge Corn Maze. In nearby Asheville, awe yourself at the royalty of the Biltmore House, the 250-room family chateau of George Vanderbilt whom E.H. Jennings visited when he first came to the region. After so many enriching experiences coupled with the first-class treatments offered by Lake Toxaway, you will feel like a king or queen.
Things to do at Lake Toxaway
Vacation Rentals
Fishing
Boating
Sailing
Swimming
Swimming Pool
Canoeing
Kayaking
Water Skiing
Golf
Tennis
Camping
Hiking
Biking
Downhill Skiing
Horseback Riding
Waterfall
State Park
National Park
National Forest
Fish species found at Lake Toxaway
Bass
Black Bass
Bluegill
Catfish
Largemouth Bass
Perch
Rainbow Trout
Smallmouth Bass
Sunfish
Trout
Walleye
---
Lake Toxaway Photo Gallery
Lake Toxaway Statistics & Helpful Links
Spread the word! Share our Lake Toxaway article with your fellow Lake Lubbers!