W. Kerr Scott Reservoir, North Carolina, USA
Lake Locations:
USA - South - North Carolina - Mountains -
Also known as:  W. Kerr Scott Lake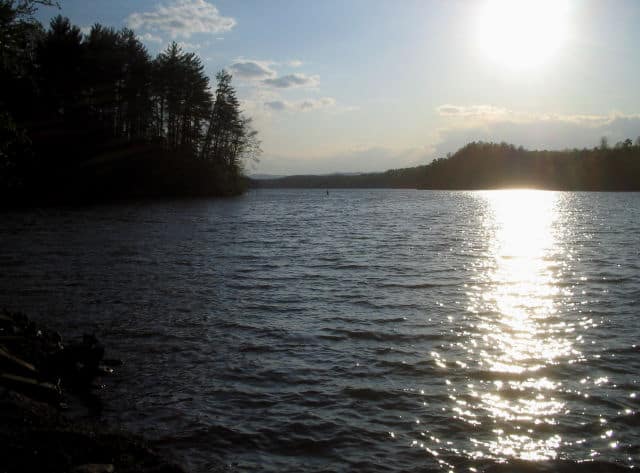 W. Kerr Scott Reservoir is a 1,475-acre reservoir located near Wilkesboro, North Carolina in the Mountains tourism region. Built by the U.S. Army Corps of Engineers in 1962 for flood control, the lake also offers a fresh water supply, recreation, and home to a wide variety of wildlife and several endangered plants. The reservoir and dam were named for William Kerr Scott, the former Governor of North Carolina and a U.S Senator.
W. Kerr Scott Reservoir sits amid 3,754 acres of land on the eastern slope of the Blue Ridge Mountain foothills. Tent camping and RV camping are available at several campgrounds on and around the lake. Camping facilities include hot showers, flush toilets, potable water, playgrounds, basketball courts, swimming areas, BBQ grills, picnic areas, and sites with RV hook-ups. Additional lodging and vacation rentals of all kinds can be found in the town of Wilkesboro and North Wilkesboro, about a ten minute drive from the lake.
Fishing in W. Kerr Scott Reservoir can be fun for the entire family. Fish in the lake include channel catfish, largemouth bass, smallmouth bass, bluegill, threadfin shad, spotted bass, hybrid striped bass, and tiger muskellunge. For non-anglers, there are designated swimming areas with beaches, a marina, and a visitor center with a museum and bookstore. Canoe and kayak rentals are available. Hunting is allowed on designated Wildlife Management Area game lands.
Hikers and bikers will be drawn to the numerous world-class mountain biking trails that surround the scenic shores of W. Kerr Scott Reservoir and crisscross through the foothills. The trails range from beginner to advanced and offer spectacular views of the lake and the surrounding mountains. Bike rentals are available in the town of Wilkesboro.
Bird watchers visiting W. Kerr Scott Reservoir will appreciate a number of birding trails that pass through a variety of habitats. Bald eagles, peregrine falcons, and a wide variety of songbirds make their home in the oak forests around the lake. The margins of the lake are a good place to view migrant shorebirds.
Just east of W. Kerr Scott Reservoir are the historic towns of Wilkesboro and North Wilkesboro where you can attend apple festivals, music festivals, wine tasting dinners, wander through museums and art galleries, shop at specialty and souvenir stores, or enjoy a delicious meal at a number of family oriented and fine dining facilities in the area. For those who like to travel and explore their surroundings, a number of scenic byways will take you through national parks, national forests, rustic valleys and peaceful farmland for some breathtaking mountain views, close-ups of waterfalls, scenic small towns, vineyards, and numerous historic sites.
Whether you enjoy hiking, biking, birding, fishing, or simply taking it easy, you won't be disappointed with a visit to W. Kerr Scott Reservoir. Sleep under the stars at your lakeside campsite, or enjoy the comforts of a bed and breakfast, cabin, or vacation rental in the beautiful Blue Ridge Mountain foothills.
Things to do at W. Kerr Scott Reservoir
Vacation Rentals
Fishing
Boating
Swimming
Beach
Canoeing
Kayaking
Camping
Campground
Picnicking
Cabin Rentals
Hiking
Biking
Hunting
Waterfall
Wildlife Viewing
Birding
National Park
National Forest
Museum
Playground
Fish species found at W. Kerr Scott Reservoir
Bass
Black Bass
Bluegill
Catfish
Channel Catfish
Largemouth Bass
Muskellunge
Pike
Shad
Smallmouth Bass
Spotted Bass
Striped Bass
Sunfish
Tiger Muskellunge
---
W. Kerr Scott Reservoir Photo Gallery
W. Kerr Scott Reservoir Statistics & Helpful Links
At LakeLubbers.com, we strive to keep our information as accurate and up-to-date as possible, but if you've found something in this article that needs updating, we'd certainly love to hear from you!
Please let us know about it on our Content Correction form.
Spread the word! Share our W. Kerr Scott Reservoir article with your fellow Lake Lubbers!