Moses Lake, Washington, USA
Lake Locations:
USA - West - Washington - North Central Washington -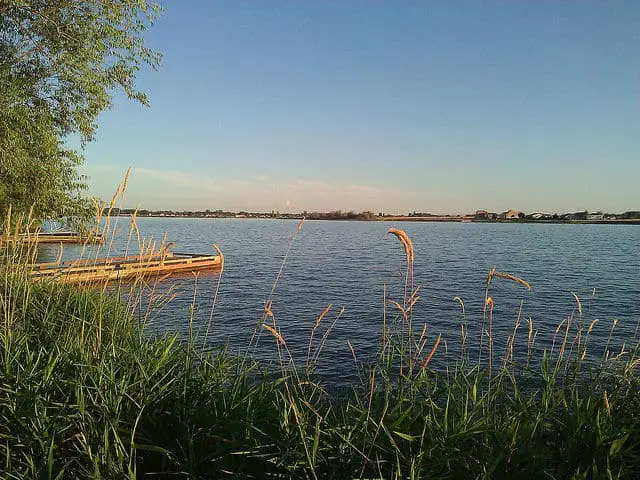 Located where Washington State's Pacific coast transforms into the arid desert of the eastern half, Moses Lake has over 6,800 acres of surface area encircled by over 62 miles of shoreline. Moses Lake offers a wide array of boating, fishing, camping, and swimming opportunities in Grant County.
The dusty and dry conditions of Central Washington led to the creation of Moses Lake. Windblown sand created a natural dam which impounded ice age glaciers and ancient floods that moved across eastern Washington. Today, Crab Creek and Rocky Ford Creek flow into Moses Lake. The 20-mile long, irregularly shaped lake has three major arms or "horns." Rocky Ford Creek flows into the northern main arm. Parker Horn and Pelican Horn, which are separated by a peninsula, comprise the southern end of Moses Lake. Crab Creek flows into Lewis Horn, a smaller embayment connected to Parker Horn.The average depth of Moses Lake is 18.5 feet, with a maximum depth of 43 feet.
Moses Lake has provided vital irrigation water to local farmers since the early 1900s. Area residents built a dam to maintain water levels for irrigation, repairing the dam multiple times after flooding. Farmers formed the Moses Lake Irrigation District in 1928, and built a dam with control gates to regulate the lake level. After another wash-out in 1941, the re-built dam is still in operation.
Moses Lake is part of the U.S. Bureau of Reclamation's Columbia River Project. The centerpiece of the Project was the Grand Coolee Dam, constructed across the Columbia River from 1935 to 1941. The dam supplied hydroelectric power, fueling the industrial boom in the Pacific Northwest in the 1940s. Moses Lake became part of the Columbia River Project's vast water storage and distribution network. Although the natural outflow from Moses Lake was Crab Creek, the Project channeled water into Potholes Reservoir to the south (potholes refers to the glacial depressions in the ancient sand dunes). The Bureau of Reclamation operates two dams at the southern end of Moses Lake to control water levels. The lake's waters are kept at high summer pool levels from March to October. Winter pool levels are about five feet lower to allow maintenance of shoreline structures and to provide storage for melting snow and spring rains.
Moses Lake received its name from Presbyterian missionaries who nicknamed the area's ruling Native American tribal chief Moses. For much of its history, Moses Lake was a sleepy backwater. But the installation of Larson Air Force Base during World War II, located only short distance from the lake, led to the initial development of the area. In 1965 the Moses Lake Irrigation and Rehabilitation District acquired Airman's Beach from the decommissioned Larson Air Force Base, as the District expanded its activities to include parks and water quality. The District made substantial improvements to the beach area and renamed it Connelly Park. Today, the town of Moses Lake, located at the south end of the lake with much of the community stretching out into the water via a peninsula, has become a bustling residential and commercial center, home to most of the region's attractions. Moving northward, private houses, campgrounds and resorts surround the water. About 27,000 people live around Moses Lake.
Fishing at Moses Lake rewards anglers with a chance to catch many species. Rainbow trout up to 17 inches in length populate the lake, making it one the prime trout fishing locations in the region. Fishermen may also expect to find sizeable largemouth bass and walleye populations. Crappies, bluegills and perch may also be found, but their populations aren't as abundant.
Boats and jet skis also dot the water. Moses Lake has many boat docks, slips and marinas, making it an ideal spot for those who enjoy boating. Swimming is also popular on Moses Lake, with a few public beaches located mostly in town. Many private campgrounds and resorts offer beaches for their patrons. However, the City of Moses Lake operates Cascade Campground, which offers 85 spaces for tent campers and RVs. The campground features a boat pier as well as a swimming beach. Blue Heron Park, formerly Moses Lake State Park, covers 78 acres on the lake's western shore. The park provides a swimming beach (unguarded), boat launch, picnic sites and picnic shelters, fishing bridge, playground, and a free disc golf course.
Visitors and locals also enjoy bird watching, as Moses Lake sits in the midst of the Pacific Flyway, the major migratory path of waterfowl flying north and south from Alaska to the southern tip of South America. Tens of thousands of mallard ducks and Canada Geese move through the area a year. Other birds observed in the area include herons, swans, sandhill cranes, American avocets, hawks, and owls.
Moses Lake is a hidden gem in the Pacific Northwest, ripe for your discovery.
Things to do at Moses Lake
Vacation Rentals
Fishing
Boating
Swimming
Beach
Jet Skiing
Golf
Camping
Campground
Picnicking
Birding
State Park
Playground
Fish species found at Moses Lake
Bass
Black Bass
Bluegill
Crappie
Largemouth Bass
Perch
Rainbow Trout
Trout
Walleye
---
Moses Lake Statistics & Helpful Links
Spread the word! Share our Moses Lake article with your fellow Lake Lubbers!