Potholes Reservoir, Washington, USA
Lake Locations:
USA - West - Washington - North Central Washington -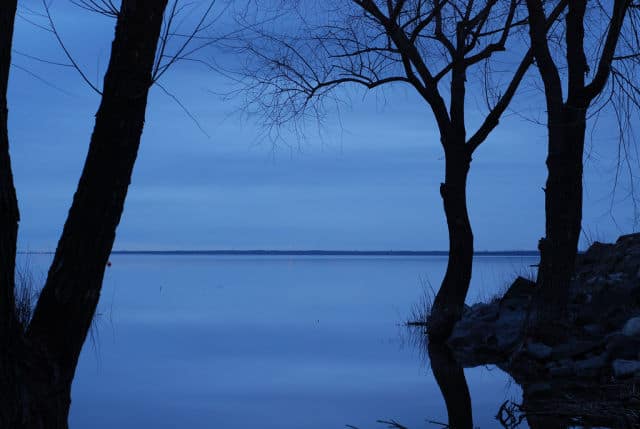 Potholes Reservoir was formed by the building of the O'Sullivan Dam which is one of the largest earthfill dams in the United States. The name "pothole" originated due to large depressions in the earth in that area, some as large as 70 yards wide by 60 feet deep, created during the Pleistocene flooding in prehistoric times. These potholes were filled in the 1950s after the completion of the O'Sullivan Dam, and water began to fill the reservoir.
The Potholes Reservoir and O'Sullivan Dam were built by the U.S. Army Corps of Engineers and the Bureau of Reclamation as part of the Columbia Basin Project. The O'Sullivan Dam was named after James O'Sullivan a local attorney who campaigned continuously to bring water to the then dry area of central Washington. The main purpose of the Potholes Reservoir is to collect return flows from all irrigation in the upper portion of the project for reuse and irrigating in the lower portion. With a maximum depth of 142 feet and mean depth of 18 feet, there is a wide fluctuation of water in the reservoir due to the irrigation process. No power is generated from the O'Sullivan Dam.
Surrounded by sand dunes and rocky canyons, Potholes Reservoir is a nature lover's paradise. Located on the Pacific Flyway, birdwatchers can watch millions of birds use the area as a resting and feeding stop on their annual migrations in addition to the many birds and waterfowl that are native to the area. Bass, perch, sunfish, crappie are plentiful for fishing in the Potholes Reservoir. Jackrabbits, ground squirrels, marmots, muskrats and a large variety of mice are abundant in the area where coyotes are the most abundant predatory mammal. Mule deer can be seen in the fringe areas where appropriate habitat exists.
Located on 640 acres with 6000 feet of shoreline, Potholes State Park has over 350,000 visitors a year. There are four boat ramps for boating and other water sports, as well as sandy beaches for swimming. Campsites with and without utility hookup are available however, no campsites are next to the Potholes Reservoir.
Built to bring beneficial water to the farming lands, Potholes Reservoir has become a recreational and nature retreat for thousands. Whether you come for the recreational activities, the great fishing, or just to enjoy the natural beauty of the terrain, Potholes Reservoir will definitely will be worth the trip.
Things to do at Potholes Reservoir
Vacation Rentals
Fishing
Boating
Swimming
Beach
Camping
Wildlife Viewing
Birding
State Park
Fish species found at Potholes Reservoir
---
Potholes Reservoir Photo Gallery
Potholes Reservoir Statistics & Helpful Links
We strive to keep the information on LakeLubbers as accurate as possible. However, if you've found something in this article that needs updating, we'd certainly love to hear from you! Please fill out our Content Correction form.
Looking for the Potholes Reservoir forum?
For years, we offered LakeLubbers visitors the option to create an account, vote on favorite lakes, edit lake descriptions and participate in forums.
In 2021, we embarked on a major site overhaul with a new content database system. While the result is a modern and faster site which is now optimized for both desktop and mobile users, it also meant we had to put account options on hold and take some time to reevaluate ways to interact with our visitors. 
We hope you'll stick around and see what's new here, and of course, we still welcome your comments and feedback regarding anything on LakeLubbers! You can do that here.
Spread the word! Share our Potholes Reservoir article with your fellow Lake Lubbers!