Mono Lake, California, USA
Lake Locations:
USA - West - California - High Sierra -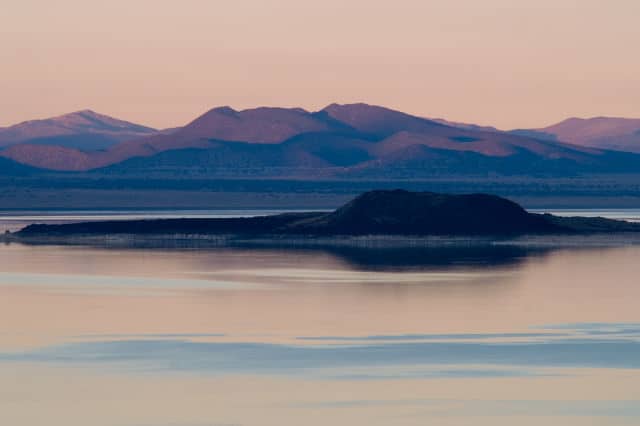 Mono Lake, located in California's Eastern Sierra Nevada Mountains, has a long and rich history dating back to its formation over 760,000 years ago. Sediments below the lake's surface indicate that Mono Lake might be a leftover of an earlier, larger lake. Today, Mono Lake is fed from melting runoff from the Sierra Nevada Mountains with no outlet, filling its depths with salt and raising the pH levels.
Mono Lake's natural shoreline used to be at 6,417 feet above sea level (approximately 54,900 acres). However, when Los Angeles County diverted water from Mono Lake's source of water in 1941, the lake fell to only 6,372 feet (approximately 37,700 acres) at its lowest point in 1982. In 1978, conservation efforts went into effect and water levels have continuously risen to today's 6,382 feet (approximately 44,700 acres). Hopefully, Mono Lake will rise to 6,392 feet within another decade, but it is not expected to return to its pre-diversion size.
The lake's saline levels mean that there are no fish in Mono Lake. However, the lake is famous for the Mono Lake brine shrimp which measure no longer than a thumbnail and live nowhere else in the world. NASA scientists recently discovered a lake organism that can grow and live on arsenic, a poison, raising hopes that other creatures far from Earth could live in similar hostile environments.
In addition to being home to a unique species, Mono Lake plays a vital role to migratory shorebirds every year. Recognized by Western Hemisphere Reserve Network as an International Reserve, almost 2,000,000 birds sit atop tufa towers, soar through the air, stop to feed, and build their nests at the lake annually. Bird watchers at the lake should be on the lookout for American Avocets, California Gulls, Eared Grebes, Killdeers, Red-necked Phalaropes, Wilson's Phalaropes, and sandpipers as they seek refuge in this quiet, peaceful California nature haven.
With the Sierra Nevada Mountains reflected in the quiet waters of the lake, the visitor enjoys breathtaking scenic views from the lakeshore. Take a wilderness hike along a lake ridge, stop by the visitor's center to brush up on your lake knowledge, explore neighboring ghost towns, and fish in one of the nearby freshwater streams, all the while enjoying the absolute tranquility that Mono Lake offers.
Canoe and kayak tours are available during summer months. If you choose to venture out into Mono Lake in your own canoe or kayak, be aware that the lake's waters hide many underground obstacles. Mono Lake's water– 2.5 times as salty and 80 times as alkaline as the ocean — provides an unusual swimming experience.
The lake is famous for its graceful tufa towers (calcium-carbonate deposits) that were once submerged under the surface. Rising out of the water like rocky aquatic stalagmites, the dramatic tufa towers beg to be photographed, with the barren desert and surrounding hills as their only backdrop. Take a free walking tour to learn more about the tufa and Mono Lake's ecosystem, or explore the aquatic environment on your own, best seen at the South Tufa area on the lake's south shore.
Mono Lake is just 13 miles east of Yosemite National Park, covering 761,266 acres and hosting an incredible 3.5 million visitors every year. As a World Heritage Site, Yosemite basks in international recognition of its towering Giant Sequoias, intense biodiversity, great tumbling waterfalls, and spectacular, graceful granite cliffs. As you hike the park's trails, drive along scenic parkways, bike a mountain path, or take a guided tour, you'll discover the spectacular natural beauty of Yosemite. The Giant Sequoias are almost too large to be believed, 150 species of birds pass through the park each year, and from mountaintop vantage points, you'll swear you can see to China.
Mono Lake is a beautiful getaway, perfect for unwinding and getting back to the basics. Camp in the mountains, wake up to a powdery covering of snow, climb the surrounding hills, drink in picturesque fall scenery, or enjoy the warm sun of summer on your trip, and enjoy one of the most remote and beautiful places you'll ever see.
Things to do at Mono Lake
Vacation Rentals
Fishing
Swimming
Canoeing
Kayaking
Camping
Hiking
Waterfall
Birding
National Park
---
Mono Lake Statistics & Helpful Links
Spread the word! Share our Mono Lake article with your fellow Lake Lubbers!