New Bullards Bar Reservoir, California, USA
Lake Locations:
USA - West - California - Gold Country -
Also known as:  Bullards Bar Reservoir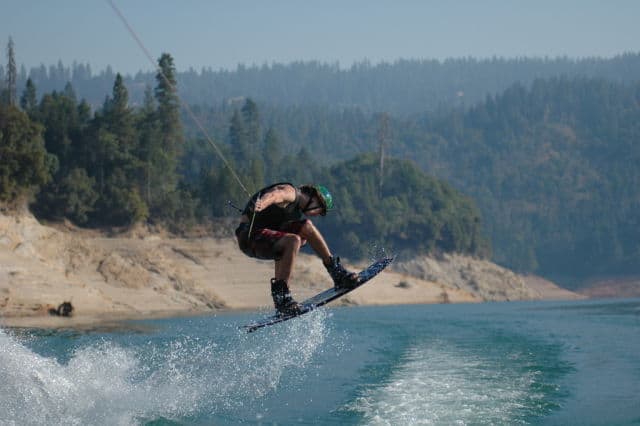 New Bullards Bar Reservoir is located on the west side of the Sierra Nevada Mountains in Yuba County, California, surrounded by the Tahoe and Plumas National Forests. This 4700-acre lake was created by the Yuba County Water Agency by impounding the North Fork of the Yuba River for flood control, irrigation water storage, hydroelectric power generation, and recreation. Construction of the 635-foot high concrete dam was completed in 1970. Water levels fluctuate about 150 feet a year.
Water Ski Magazine rated Bullards Bar Reservoir as one of the best recreation lakes in the nation. With its spectacular vistas of Tahoe and Plumas National Forests, 55 miles of explorable shoreline, and deep, cool waters, it's not hard to understand why.
Two boat launch facilities provide public access to New Bullards Bar Reservoir. Begin your trip with a jaunt in a power boat and get acquainted with your new surroundings. Mosey on over to the 635-foot New Bullards Bar Dam, California's second tallest dam, and stretch your neck as you gaze at the tumbling and steep dam wall. Investigate inlets and make your way to the feeder rivers, watching water tumble over boulders. Watch as wakeboarders and waterskiers speed across the glassy surface, jumping wakes and performing gravity-defying tricks. Find a new favorite spot, cut the motor, and drift along as you enjoy a picnic lunch under the warmth of the California sun. With that first water adventure, you'll know why so many Bullards Bar Reservoir visitors become quick and lifelong devotees. Keep in mind that high speed boat operation is prohibited within 200 feet of the shoreline.
If you really enjoy spending time on the water, consider a houseboat rental. Ranging from 45 to 60 feet, houseboat rentals are a popular way to spend your time at the lake. Imagine cooking a meal and eating on your own waterfront deck, diving into the cool Bullards Bar Reservoir waters off your own platform, and having the reflection of the moon as your nightlight.
Year-round fishing options abound at the lake, featuring both warmwater and coldwater species such as Alabama spotted bass, bluegill, catfish, German browns, largemouth bass, smallmouth bass, Kokanee salmon, redear sunfish, and rainbow trout. The primary angling treasure is the salmon, as Bullards Bar is home to the primary Kokanee fishery in California. Since the lake's shoreline tumbles steeply into the water, shore fishing is all but impossible, making fishing from your boat the best option. As always, make sure you have a valid California fishing permit before you arrive.
For the nature enthusiast, almost 20 miles of trails await you at New Bullards Bar Reservoir. Bullards Bar Trail, 7 Ball Trail, 8 Ball Trail, Rebel Ridge Trail, and Schoolhouse Trail offer you upfront looks at thick conifer forest, incredible aerial views of the lake, area wildlife, dazzling sunsets, and the beautiful flora that cover the Plumas and Tahoe National Forests.
If nature hikes don't quench your thirst for some one-on-one times with the great outdoors, consider spending a night or two under the constellations, camping at one of the New Bullards Bar Reservoir's five campgrounds: Dark Day, Garden Point, Hornswoggle, Madrone, and Schoolhouse. Enjoy primitive campsites with onsite toilets, fire pits, and thousands of little night lights dancing above your head.
Things to do at New Bullards Bar Reservoir
Vacation Rentals
Fishing
Boating
Water Skiing
Wakeboarding
Camping
Campground
Picnicking
Hiking
Wildlife Viewing
National Forest
Fish species found at New Bullards Bar Reservoir
Bass
Black Bass
Bluegill
Catfish
Kokanee Salmon
Largemouth Bass
Rainbow Trout
Redear Sunfish (Shellcracker)
Salmon
Smallmouth Bass
Spotted Bass
Sunfish
Trout
---
New Bullards Bar Reservoir Photo Gallery
New Bullards Bar Reservoir Statistics & Helpful Links
Spread the word! Share our New Bullards Bar Reservoir article with your fellow Lake Lubbers!