Mammoth Lakes, California, USA
Lake Locations:
USA - West - California - High Sierra -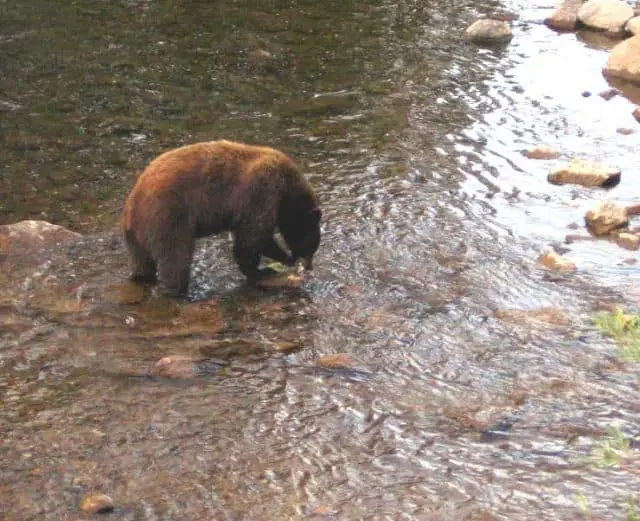 Mammoth Lakes, in California's High Sierras Region, is something of a misnomer. There is no lake named Mammoth. Instead, a group of small lakes southwest of the town of Mammoth Lakes, in a geological formation called the Mammoth Lakes Basin, lies beneath Mammoth Mountain. The lakes – Lake Mary, Lake George, the two connected Twin Lakes, Horseshoe Lake, Lake Mamie along with several other small lakes form the watershed for Mammoth Creek. The named lakes above are all interconnected by streams and ultimately controlled by a water control structure at the Twin Lakes Outlet to Mammoth Creek. All of the lakes lie within Inyo National Forest.
The famous resort town named Mammoth Lakes is about three miles downstream along Mammoth Creek. The town indirectly gains most of its water supply from the lakes via Mammoth Creek and a water filtration plant on Lake Mary. The Mammoth Area Water District is limited to drawing no more than five-and-a-half feet of water from the lakes, assuring a continuous adequate water level in all lakes. Surrounded by forest and reflecting towering peaks, the lakes are dotted with ski cottages and private residences hidden among the pines.
Lake Mary is the lake with the most public access and services. A public marina provides boat launch facilities, bait, snack food and rents small boats; a public boat launch is provided. A campground also provides access to Lake Mary for canoeing, kayaking, pontooning and small boating. The lake has a ten mile per hour speed limit and is extremely popular with trout fishermen. Lake Mary contains brown trout, brook trout, cutthroat trout and rainbow trout, with the rainbows planted yearly. Statistics listed on the sidebar accompanying this article refer to Lake Mary. Other lakes in the chain contain year-round resorts, principally Horseshoe Lake.
Nearly all of the lakes in the Mammoth Lakes Basin have access via National Forest Road. The lakes gain their water from snow-melt and some small waterfalls. As this area is an active geological area, there may be subsurface water exchange among lakes not directly connected. A fault line lies just east of Mammoth Lakes, so the area experiences small earthquakes. Active magma lies under the Mammoth Lakes Basin, evidenced by a 20-acre stand of dead conifers near the shores of Horseshoe Lake. The ground, saturated with carbon dioxide, smothered the tree's roots. The plumes of carbon dioxide are usually vented into the air where it quickly dissipates, but can become deadly if concentrated under snow banks or in low-lying areas.
The entire Inyo National Forest provides many opportunities for hiking, camping, canoeing and fishing. The Mammoth Lakes area is known as a prime mountain biking area in summer. Several ski resorts now open specific slopes for downhill mountain biking in summer, with the convenience of taking a lift back to the top.
There is plenty to do around Mammoth Lakes in summer. The town offers several festivals during the summer months to occupy visitors. City parks provide nearly all the recreational amenities any summer visitor could want, including a community center, baseball fields, softball fields, tennis courts, soccer fields, swimming pool and natural areas for hiking. A moto-cross track operates summers with several annual events. There is even an RV camp right at the edge of town. Several music festivals occur each summer to fill the silence until the regular winter monthly music festivals begin. Short trips away from Mammoth Lakes bring the visitor to such attractions as the ghost town of Bodie, only 50 miles northeast of Mammoth Lakes. To the north, Devils Postpile National Monument showcases the amazing basalt 'posts' that have fractured symmetrically from the cliff. Hot Creek just east of the airport offers both hot springs and gas vents that warm the icy waters from the Sierras. Swimming is not recommended as the water temperature can change suddenly, causing serious burns. Red's Meadows, a trailhead popular with back packers on the John Muir and High Sierra Trails, can be accessed near Mammoth Lakes Basin. And, of course, there are golf courses available near town.
It is winter when Mammoth Lakes excels. Nearby Mammoth Mountain receives up to 30 feet of snow a year, making it one of the leading winter playgrounds of the West. Skiing, snowboarding, sledding and tobogganing all find eager participants at the ski runs and snow parks. Snowmobiling is a favorite activity, with dozens of improved trails making up one of the biggest systems in the USA. The snowmobile trails are separate from the many miles of cross-country ski and snowshoe trails: 20 miles of Blue Diamond Trails, Shady Rest Trail and Knolls Trail are some of the better-marked. Ice skating and snow hiking are also quite popular, and locals hope to provide sleigh rides in the near future.
For those less interested in active sports, Mammoth Lakes is still an ideal place to relax and enjoy breathtaking scenery, even if it's enjoyed from inside a rustic lodge with a crackling fire. The many resorts and vacation rentals in the area can provide the perfect lodging for any family or group. Many private ski cabins and condos are available as vacation rentals. Often these have lake views or lake frontage. Nearly all of them have spectacular views of the snow-capped Sierras rising above unbroken miles of National Forest. Real estate is available in the area both in town or as a ski cabin in the nearby woods. Only three hours south of Reno, Mammoth Lakes is close enough to be accessible but far enough to feel exotic. Come visit Mammoth Lakes winter or summer and experience the irresistible calling of the High Sierras. City lights will never seem the same.
Things to do at Mammoth Lakes
Vacation Rentals
Fishing
Boating
Swimming Pool
Canoeing
Kayaking
Golf
Tennis
Camping
Campground
Cabin Rentals
Hiking
Ice Skating
Biking
Snowboarding
Snowmobiling
Tobogganing
Waterfall
National Forest
City Park
Playground
Fish species found at Mammoth Lakes
Brook Trout
Brown Trout
Cutthroat Trout
Rainbow Trout
Trout
---
Mammoth Lakes Photo Gallery
Mammoth Lakes Statistics & Helpful Links
Spread the word! Share our Mammoth Lakes article with your fellow Lake Lubbers!