Monarch Lakes, California, USA
Also known as:  Upper Monarch Lake, Lower Monarch Lake
Welcome to the ultimate guide for history, statistics, local fun facts and the best things to do at Monarch Lakes.
If you're considering Monarch Lakes vacation rentals, we've made it super easy to explore accommodations and nearby hotels using the interactive map below. Simply click on a listing to compare similar properties, best rates and availability for your dates. Or keep scrolling to read our Monarch Lakes guide!
Monarch Lakes visitor and community guide
Upper and Lower Monarch Lake grace the high elevations of the Sierra Nevada Mountains in Sequoia National Park. An elevation climb to 10,600 feet takes you past breathtaking views of Sawtooth Peak, Mineral Peak and Mineral King Valley to Upper Monarch Lake. Formed by a dam built in the early 1900s, crystal clear Monarch Lakes rest in a glacial cirque (concave amphitheatre shape) welcoming hikers to the beauty of California's High Sierra wilderness.
Monarch Lakes are located in the 15,600-acre Mineral King Region of Sequoia National Park. Glacially carved Mineral King Valley runs for approximately two miles within the southern Sierras and rises from an elevation of 7,400 feet to over 7,800 feet. Peaks of the Great Western Divide surround the valley with elevations exceeding 12,000 feet. Once cut off by its rugged terrain, Mineral King's isolation ended in the early 1870s when silver was discovered in the valley. By the time a mining company completed the construction of Mineral King Road in 1879, the mining industry was being replaced by lumber, tourism and hydro-electric industries. Rapid harvesting of magnificent sequoia trees brought Mineral King under the protection of the Sierra Forest Reservation (eventually the U. S. Forest Service) in 1893. From 1899 to 1913 four storage dams (Lower Franklin Lake, Crystal Lake, Upper Monarch Lake and Eagle Lake) were constructed along the East, Marble and Middle Forks of the Kaweah River in Mineral King. After decades of debating private development of the valley, Mineral King (including Monarch Lakes) was added to Sequoia National Park in 1978. Over the years leases to many of the hydro-power operations have continued. along with discussions to return the sites to a natural state within Sequoia and Kings Canyon's 832,756 acres of wilderness.
Still narrow and winding with almost 700 curves, the original Mineral King Road runs 25 miles from Highway 198 north of the community of Three Rivers. Not recommended for RVs or trailers, Mineral King Road is the only access into the park's southern wilderness area. Monarch Lakes and the surrounding valley are among the most remote areas of Sequoia National Park, so it is not surprising that unless you enter on snow skis, Mineral King Road is closed from early November until late May. Within Mineral King, visitors will find two campgrounds, a ranger station, pack station and employee housing. In addition, Mineral King is on the National Register of Historic Places. Over 50 private and 60 permit cabins are located on or near Mineral King Road. Mining-era buildings and descendants of mining families remain in Mineral King, working to promote and preserve this example of life in early California mining communities.
Upper and Lower Monarch Lakes lie at the base of 12,343-foot Sawtooth Peak. Considered one of the less strenuous hikes, Sawtooth Trail (also called Monarch Lake/Crystal Lake Trail) passes through alpine meadows into a forest of red fir and pines. As the forest thins the terrain opens into rocky Monarch Canyon and climbs 1,200 feet to Sawtooth Pass. At the end of the climb you will find beautiful blue Lower Monarch Lake with a quarter-mile shoreline and bubbling creek cascading down the northwest slope.
Climb the extra half mile to Upper Monarch Lake and you will be treated to a panoramic view of 11,159-foot White Chief Peak, Farewell Gap and the valley carved by the East Fork of the Kaweah River. Around 1903 a dam was built along the half-mile shoreline by Mt. Whitney Power Company and remains at the northwest shore of Upper Monarch Lake. Today, Southern California Edison Company regulates Upper Monarch Lake water flow used to feed their Hammond hydro-electric facility.
There is little information about fishing Monarch Lakes but rivers, streams and lakes abound within Sequoia and Kings Canyon. With rainbow trout, brown trout and brook trout found in the park, guides and pack horses can lead anglers deep into the back country where "fish have seen more bald eagles, deer and black bears than they have fishermen." Near Monarch Lakes you will find three of the five branches of Kaweah River. Generally the Kaweah River and its tributaries are open to year-round fishing with a five fish daily limit, but this can vary with elevation and tributary so be sure and check regulations. Within the park, South Fork is open to fishing year-round but is limited to two fish a day below the 9,000 foot level. After running eight-miles South Fork flows into Middle Fork, a steep rocky river with lovely waterfall scenes but limited accessibility. Outside the park the Bureau of Land Management maintains North Fork River access at Paradise, Advance and Cherry Falls sites found just north of the community of Three Rivers. In addition to fishing, North Fork also provides Class III and IV whitewater runs when spring runoff is good.
Just six miles west of Sequoia National Park, in Tulare County, is the charming community of Three Rivers. Known as "The Gateway to Sequoia Park," Three Rivers is home to approximately 2,500 people and junction of the North, Middle and South Forks of the Kaweah River. Creating the perfect "home base" for a visit or lifetime, the Three Rivers area offers vacation rentals and real estate properties in close proximity to Monarch Lakes in Sequoia and Kings Canyon National Parks. Within the parks you can explore the giant sequoia forest including General Sherman, the largest tree in existence; 200 caves carved into marble rock formations; 14,505-foot Mt. Whitney, the highest peak in the contiguous United States; dramatic glacial carved valleys of Kings Canyon; and Monarch Lakes, two breath-taking alpine lakes. Found within one of America's great wilderness areas, the mountainous landscape of Monarch Lakes attracts the adventurous spirit and welcomes you to the ideal California back country experience.
Custom Monarch Lakes house decor
Read our full review of these personalized lake house signs.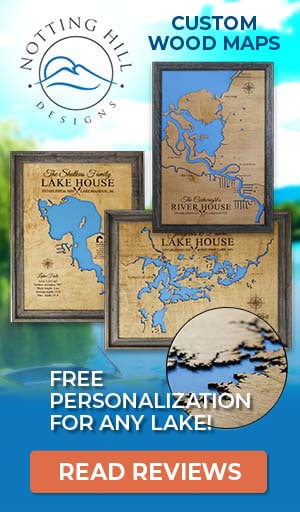 Things to do at Monarch Lakes
Vacation Rentals
Fishing
Camping
Campground
Cabin Rentals
Hiking
Horseback Riding
Waterfall
Wildlife Viewing
Birding
National Park
Fish species found at Monarch Lakes
Brook Trout
Brown Trout
Rainbow Trout
Trout
---
Best hotels and vacation rentals at Monarch Lakes
The Monarch Lakes map shown above is a simple and stress-free way to search for trip accommodations. But if you want to take a deeper dive to find the ideal waterfront home, cabin, condo, hotel or resort, visit our favorite lodging partners by clicking the buttons below.
Note: These are affiliate links so we may earn a small commission if you book through them. While there is no extra cost to you, it helps provide resources to keep our site running (thank you)! You can read our full disclosure policy here.
---
Monarch Lakes photo gallery
New photos coming soon!
Monarch Lakes statistics & helpful links
We strive to keep the information on LakeLubbers as accurate as possible. However, if you've found something in this article that needs updating, we'd certainly love to hear from you! Please fill out our Content Correction form.
Advertise your Monarch Lakes vacation rental
LakeLubbers will soon offer homeowners and property managers the opportunity to to showcase their vacation rentals to the thousands of lake lovers searching our site daily for accommodations. If you'd like additional details, please contact our advertising team here.
Looking for the Monarch Lakes forum?
LakeLubbers previously offered visitors the ability to create accounts and participate in lake forums. When we overhauled the site's content management system in 2021 we had to disable those features. We're evaluating options and welcome your comments and feedback here.
We also encourage you to join our lake-lovin' community on Facebook and Instagram!
Spread the word! Share our Monarch Lakes article with your fellow Lake Lubbers!